Riding a longboard is a fun activity, and an easy way to commute. You can go to the public transport station fast, enjoy the ride in the park or take it anywhere with you to get the best experience of your life. Many hoverboards come with high-tech features, and you can listen to music while you ride. Electric longboards are making their place in the market fast. Skateboards are usually expensive, but many  cheap longboards  look forward to starting the adventure for the first time. 
New skaters often prefer to buy something affordable and convenient. Several skating boards are cheap and provide every feature that a newbie can wish for their skating adventure. You can select any skateboard like cruisers, drop throughs, or dropdowns – chose whichever you want but make sure that it allows riding with useful features. A longboard is useless if it can't provide you what you want for your skating needs, and gradually the fondness will die – first, you will quit using it, and one day they will be thrown out. 
Many people consider giving longboard riding a shot, but they never come close to it when it comes to price. If you like a longboard and it does not fit your budget, then it does not matter how much you loved the product; you can't buy it and enjoy it. Likewise, you may have a lot of money to buy an expensive longboard, but it is useless to spend money on it when you don't need it.  
Let's take it another way – you should buy a longboard that is of good quality, fulfill your need, and come under your budget. It can be from 50$ to 2000$ – the higher you go, the better quality and more features you may have in a skateboard. In my opinion, when it is time to start your fun journey with skating, buy something which provides sound quality, standard features and cheap. All these features together make the best budget longboard. 
Luckily, there are three price ranges for skateboards: beginners (these longboards are quite affordable). The second consists of a better quality longboard and last but not least third involves high-quality skateboards for experts. Here is a brief detail about longboards according to price range.
Entry-level best cheap longboards: 
An entry-level beginner board comes under a price range of fifty to one hundred USD. These longboards are made for people who are starting longboarding. You will get the basics of longboard features good enough, and the longboard will stay with you for years. 
Better longboards (premium in quality): 
These are high-quality skateboards – the price starts from around one hundred and twenty USD. The skateboard's quality, structure, trucks, wheels, and bearings are all of the best quality and only available at high and premium prices. A premium deck is not open for fewer than 100 dollars, so selling a skateboard at a low price is impossible. 
Expert level skateboards: 
Expert level hoverboards come with crazy features and high-tech options – eventually; the price is also higher than two hundred dollars. There are lots of variations and the best quality material used in structuring. These pro-level skateboards may include skateboards with fiberglass. 
Qualities of good quality skateboard:
A longboard is not a simple wooden skate with wheels – it consists of many parts, so the quality of a skateboard lies on the quality of these factors: 
How the parts interact 
How the parts are assembled in your skateboard 
How good the qualities longboards have? 
Here is the list of parts that make up a longboards 
Wheels 

Deck

Trucks (these are made of many small pieces) 

The grip tape 

Bearings 
Let's examine here how choosing these parts will make your longboard one of the best budget longboards. 
     Bearings and Wheels for your cheap longboards: 
1. Wheels:  
Wheels are essential; the right quality wheel means you have more control over speed and smooth run. Quality longboard wheels are used in pro and premium longboards that are made of polyurethane, including minimum plastic (because plastic affects performance). But when you are going for a cheap longboard, go for all-urethane wheels. 
Not only the quality of wheels the size of wheels also affects the performance of the skateboard. The appropriate size, according to deck size, makes the board smother.  Larger hoverboards need larger wheels – the size is around 40 to 65mm W. and seventy mm diameter. If you are using bigger wheels than your deck, it will seriously affect the overall riding venture and quality. However, if you have big wheels, the performance can be fixed by adding risers between trucks and deck – or you can go for higher trucks. 
The third thing that affects the wheel quality and skate performance is wheel shape, durometer (hardness). The quality of the wheel is broadly judged by the wheel durometer and shape. So when you are ready to select the reels, it also depends on which type of ride you prefer – cruising, free riding, truck, speed, and carving. 
2. Bearings of cheap longboard: 
Bearings are parts of the wheel made of metals – bearings let the reels spin on the axle. If bearings are of low quality, it will hamper the spinning of wheels freely. It eventually means the fraction is not high enough. The low-quality bearings will affect the overall quality of longboarding and speed. On the other hand, quality types of bearings help to get a better grip on initial breakings. 
For measuring the bearing's accuracy, the ABEC rating for premium quality longboards and pro skateboards is ABEC 9 and ABEC 7. The standard bearings used in cheap longboards are ABEC 5. ABEC 7 is fast, and ABEC 9 is super fast. There are many other factors other than bearing materials to judge the quality of bearings. If you are looking for some tests, try it on an inexpensive skateboard, push it on flat ground, and observe how far it can go rolling. 
     Quality of deck: 
The quality of the deck is the first thing to notice on your skateboard. Here is the breakdown of deck features and how you can use cheap parts without compromising quality. 
1. Construction and material of Deck: 
There are many types of wood that are used by pressuring them together in vertically laminated layers. Wood can be maple, bamboo, Birch, or composite material like carbon fiber. If you are looking for a deck cheap under 60$, you can find a deck made of laminated wood and maple wood. Maple would is a durable wood, and it is unluckily abundant. Moreover, you can go for a deck made of bamboo outer layers for the board's appearance. 
The deck's material determines many things like the deck's flexibility, its durability, and its weight. Maple is one of the favorite choices for longboard cheap as they are durable and economical. Moreover, bamboos are heavier than maple and composite deck. 
The laminate layer of wood helps a lot in how you feel when you ride and affects quality. When your skateboard has fewer layers that means it will have less weight and more flexibility. On the other hand, if your deck has more layers, it will be stiffer, and flexibility depends on what type of ride you are picking for on the new longboard. 
In short, maple decks are better, durable, and quality may depend on a number of layers. Also, it depends on the pressing process. 
2. Shape of longboard: 
The deck is available in many shapes like square tail, asymmetrical, pintail, round tail, or symmetrical. The form of the deck does not have any specific effect on the quality of the skateboard. But the shape does affect speed, smooth-riding, and overall riding quality. Features of deck's shape like curved surface along deck width, and curve along length if deck (camber) affects riding quality. Wheel wells, cutouts are used to make space around the wheels. It means wheels will not touch the deck, and it will quickly help in sharp turns and work as an added quality of the deck. 
       Trucks for cheap longboards:  
Trucks are an essential part of longboards, and they play an active role in overall skateboard quality. The primary function of the truck is to provide the board with a smooth turning ability and stability. 
1. Structure: 
The trucks with good quality are made of aluminum to reduce the weight of the longboard overall. Most trucks also contain alloys for extended durability. When there are fewer supplemental metals involved, it will get old and rusty, affecting the age of the longboard. 
2. Weight and dimensions: 
Truck dimensions impact wheel bites while turning, so they are quite an essential part of truck quality. When the truck gets in contact with the deck in the turning process, it brings the board to a brutal stop. The wheelbase is a critical problem when you are riding quite fast. It will significantly impact the quality of your longboard. It can also increase the chances of flip or trip. 
A quality longboard truck ought to have the same width as the deck – and you may need to search for it if you are looking for longboard cheap. If you are looking for longboards with standard measurements – it would be one hundred and eight mm for a longboard deck with 9 inches or wider. 
A smooth turn is also a good sign of quality. A swift turning depends on many things; the deck's stiffness, truck height (if a truck height is higher, it will get fewer wheelbite), and truck tightness. 
3. Kingpin style of a truck: 
Mostly budget longboards use traditional kingpin and reverse kingpin – that means truck kingpins that face each other, or in reverse, meet the opposite. A traditional truck's kingpin is good, and it does not mean if you are using it as your cheap longboard, it might have low quality. A traditional kingpin is quite the right choice for people who love freestyle riding. 
4. Bushing: 
It is the rubber part between the kingpin and the truck's central feature. Brushing act as cushions and their quality plays an essential role for all over skateboard quality. It also impacts hoverboards turning ability and helps in speed handling. 
     Grip tape of cheap longboard:
It is an essential part of the board that ensures safety from the trip and accidental fall. It is an adhesive tape that is put on your longboard deck. It gives the rider more control overriding with the deck's camber and concave. 
Where to buy the best cheap longboards? 
If you wonder where you can buy a cheap longboard, it is relatively easy to answer Amazon.com. It is one of those places where you will find affordable, cheap longboards. You will amazingly find longboards for sale with reasonable shipping and easy return policies. You will not only find amazing deals there, and sales prices are incredibly low. 
If you want more cheap rates, you can always visit the local skate shop. Local skate shops are one of the most excellent choices to buy a budget longboard as you can test them before buying. You will also get first-hand advice from merchants. But there are loopholes in this process as you may have to survey the market and spend long, tiring hours in the market. On the other hand, if you are going to buy from Amazon, it will be convenient. 
You will find many cheap longboards on Amazon – Here is the list of the best cheap longboards available on Amazon with brief details to help you chose under your budget and fulfills your needs.
It is a durable yet straightforward longboard that fits right into the budget. It is one of the best longboards for cruising. It has pintail as a basic longboard shape that calls for chill and relaxes cruising and promising occasional carvings. Looking towards the pintail, it makes the board perfect for anyone to go around and get a fun-filled ride. The blank pintail looks like simplicity has been given a life. SCSK8 is one of the best options for longboarding under a hundred dollar budget. 
The deck is strong and durable; it has seven-ply maple woods, and a top mount system is used in the manufacturing process. The design is sleek and stylish that restrains wheels from biting. The trucks are reliable and come with a reverse (traditional) kingpin. Trucks are made of aluminum and come with seven inches hangers. The wheels are of good quality, and according to the deck size, these come in seventy mm. For a cheap longboard, it has ABEC -9 bearings that make your SCSK8 longboard a fast-riding board on the list. 
It is simple and elegant – there is no doubt it is cheap, but the style, utility options all present good graphics. It is all in one type of board that is made up, especially for saving purposes. It is a more active type of board, a blank deck, and fast riding is the dream of riders when they start their journey as beginner riders. It is best for those looking for simple, affordable, and safe entry into the fun sport. All these features attract people for sure. It is not wrong to say that it has everything a beginner need and desires from their first hoverboard.

[joomdev-wpc-pros-cons disable_title="yes" wpc_style="wppc-view1″ title_tag="H3″ title="Title Here" pros_title="Pros" cons_title="Cons" button_text="Check Prices On Amazon" disable_button="no" button_link="https://amzn.to/3ngQaJI" button_link_target="_BLANK" button_rel_attr="dofollow" verdict_text=""][joomdev-wpc-pros]
It is a complete package of what a beginner need.

 

The SCSK8 has super fast speed with an excellent quality truck.

 

The skateboard is a durable make and made is firm and robust. It is made of wood and comes with seven-ply maple that ensures its durability.

 

ABEC 9 red bearings guarantee its fast speed; the reverse kingpin ensures your freestyle riding fun and safe.

 

The Pro-Black grip tape helps the rider to stay on a skateboard as long as they want. It saves them from any trip or fall accident in case of a sudden break.

 

It has standard pieces of equipment with good quality and low price.

 
[/joomdev-wpc-pros][joomdev-wpc-cons]
The wheels of this simple skateboard get heavy sometimes, which hinders your fast ride.

 
[/joomdev-wpc-cons][/joomdev-wpc-pros-cons]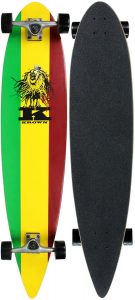 Krown is one of the best longboard brands. They are always striving to provide the best parts with unmatchable quality, and during this process, they make sure that it saves money for their beloved customers. Krown is the best place to buy your first skateboard and start your journey as a beginner or mediocre skateboarder. Krown Pintail is a classic shape, and it seems like old fashioned skateboards. The design looks calm with waves on the deck, and you will feel like catching in ways riding smoothly as boarding in water.  
The wheels and shape of the board are designed to remove chances of wheel bite while you are riding. So now, you may not have to worry about curves and turns and speed problems when there is a hill on your way. This unique skateboard is perfect in size and perfect in shape; that is why it is ideal for every type of riding – do dancing, carving, or cruising it will go all the way with you.  
The truck is strong and durable, and it comes with aluminum in six inches. Typically in cheap longboard, the wheels are made of PU, but it is made of high-quality urethane wheels. Moreover, it has ABEC 7 bearings that ensure fast, smooth speed and high tensile head mounting hardware. Every single component of the longboard matches industry standards and the popular choice of worldwide skaters. 
[joomdev-wpc-pros-cons disable_title="yes" wpc_style="wppc-view1″ title_tag="H3″ title="Title Here" pros_title="Pros" cons_title="Cons" button_text="Check Prices On Amazon" disable_button="no" button_link="https://amzn.to/2WaguZO" button_link_target="_BLANK" button_rel_attr="dofollow" verdict_text=""][joomdev-wpc-pros]
Krown longboard for beginners come in many colors and designs. It is rich with graphics and layouts, the one with colorful waves, or goes for the skull's robust design. You will fell in love with a multi-color graphic-rich with strip design and lion print on it. The rich color textures, color variety, and continuous new graphics will make the board your favorite.

 

The deck is strong and durable; it is made of maple that ensures its longevity. 

The trucks are made of aluminum, and the wheels are precisely the same size your board needs. There are fewer chances of wheel bite, and you can have a smooth ride.

 

The board comes with a professional assembly. All you need is to order, receive, open, and start your adventure of riding.

 

The Skateboard comes with eight grit grip tape in black. It ensures your security and saves you from slipping or tripping while you are enjoying the ride.

 
[/joomdev-wpc-pros][joomdev-wpc-cons]
The wheels get heavy sometimes, and it may have some immediate brake issues.
[/joomdev-wpc-cons][/joomdev-wpc-pros-cons]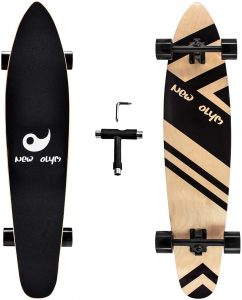 New Olym longboard is one of the best budget longboards available for all types of rides. It is designed for fast speed and smooth run on roads. The unique curved shape of the longboard ensures speed and adds balance. It has incredible push power without any fear of wheelbiting. Do not worry when you are going over a hill or taking a sharp turn as it will be smooth, and there will be fewer chances of accidental brakes. 
Overall, New Olym equipment is of high quality. For instance, a truck is made of aluminum. It comes with a smooth and reactive gliding slant. The kingpins are traditional reverse and help a better ride. The truck is 7 inches in size; it has ABEC 9 bearings, which means full speed and rides like a pro. Now you can ride longer, faster, and smoother than before.  
The skateboard manufacturer also ensures safety for the riders; that is why grip tapes are of high quality and durable than all other available in the market- it provides total grip and complete balance override. The quality, speed, and wheels all make it clear that it may be manufactured for beginners, but it is quite a fantastic choice for all types of riders. You can go for freestyling or cruising or curve like you want without any fear. 
[joomdev-wpc-pros-cons disable_title="yes" wpc_style="wppc-view1″ title_tag="H3″ title="Title Here" pros_title="Pros" cons_title="Cons" button_text="Check Prices On Amazon" disable_button="no" button_link="https://amzn.to/3macF1y" button_link_target="_BLANK" button_rel_attr="dofollow" verdict_text=""][joomdev-wpc-pros]
The skateboard durability is based on many things, and most important among them is the strength of the board/deck. It is constructed with eight layers of maple. The surface has a non-slip feature that provides a stable, constant, and firm grip during your riding adventure. The skateboard easily supports a weight of more than 660 pounds; that means it is quite a fit for kids and adults.

 

The board comes with a stylish and elegant design; it has a wooden color with black print on both the skateboards upward and back. The design is quite decent and elegant, and it attracts everyone. The board is also water-resistant that increases its durability.

 

Looking for extra strength in one longboard – it has all of it. The trucks are made of high-quality aluminum alloy and steel axle that makes them more reliable and robust. Drop deck keeps your balance and gives a smooth push riding.

 

The skateboard is made for all age types and a perfect choice for beginners. It can withstand weight for up to 660 

lbs

 that mean adults or kids all can use it.

 

A smooth ride is only possible when you have a firm grip and the best anti-shock PU wheels with ABEC-9 bearings. The New 

Olym

 board has it all. The soft, smooth brushing offers a smooth ride. The board comes with an All-in-One skate T Toll – that means you will have it in case you need any repair.

 
[/joomdev-wpc-pros][joomdev-wpc-cons]
It is better to skate on flat roads. Avoid off-road trips.

 
[/joomdev-wpc-cons][/joomdev-wpc-pros-cons]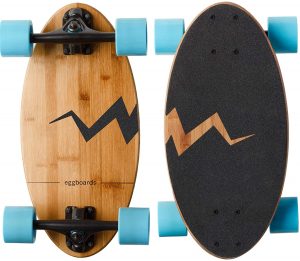 Eggboards longboards are an incredible choice for all of your skating needs. Eggboard strives to provide the best for its riders, and this longboard with unique shape is one of their best boards for beginners. It is light in weight and provides a smooth ride under 20". The company took the initiative of manufacturing mini longboards, and now many manufacturers are following in the footstep. 
The first thing that matters most in longboards is their durability and sustainability. This unique mini longboard has all that one can expect from any board. The deck is made of 100% bamboo wood that ensures its durability. Overall all the parts of the board are of high quality. 
Longboards with long tails might be the right choice for riding, and many people think its small size affects it. But it is not true at all. The fantastic mini longboard is easy to carry around, and you can even put it in your backpack. Moreover, when it is time to fly by airplane, the board is easily acceptable as it comes under 22".  
The hoverboard is small in size, but it comes with oversized tires that give the design a beautiful look. Wheels are made of PU and come in red PU material. It has a 69mm diameter, a soft density, 57mm patch, and 76A for smooth and fun rides. The truck is made of aluminum in 7" – bearings running on ABEC-9 ensure full speed and excellent ride. 
[joomdev-wpc-pros-cons disable_title="yes" wpc_style="wppc-view1″ title_tag="H3″ title="Title Here" pros_title="Pros" cons_title="Cons" button_text="Check Prices On Amazon" disable_button="no" button_link="https://amzn.to/3gEfGG2″ button_link_target="_BLANK" button_rel_attr="dofollow" verdict_text=""][joomdev-wpc-pros]
The make and made are strong and durable. 100% bamboo structure makes it durable, and the deck provides a stable ride with non-slipping features.

 

The longboard is amazingly light in weight, so you can easily carry it around without. The size allows you to take it in the backpack. Moreover, if you want to go somewhere far, the size is acceptable in airplanes.

Smooth performance is possible with ABEC-9 bearings, and wheels spin for a long time than expected. You will need less kicking time and more fun time riding on your board.

 

The board is uniquely designed and simple in design. You can also choose one with beautiful and elegant graphics.

 

It is a stable, light, mini longboard perfect for those who want to learn to ride. It will be your first and memorable skateboard.

 
[/joomdev-wpc-pros][joomdev-wpc-cons]
There are chances of wheelbite, and wheels can get harder sometimes.

 
[/joomdev-wpc-cons][/joomdev-wpc-pros-cons]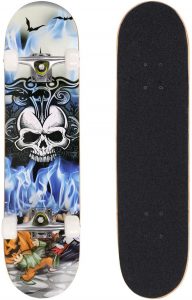 The longboard is a unique and 3D designer, skateboard. It has a beautiful concave design deck of the full size that makes it 31 inches x 8 inches. The wood and structure are robust and durable. The deck has high quality 9 layers of hardwood maple wood. It is terrific in quality, and there is rarely any plastic board that matches its qualities. It is a skateboard specially made for kids under the age of 11; that is why every component like wheels, truck, and deck is designed by considering their unique needs.  
Truck durability and construction are strong; it is made of heavy-duty seagull aluminum alloy material on 5 inches. The wheels are also durable and made of good quality PU material. It has four anti-shocks for a smooth run, and the size of the wheel is 55mm 85A. The bearings have features of ABEC-7 that confirm a standard speed with a smooth run. Bearings are made of high-speed stainless alloy and incredibly soft PU bushings. The grip tape has a full-length and non-slip deck with irresistible flexibility, provides you control override, and you can even skate in raining season. 
[joomdev-wpc-pros-cons disable_title="yes" wpc_style="wppc-view1″ title_tag="H3″ title="Title Here" pros_title="Pros" cons_title="Cons" button_text="Check Prices On Amazon" disable_button="no" button_link="https://amzn.to/2KgskPt" button_link_target="_BLANK" button_rel_attr="dofollow" verdict_text=""][joomdev-wpc-pros]
The high-quality grip tape provides a stable ride with a more powerful grip and smooth riding on your slick pro skateboard.

 

The 

Binxin's

skateboard provides you smooth turns with quick and tight turns. The size is large, but you can carry it in your backpacks and take it to the airplane.

The longboards usually work well on a flat and smooth surface, but it is also on rough grounds; that is why it is called an all-terrain longboard.

 

All parts are assembled, so ride and enjoy.

 

It is suitable for beginners, and you can perform stunts smoothly.

 
[/joomdev-wpc-pros][joomdev-wpc-cons]
There are chances of 

wheelbites

. 

 
[/joomdev-wpc-cons][/joomdev-wpc-pros-cons]
Conclusion: 
Longboards under budget are an excellent choice for beginners. Once you get your skills straight, you can go for high definition longboards and try great electric longboards.