The longboard is a type of skateboard that gives you a conventional ride without consuming any fuel and toxic gases. It is faster transport due to its wheel size, materials used in the construction material.
Longboard freestyle and dancing also become popular types of longboarding. Most boards measures 33 to 59 inches long deck and 9 to 10 inches wide.
Longboard freestyle is a type of longboarding that gives you different riding styles. The techniques includes flip tricks, technical sliding, bowl and skate park riding. The best free style longboard depends upon its working and styles. Basically freestyle longboard look like an oversized skateboard with bigger wheels.  For the classic type of longboard we prefer you to choose mid to full sized drop through longboard.
Some of the most important tricks for free style longboards are
The manual one longboard

Pivot with 180 degree spin

Shove it with pivot and switch

Boneless with jump grab

Drop kick for jumping

Kick flip for common dancing
Types of freestyle longboard:
Basically there are two main types of free style longboards that gives you smooth rides with better technique formula.
Hybrid longboard:
This is a giant longboard with large kicks and shorter with shorter wheelbase. These hybrids offers more balance than street skateboards due to their size. Many of them have larger wheels that provide cruising more stable.
Regular longboard:
This is a typical longboard with small kicks. And normal size wheel base
How to choose a perfect free style longboard:
Following guides will help you to choose perfect longboard for freestyle that provides you perfect styling and cruising.
Free style deck shape:
The hybrid longboard has similar type of deck street deck with bigger and softer wheels. These hybrid decks range from skateboard size to quit large wheelbase from 14 inches to 35 inches. If you are looking for a dancing longboard than go with the size of 31 inches.
Smaller, street sized hybrid decks still have longboard features like wheels wells which allow for bigger wheels for cruising and freeriding, and concave for better speed riding and tricks.
The deck should be light in weight to get off the ground easily for tricks.
It should be strong for bearing balance and must be durable to withstand the abuse from kick tricks and jumping.
The deck is made up of bamboo or maple because these materials consider as the strongest materials for decks.
Top mount boards consider as most durable for free style involving jumps and dance. Drop through boards have property to break easily. Hard jumping on drop through boards have ability for the breaking of board easily.
Freestyle kicks:
Kick tails are the important requirement for every longboard. Kicks gives you the ability to through boards on the hurdles. If you are skating in skates park that you should have to keep your foot on kick tail.
Hybrids decks have large kick. Larger free stylelongboards have smaller kick tails on it.
Deck cutout of freestyle longboard:
Big cutout decks makes your ride hard. Having your heel millimeter away from touching the wheels when you are doing hard kick turn. You should avoid riding mix when you are park skating.
These decks somehow a good thing for larger freestyle longboard.
Freestyle flex of deck:
Street skateboards contain stiff decks so longboards tends to have more flex for smooth cruising. Intensity of flex you need is depend upon our freestyling. The more flex you have the more you can do flipping tricks.
Too much flexes make for sketchy landings for jumps tricks.
Wheels and trucks:
Trucks used for freestyle longboards are basically traditional kingpin or reverse kingpin trucks. TKP is more preferable for more techniques in longboard as they are twitchier and more responsive.
Tensor or gunmetal trucks are more suitable for freestyle longboard riders. Gunmetal may have to play with bushings for the best street skating feeling.
RKP trucks also a good choice as it gives better balance and stability control.
Wheels:
The basic and important purpose for choosing a freestyle longboard than a street skateboard is generally to be able stable and smooth cruising. While performing different types of techniques we should opt a longboard that have better wheel size and shape. Choose the wheels that are more suitable for better and smooth skating.
For hardcore street riding you should opt a wheel size of 56-63mm with a supportive core. RAD feathers are the better choice for this.
Wheels with hardness of 85A is best for middle ground cruising. If you have uneven roads then opt wheels with hardness of 80A.
If you are more mellow type of freestyle and have less hardcore street tricks than go for the wheels with 78A hardness.
Best Freestyle longboards:
Following are some top most famous freestyle longboards that provides you best and smooth cruising with better techniques and tricks.
1. Loaded Kanthaka Freestyle longboard
This longboard comes with big double kicks best for switch riding and street freestyle tricks. This is among the best freestyle longboard for sure which provides you longer decks than a streak deck longboard with the length of 36 inches. Its deck has a bamboo construction with the mixture of fiber glass. It contains lightweight and very strong carbon reinforced kicks. This complete board comes with 149mm Paris street trucks and wheels of 82A. This boards offer you strong core support for freestyle tricks. This is however a money worthy longboard.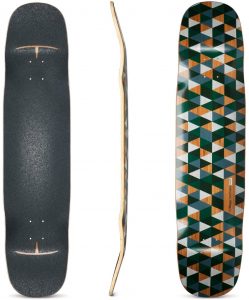 Pros
Light and durable
Have good stability
Slightly flex
Stylish
Cons
2. Bustin yoface freestyle longboard
This entire brand is based on cruising the city looking for skate spots. These cool longboards have been the experts at combining with street since before.
This longboard comes in length of 34 inches with 9.1 inches. This is amazing for street, tech slides, banks, verts and stairs also.
Wheels of this longboard gives you extra clearance and create a nice foot pockets. This board has lot of pops with big kicks. Its deck and tails are durable and strong.
It comes with 150mm trucks of TKP and 66m long wheels with the hardness of 80A. If you are a regular longboard rider then this board helps you to make a great transition into a freestyle longboard.
Moreover this longboard gives you best facilities with very reasonable price.
3. Loaded tan tien freestyle longboard
Another most suitable freestyle longboard that gives you a widely vetted choice for traditional longboards freestyler. This board contain a big drop through deck with the length of 39 inches with large wheels of cutouts and narrow double kicks. It is no doubt a freestyle deck for combing with classic freestyle longboard techniques. This board comes with a shorter wheel base with deeper concave that gives you better freestyle moves. This board gives you a tight flex which gives you smooth carve with best sharp turns. Its synchronized shape helps you to jump over hurdles and obstacles that gives you for sure smooth cruising even on uneven roads. This board is constructed so well that it gives you hardcore street riding in skate parks and down the hills too. Its bamboo and fiberglass deck is very durable. There are three flex options that allows you to choose a board with your need.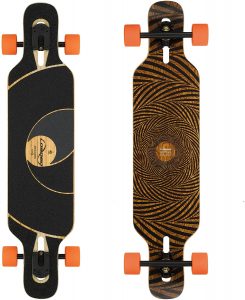 Pros
Durable decks.
Have best balancing property
Stylish in nature
Smooth wheels
Cons
Trucks need to be tighten.
4. Stained assemble complete freestyle longboard
This is the basic and classical longboard that comes in a category of best freestyle longboards. The 7play maple constructed decks made this longboard the best and suitable free style longboard. This longboard runs quietly and efficiently that's why this is suitable for uneven or rough surfaces too. The bearings are excellent to handle too. This is summarized in such a way that you will be unable to use it out of the box.
It bears the weight of about 220 pounds that gives you better stability and balance. The trucks are good in quality too. Trucks are made up of 7 inch aluminum that gives you smooth turning. Moreover it contains the bearing of ABEC 9 Red B. length dimension for this board is 40inches long and 9 inches wide.

Pros
gives smooth performance
stylish with multiple designations
gives smooth turns
durable
Well-constructed.
Cons
not flexible
Weight limit is low.
5. Playshion freestyle longboard cruiser
This popular freestyle longboard comes with the length of 39 inches long and 9 inches wide. The weight of this fashionable longboard is 7 pounds and can bear the weight limit of 250 pounds. The longboard come in the category of cheap longboard with varieties of tips and tricks. This longboard is suitable for cruising, carving and freestyle. This is the most affordable and coolest longboard that gives you smooth and sharp riding. The deck of this longboard is 8ply maple and drop thru symmetrical shape. The trucks are of 7 inches 180 mm aluminum with professional grip tape. The plus point of this longboard is that it comes with the warranty of 90 days.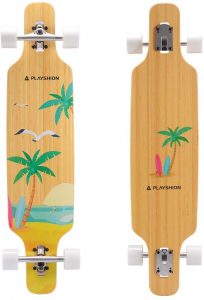 Pros
durable
well-constructed
cheap in cost
Cons
Bearing paint can be faded.
6. Volador top freestyle longboard skateboard
If you are in need to find out top quality longboard that provides you with sturdy and responsive ride than opt this longboard without any hesitation. This longboard come with 8 ply maple deck which means its deck is made up of maple. Maple is said to be hard and sturdy base. This board comes with the best graphic designs and styles.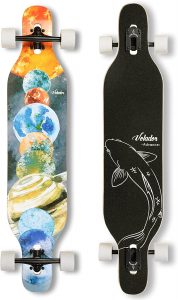 Pros
Environment friendly
Hard with 8ply maple deck
Best design
6 different styles and design
Cons
Not flexible
Limited tricks
7. Rim able freestyle longboard
This Rim able deck come with soft wheels and strong maple deck. This make it perfect to make the turns sharply and smoothly. This board provides you high speed cruising.
It also come with high speed bearing which is great for those beginner high speed cruisers. Moreover this longboard comes with beautiful graphics on it that make it your go to board.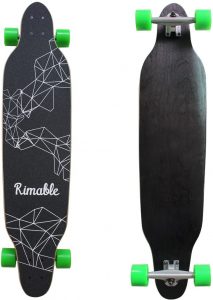 Pros
Strong deck
Well-constructed
Have high speed bearings
Have soft wheel.
Cons
Weak grip tape
Hard to control
8. Slendro freestyle longboard
This longboard is a perfect choice for anyone who wants all the benefits of standard drop with tight turning radius. With its low deck height with the width of 9 inches and 70mm soft wheels it gives you smooth ride with carve and sharp turns.
Its aluminum trucks helps you to balance your body on hurdles and obstacles. This drop through longboard is 42 inches long. The color of the wheels are perfectly matched by its graphic.
Built for freestyle ride and for downhill cruising which is suitable for all the ages. Moreover this longboard contains 9ply bearing. Its durable wheels of 70 inches long with the hardness of 85A.its drop through chamber is super flex and shock absorber.
This longboard provides you better stability that make it a great choice for downhill and on uneven roads as well.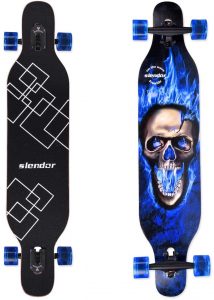 Pros
Well-constructed
Have greater stability ability
Well styled and design
Cons
9. Magneto freestyle longboard
A longboard in which you can dance on is magneto freestyle longboard. The deck of this board feels firm with just right degree of flex to attain stability while cruising at high speed.
This stylish looking longboard has natural finishing of bamboo that's why it does not rub against your clothes while carrying it.  Due to its clear top finishing it doesn't need any grip tape which often looks shoddy when its start peeling off.
It gives you same amount of grip which is needed for stability and balance. The logo is same on the top and bottom of the board.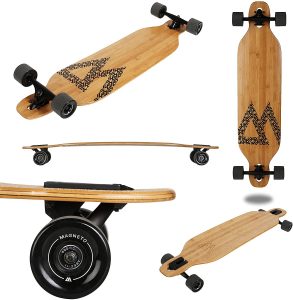 Pros
Suitable for tricks
Best for dancing
Well-constructed
Stylish logo that remains same on top and bottom of the board.
Cons
10. Wiisham drop down freestyle longboard skateboard
This unique longboard comes with the 9 ABEC bearings. The soft 83A.Soft wheels helps to make your ride smooth and hustle free. The 42 INCHES LONG DECK WITH THE WIDTH OF 9 INCHES made this board speedy. The deck is made up of 9 piles of maple. Grip tape of high quality and water proof also attach on these piles of maple.
Pros
Have spacious deck
Faster in speed.
Used for many tricks and techniques
Well-constructed
Cons
Wheels might cause some problems
11. Din bin freestyle longboard skateboard
This a budget friendly longboard have all the qualities which are needed for best free style longboard.This longboard is 41 inches long and 9 inches wide which provides you good foot place. This board bears the weight limit of 220 pounds. Have deck of 8ply hardwood maple. Its trucks helps you to take sharp and smooth turns on even and uneven roads. The ABEC 7 bearings also made this longboard strong and manageable.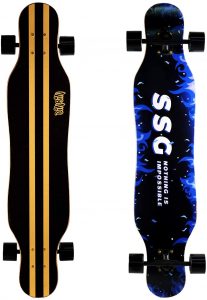 Pros
Plenty spacious deck
Manageable controlling
Reasonable cost
Well-constructed
High speed
Cons
Some parts need to be replaced
Advantages of using freestyle longboard:
Following are some advantages that make you choose for freestyle longboards.
Cheapest transport

Fast in speed than other transports.

Environment friendly without consuming any toxic fuels and dangerous gases.

We can do our workout through this transport as this allows our muscles to work with ease.
Conclusion:
With these above mentioned guidelines we finish our article on the best longboards for freestyle. By using these guidelines and types you are now perfectly able to buy a longboard that fits to your personality. Either you are a kid, adult, beginner or a pro longboard rider these guidelines help you to choose best freestyle longboard with all the specifications and need.
With this we conclude our article for the best longboard for freestyle.