A longboard is a more convenient and longer type of skateboard. Longboards can keep your balance easily because of soft wheels and wider room for the feet of the rider. They are for cruising and transportation. Besides, they are a good source of workouts and provides various health benefits. There are various types of longboards available in the market. Each of them is designed and constructed uniquely and possess different qualities. However, it is difficult for heavyweight persons to choose the best longboard. If you are heavyweight, you can also burn calories every day along with your transportation. Meanwhile, to maximize your enjoyment. This article outlines essential details about the best longboards for heavy riders so that you can select the suitable one according to your weight and height. 
What to Consider When Selecting A Longboardfor Heavy Riders? 
A person should keep the below-mentioned factors in mind if he is going to purchase the best longboard for a big rider. 
Weight Capacity! 
It is the most important factor which needs consideration before choosing any longboard. No matter how unique features a longboard have but if it is unable to accommodate your weight. However, it would be a great risk for a rider if the longboard will break during the ride. Furthermore, for the rider's convenience, maximum weight capacity is mentioned in the description of every product. Or if it is not available, you can have a rough estimate of weight capacity from the materials of the deck.  
Moreover, it is recommended for hefty riders to select either artisan bamboo longboards or ones manufactured from multi-ply maple material. Both types of longboards are tough and flexible. They provide shock-absorbing capability along with optimal control of the longboard during a ride. Meanwhile, the longboard with deck material of eight-ply maple combine with bamboo or fiberglass can easily accommodate 220 to 300 pounds. 
Brand! 
The top-quality manufacturers of longboards always give the best material. They have experienced designers to build top-notch longboards with unique graphics. Some big brands offer high-quality material with different features at affordable rates. They provide the best longboards for all riding communities including heavy riders. So that heavy riders can also enjoy fun rides. However, if you are a heavy person, it is suggested to consider some top brands while selecting the best of the longboard. Some top-quality brands are mentioned in this article. They are Kahuna Creations, Atom, Magneto, Sanview, and White Wave.   
Deck!
It is one of the most important components of the longboard. To hold out against heavyweight from 200 to 300 pounds, the deck should be tough enough. The deck material, appearance, height, and concave are the top priorities to consider when  selecting a longboard. 
The strongest longboard deck material: 
Four types of deck materials are available for a longboard. They are bamboo, maple, fiberglass, and carbon fiber. All these materials have some advantages and disadvantages. From the expert's advice, it is revealed that a combination of two or more materials makes strong and durable longboards.  
Moreover, the hybrid of maple with bamboo and fiberglass with bamboo is considered an ideal option for hefty riders to enjoy smooth and easy cruising. Meanwhile, the combination of maple and bamboo provides more flexibility, so it is best suitable for commuting and cruising. Furthermore, the strongest decks are made of a minimum of eight-piles. The nine-ply is even better and provides more support to the heavy riders. A ply is simply a layer of wood using in decks of a longboard. Nine-ply means the deck is made of a lamination of nine layers of wood. 
The shape of the deck: 
There are three shapes of longboard available: The Relatively Flat, The Downward Curve, and The Upward Curve. If you are a heavy rider, so it is advisable to never choose a downward curve shape because of its over flex nature. It is better to go with an upward curve and a relatively flat one. 
Height of Deck: 
If you are a heavy rider and you enjoy freestyle, freeriding, and commuting for long distances. So that you need settlement between deck height and wheel bite. However, tall riders should pick up a high setup and longer board. On the other hand, short heightened riders should consider wheel wells, wheel flares, and wheel cutouts. Meanwhile, to prevent wheel bite, add some wedges and risers. 
Concave: 
Aside from material, shape, and height, concave also contributes to the toughness of the board. The deeper concave provides greater rigidity. 
The Strongest Longboard Trucks for Big Riders!
Trucks of longboards need to be strong because they are providing High maneuverability, strength, and durability. They should give optimal control while riding so that you can make tight turns conveniently even at high speeds. Moreover, the drop-through style of the truck is ideal for freestyle riding. While for downhill riding, you should go for the top-mounted tracks. Furthermore, baseplates, kingpins, axles, and nuts are components of the truck. They provide support in handling heavyweight. Never choose nylon and plastic baseplates. Instead of these, aluminum baseplates are the best and give better support. Moreover, according to recommendations, you have to select hollow shape kingpins and axles of steel material. 
Longboard Wheels for Heavy Riders! 
Heavy riders should choose longboards with small and medium-size wheels. Never go with big wheels because due to heavyweight higher forces generate, eventually provides better grip for more stable rides. So large wheels are not ideal in this case. Moreover, always select harder wheels because such wheels do not compress with a heavyweight. And extra compression can increase rolling resistance, which is not suitable for a smooth ride. It is advisable to consider a wheel with durometer ratings of about 80a along with a diameter between 70-75 mm. Such types of wheels are ideal for hefty riders. Meanwhile, longer bases are more convenient because longboards with short bases are hard to drive flexibly. 
Bearings! 
Bearings are equally an important feature of a longboard. However, good quality steel is considered the best material for manufacturing bearings. This type of bearings is durable and helpful in handling the heavyweight riders. Always remember the best quality bearings are not too cheap, and you have to pay a good amount for them. Meanwhile, never go for ceramic bearings because they are weak and costly as compared to steel ones. The ABEC rating scale measures tolerance, which means how strongly the parts of the bearings fit with each other. The higher ratings indicate better bearings. However, longboards have bearings measures ABEC 7 to 9 are ideal for heavy riders.  
Bushings! 
They are an essential component of a longboard for smooth riding, but several riders often underestimate bushings when selecting a longboard. The hefty riders never choose too soft bushings because they might result in falling and ultimately cause serious injuries. Meanwhile, too hard bushings result in a bumpy and uncontrollable ride. So that heavy riders should choose 90A+ bushings for the ideal performance. Furthermore, the riders who want a flex board should pick 91A bushings, while riders who love stiff longboard for riding should choose 97a+ type of bushings. The cone and barrel shape bushings minimize the resistance at the time of turning and improve the performance at top speeds. 
Size of Longboard! 
The size of the longboard is always measured in length and width. For best performance, both need to fit according to your height and size of shoes. Consider the width of the longboard upon which you can easily stand and make turns smoothly without any discomfort. However, the length depends on riding styles. There is a different length of longboard for each riding style. Following are the lengths.  
The cruising style needs board length from 28-46 inches. 
For downhill riding, the length of the longboard should be 36 inches or more. 
If the rider enjoys freeriding style so he should consider a longboard whose length is between 38 to 42 inches. 
However, for freestyle, there is no limit to board length. 
Furthermore, the weight of longboards differs from one type to another. For example: 
The weight limit for downhill longboards is between 8.7 pounds to 10 pounds. 
The longboard for dancing purposes weighs within nine pounds to twelve pounds. 

The longboards use for cruising and commuting weighs from 6.5 pounds to 9 pounds.

 
List 

o

f 

Best 

Longboards for Heavy Riders

!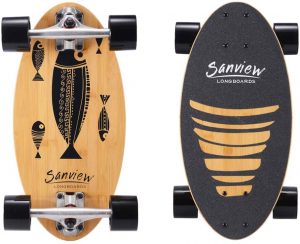 It is one of the best items of the Sanview longboard brand. It is used for various purposes include riding, cruising, and transportation. This product weighs 8.2 pounds. It is recommended for more than nine years old kids. It can be the best product to engage kids in physical activity and limit their use of mobile devices. Heavy riders choose this longboard for their easy sliding. 
Deck:
The most important feature of Sanview Bamboo Drop through Longboard is the deck, which is made up of high-quality material that's why it is ideal for heavy persons. It is constructed with seven piles of Canadian maples and one-ply bamboo. The length is 4 inches and the width is 9.5 inches that make it perfect for big riders. The ride is stable because the longboard is in the shape of the drop-through, which makes the center of gravity low and provides a smooth ride. Always check for stability because it is the main factor for cruising, transportation, and craving out the tight turns. The longboard is carved with amazing and unique graphics.  
Wheels:
This product of Sanview longboard brand provides top quality wheels with a high rebound. Wheels have manufactured from polyurethane material. The size of high bound SHR78A wheels is 70X42mm. 
Trucks and brushings: 
The Sanview longboard offers high Rebound 83A polyurethane Bushings  7 inches Aluminum Casting Trucks. These features make longboard sturdier and more long-lasting for everyday use. 
Bearings:
Bearings are another factor that makes Sanview bamboo drop through longboard so amazing. Bearings are made up of  "Bearing steels" which gives more durability. And the Bearings rated 9 on the ABEC scale with nylon ball cages.
[joomdev-wpc-pros-cons disable_title="yes" wpc_style="wppc-view1″ title_tag="H3″ title="Title Here" pros_title="Pros" cons_title="Cons" button_text="Check Prices On Amazon" disable_button="no" button_link="https://amzn.to/3mjZrPX" button_link_target="_BLANK" button_rel_attr="dofollow" verdict_text=""][joomdev-wpc-pros]
The maximum weight limit is up to 260 pounds.

Multiply maple and bamboo deck material gives stability and makes it more durable.

Multiply maple and bamboo deck material gives stability and makes it more durable.
[/joomdev-wpc-pros][joomdev-wpc-cons]
Advanced users might not like this.

The bearing can smash slowly.
[/joomdev-wpc-cons][/joomdev-wpc-pros-cons]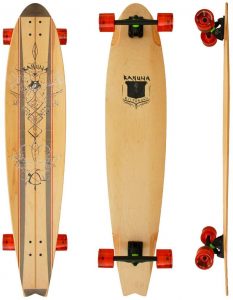 Kahuna longboard brand is popular for making fun boards with high-quality material. They are masterfully crafted with unique shapes, styles, and color combinations. These features distinguished Kahuna longboards from others.  It is ideal for heavy riders because of its maximum weight limit that is 260 pounds.  
Deck:

 
These longboards offer drop decks that provide more stability. Due to its drop deck shape, riding this longboard is easy and fun. The length is 48 inches, so this longboard is enjoyable for cruising and transporting over large distances. It gives optimal control because the deck is two inches lower from the top point. You can ride more safely and stably because of the lower center of gravity. Besides, you have ultimate control of the longboard. It is 10 inches wide from the front side and tapers towards the end. This unique shape of the longboard makes it ideal for heavy riders. It is fit for both longboarding and land paddling.  
Wheels and trucks:
The wheels of Kahuna creations master-crafted longboard are of topnotch quality and measures 70mm and 82A. They are best for acceleration and stable enough for a good slide. High rebound wheels make it more shock absorbent on roads. The premium Grizzly Bear 180mm trucks of this longboard is another best feature. 
Other features:

 
The world's famous tattoo man, Su'a Sulu'ape FreeWind created artwork of these longboards. Moreover, Kahuna creations master-crafted longboard is more durable because of the Canadian Maple seven Ply. Your feet will stick to the deck of the longboard because of silicon sand grip and this feature provides strong balance to heavy riders while riding. This longboard gives more control because of its concave shape which flattens out at the end. While riding over bumps you can easily get the balance after slight shaking of the body. A slight rocker and flex on the longboard offer an easy ride. 
[joomdev-wpc-pros-cons disable_title="yes" wpc_style="wppc-view1″ title_tag="H3″ title="Title Here" pros_title="Pros" cons_title="Cons" button_text="Check Prices On Amazon" disable_button="no" button_link="https://amzn.to/2IEVLdw" button_link_target="_BLANK" button_rel_attr="dofollow" verdict_text=""][joomdev-wpc-pros]
Made in the USA assures premium quality. 

A Meticulous and cool artwork. 

Diverse colorways 

A high weight limit makes it ideal for heavy riders. 

More durable and smooth. 

It contains high-quality components 

Gives optimal control 

Beginner-friendly. 

Fully assembled. 
[/joomdev-wpc-pros][joomdev-wpc-cons]
Soft bushings. 

High pitched and loosen trucks. 

Bearings break after some time.
[/joomdev-wpc-cons][/joomdev-wpc-pros-cons]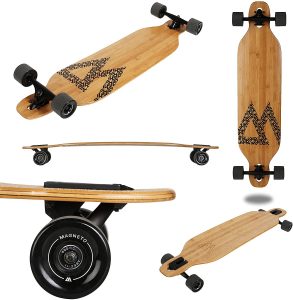 Magneto bamboo longboard provides a drop-through truck design for easily and smoothly carving up the road. Longboards of this brand offer a variety of riding styles. Although it is not much sturdy and strong as maple, its multi-ply design supports an incredibly high limit of weight that is 275 pounds. So heavy riders can consider it for freestyle, carving, dancing, downhill riding, and easy transportation. 
Deck:

 
The deck of this longboard gives great flexibility as it is made of 3-ply bamboo, mix with fiberglass that is responsible for better durability and stability. Moreover, the classic mixture of bamboo and fiberglass makes it aesthetically amazing, and riding on it is a dream for longboard lovers. The drop-through style lowers the center of gravity and hence provide smooth riding. This bamboo deck measures 38.5 by 9 inches and has the ideal length for carvings and hard turns. The shallow concave shape of the deck keeps you stick on the board all the time and you won't slip. The nice arched camber makes the longboard remarkably responsive. If you are a heavy rider so this super flexible longboard makes a huge impact on your riding performance. 
Wheels and bearings:
 A little bit of soft wheels of magneto longboard works efficiently with the bearings. You have to adjust and slightly loosen up the SHR- high rebound urethane wheels according to your riding style. However, the top-quality bearings rated eleven on the ABEC scale.  
Trucks and Bushings:
 The trucks of longboard have risers together that keep it elevated off the ground. Such amazing quality trucks are manufactured from Gravity Cast Aluminum material which offers more durability. Meanwhile, bushings need to modify because they are of medium quality. Trucks can be harder for some users, so you have to adjust them according to your liking. The trucks of this longboard are of Paris style with a seven-inch hanger and kingpin angle of 50 degrees. Overall, this is one of the best transportations for heavy riders with some unique features.
[joomdev-wpc-pros-cons disable_title="yes" wpc_style="wppc-view1″ title_tag="H3″ title="Title Here" pros_title="Pros" cons_title="Cons" button_text="Check Prices On Amazon" disable_button="no" button_link="https://amzn.to/3mbP28K" button_link_target="_BLANK" button_rel_attr="dofollow" verdict_text=""][joomdev-wpc-pros]
The item weighs 6.5 pounds but provides a high weight limit to support heavy riders. 

Magneto bamboo is a well-known branded longboard at an affordable price. You can invest without tension. 

Provides smooth and steady rides 

Deck length is reasonable with a combination of bamboo and fiberglass that makes it more durable. 

This longboard is wide enough for perfect cruising, dancing, and commuting. 

Board is flexible and stable for heavy riders. 

Some amazing and unique features make it lively and responsive.

 
[/joomdev-wpc-pros][joomdev-wpc-cons]
The wheels are not too good. 

Trucks are squeaky. Also, they are not too tight for heavy riders

.

 
[/joomdev-wpc-cons][/joomdev-wpc-pros-cons]
Atom brand offers various types of longboards for the riding community.  It is one of the best and fast-growing longboard brands because of its high-quality products at the best affordable rates. Its unique designs make it the best choice for heavy riders. Moreover, this longboard is beginner-friendly as well as used by intermediate and experts riders. You should consider this longboard if you are a heavy guy and looking for something at a low price along with great features. This board supports a maximum weight capacity of 275 pounds. Riders can customize this longboard according to their choice because its parts are replaceable.  
Deck:
The deck is a combination of seven-ply maple and two-ply bamboo covers with photo heat transfer graphics. This mixture of woods makes it more durable. However, maple provides strength and bamboo makes the deck flexible.   The length is 40 inches and the width is 10 inches that is an ideal choice for big riders. A longer deck provides more stability and the rider can easily make tight turns. Its concave deck and coarse 46 grit grip help heavy riders to stay stick to the board during sliding and high speeds. The drop-through deck style helps heavy riders to push the longboard easily because of the low center of gravity.  
Wheels and trucks:
 The atom drop-through longboard has 78a super high rebound urethane wheels. The diameter of the wheels is 70mm and the width is 5mm. These slightly large wheels have a shock-absorbing quality. The navigator drone trucks have a baseplate's angle of 40 degrees from the longboard deck.  This feature provides stability at high speeds and during maneuvering in hard spots. Meanwhile, bearings of atom drop-through longboard rated nine on ABEC scale with high-speed lubricant. These bearings provide safe and fast riding.  
[joomdev-wpc-pros-cons disable_title="yes" wpc_style="wppc-view1″ title_tag="H3″ title="Title Here" pros_title="Pros" cons_title="Cons" button_text="Check Prices On Amazon" disable_button="no" button_link="https://amzn.to/3ndBESL" button_link_target="_BLANK" button_rel_attr="dofollow" verdict_text=""][joomdev-wpc-pros]
The product weighs 9.2 pounds.

A long and sturdy deck provides extra stability to heavy riders. 

It has a stylish graphic design with top-notch components. 

This longboard is slightly concave and provides a strong grip. 

The combination material of the deck makes it more durable. 

Provides flexible and smooth cruising along with the best cornering and maneuvering features. 

Board has a more convenient, wider deck for people with big feet.
[/joomdev-wpc-pros][joomdev-wpc-cons]
Not good for downhill riding. 

Wheels are a little bit soft and not ideal for sliding. 

For more purposes, bearings need replacement. 

It makes loud sounds at turns. 

Trucks are slightly tight. They need to be loose for cornering. 
[/joomdev-wpc-cons][/joomdev-wpc-pros-cons]
White wave is one of the top longboards for carving. This strong board is perfectly designed for long-distance commuters and downhill ridings. It is the lightest available longboard,  which weighs only 3.5 pounds. However,   it has the maximum weight limit of 300 pounds among all the reviewed longboards in this article. It is an affordable longboard that is best suitable for heavy riders.  
Deck: 
It is an amazingly crafted longboard for cruising, carving, and transportation. It measures 36 by 9 inches,  and it is made of multiple layers of bamboo wood with a blend of Canadian maple. Due to this combination, riders can get a clear grip when riding over sharp turns. The deck of white wave longboard comprises of long-lasting heat transferred graphics. Moreover, a slightly concave deck provides more stability and flexibility to the heavy riders. Eventually, they can safely enjoy their fun ride. Meanwhile, a longer deck gives more support during downhill ridings.  
Wheels and bearings:
 The high-quality wheels make it one of the best longboards for heavy riders. High rebound urethane wheels measure 70 mm x 50 mm in size. Always check for durability while selecting longboards. These amazing features of wheels provide a fast and smooth ride and make it more durable. Moreover,  the makers of white wave bamboo longboard designed impressively high-quality bearings. They are ABEC 9 Hellion bearings accompanied by built-in spacers. 
Bushings and Trucks:
 The trucks of white wave bamboo longboard are 180mm (7 inches) in size made of aluminum. Although functionally this is not too good, it gives an amazing style to longboard. Moreover, the ultra-high rebound bushings make this longboard an ideal option for transportation and cruising. If you are a heavy rider and looking for an easy and smooth-riding longboard so you should consider the white wave bamboo longboard because of its durable and sturdy components. 
[joomdev-wpc-pros-cons disable_title="yes" wpc_style="wppc-view1″ title_tag="H3″ title="Title Here" pros_title="Pros" cons_title="Cons" button_text="Check Prices On Amazon" disable_button="no" button_link="https://amzn.to/345uQPy" button_link_target="_BLANK" button_rel_attr="dofollow" verdict_text=""][joomdev-wpc-pros]
It has graphic designs with strong and durable parts. 

This longboard offers downhill security with high-quality wheels. They are also good for hilly roads.

A combination of Canadian maple and bamboo deck provides a strong grip and extra sturdiness. 

Nice colorways. 

Easy to ride. 
[/joomdev-wpc-pros][joomdev-wpc-cons]
Squeaky trucks. 
It has no washers, so you can't ride this longboard as fast as other counterparts.

 
[/joomdev-wpc-cons][/joomdev-wpc-pros-cons]
Final Verdict 
A heavyweight person can enjoy fun riding on longboards. For this, heavy riders need to pick the best suitable longboards from the above-mentioned list. If a heavy guy considers the details of a longboard before purchasing, he can get a more convenient, affordable, and durable longboard according to his likings. This piece-to-piece inspection of the best longboards for heavy riders provides you almost every possible detail about high-quality longboards. These masterpieces have no blind spots in the construction, and their remarkably unique features make them deserve your every penny.  
However, different longboards indeed have different features, like atom drop-through longboard is not suitable for downhill ridings. So, if you want to enjoy a ride on downhills, you have to consider white wave bamboo longboards. Moreover, if you love different riding styles, you should go with Magneto Bamboo Heavy Riders Longboard. However, the above mentioned best and affordable longboards will surely help you a lot in selecting your dream longboard. Eventually, you can enjoy smooth and easy cruising with a top-quality longboard.