Involving in longboarding is fun, and we have so many reasons to do that. The incredible journey requires a quality option from the best downhill longboards and some of your skills. You may need a longboard for transportation purposes or just for fun. In both cases, you will need a suitable downhill longboard to carry out the desired task. If you are well-aware of the things you must consider while buying a longboard, then it's good; otherwise, you should know about the factors to make a wise choice. 
A longboard is a perfect sports item that can be used in many ways, including transport, racing, competitions, and much more. It is a great activity to stay active, reach somewhere on time, to feel excited, etc. But what if you get the wrong longboard for yourself? You will be spoiled. Hence, it is better to dive into the discussion of the best longboard before buying one. A fine deck of suitable quality materials and required shape for your riding style, speedy wheels and trucks, and the size matter the most when you plan to buy a longboard. If you are aware of all the factors, then there are many choices for you in the market, but you can't get all of them. So, focus on the features you are looking for and go ahead with one of the best downhill longboards. 
WHAT ARE THE BEST DOWNHILL LONGBOARDS?
Get started with the top choices for 2021 to make your longboarding fun and thrilling. It feels so good to choose the most happening longboard for yourself. We are listing down the popular and demanding longboards to make your selection easier.
1. Rayne Darkside Vulture
Your search for the best downhill longboards should end here. Rayne Darkside vulture shows us how to do longboarding with fun. This suitable longboard for freestyle with all the useful features is a perfect addition to your life. Ride in whatever way you like with it freely. You don't have to worry about the quality of Rayne Darkside vulture; it is made up of quality materials to provide you a reliable experience. 
FEATURES:
The board features an ideal length for different types of riders with 36 inches. There are a rocker shape, kicktail, and a slight radial drop. It is the authentic pick for your downhill longboarding. The deck of this longboard is of bamboo, and not only this, but there are two fiberglass outer layers to make it more durable for your longboarding journey. For the longboard's strength in a different and better way, the fibers are directed differently in three ways. 

Its lighter and road rider 180mm trucks are something you might be looking for. The wheels of this beauty are of perfect hardness, i.e., 80a. The size of Rayne envy wheels is 70mm. You may need different wheels to reach top speed, but these wheels are suitable for traditional cruising. 

For aggressive cruising and freeriding, this longboard is a well-performing option for any rider. If your longboarding is new and you don't know whether to go for freeriding or casual commuting, then this is the one for you. 

Rayne Darkside vulture is the longboard with all useful features, and sometimes people fail to find the con in this one. This doesn't mean the board has no destructive features. Well, we can't ignore any minor thing if we get such a fantastic downhill longboard. The only thing that makes us feel low about this longboard is its poor graphics. Skateboards are the products to make us feel excited and relaxed. The illustrations add beauty and thrill to the journey, but Rayne's Darkside graphics are not worthy. Unlike other professionals, it seems like a random person designs the board. Well, you can ignore this factor.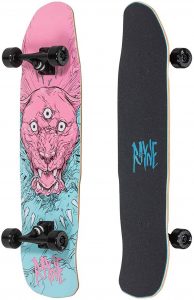 If you are a bit heavier or a newbie, what are you waiting for? Minority downhill is one of the best downhill longboards, whether you're one of the new learners or downhilllongboarders. The board will never disappoint you because it is an excellent choice you can ever think about. 
FEATURES:
This fantastic longboard for downhill rides can hold 200lbs and above without any issues. For the newbies and their unexpected curves, the minority downhill longboard is the durable and reliable option. Eight layers of perfection in this longboard are to form a strong deck for all kinds of cruises. This will help you develop better skills in no time with less effort. 

The drop deck design has a length of 40 inches, enough for any rider and any ride. They provide a straight line that is good for stability. The balance is increased because of the bigger room for legs. 

The cutouts are beneficial because they eliminate wheel bites to make your riding much better and more comfortable. 

The starter board features ABEC 9 bearings with high-quality wheels of 70mm, having 78A hardness, which is not so hard and not so soft, enabling you to ride the way you want. 

The construction of this board is to ensure stability and safer rides with eight layers of maple wood. Overall, the board is excellent for beginners to help them enhance their skills with ease and fun. It provides a smoother experience of longboarding within an affordable range to make it reasonable for every rider. 

The problem with this board is that it will not be so suitable for downhill longboarding if you do not opt for upgrading.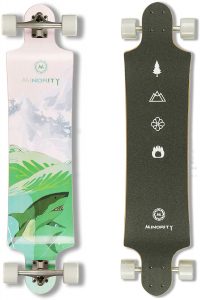 3. Sector 9 Blue Wave Lookout
Getting the right longboard is what makes your cruising fun. No matter how you are going to use the board, it should be according to your needs. Sector 9 blue wave lookout is to beat the best downhill longboards with all the needed features for better longboarding. It is durable enough to keep you safe during carving and riding in different ways. 
FEATURES:
This popular and demanding longboard features an ideal length so that no rider feels uncomfortable while riding on it. The 42inches length makes sure that you never feel disappointed after choosing it for your rides. 

The deck, designed as a drop-through, has vertical lamination to form a robust platform for the legs. The deck is made up of bamboo with five layers, making it challenging. Its durable construction with a slight concave is what makes it highly recommended. The purpose of this slightly concave design is to lock in the rider for better safety and stability.

There is a clear grip tape on this outstanding sector nine blue wave lookout downhill longboard. It makes the rider feels secure because of the no-slip surface due to this tape. 
Featuring 10inches axles, the trucks are Gullwing chargers to provide durability and stability to the longboard. These reliable trucks have 50-degree baseplates to support your sliding, freeriding, carving, and downhill rides. 
when it comes to this good downhill longboard's wheels, they are no less than any other feature. They are 74m with 78a, which is soft enough to make your rides smoother and more manageable. The top shelf rider wheels work wonders for downhill carving. They are highly suitable for faster rides, which is a great benefit when you choose sector nine lookouts. The board also features ABEC 5 bearings, but you can replace them with upgraded bearings to enjoy better speed potential.

Are you a beginner and seeking a supportive and durable downhill longboard? You don't have to worry now; loaded's tesseract is what you need. Grab one for yourself now, especially if it's about a speedy ride. You will experience the most satisfying and thrilling cruises with this incredible best-loaded board. The classic deck design is to make you feel special. It is quite challenging for any rider to beat the one riding on a tesseract.
FEATURES:
Not only a rocker shape, but the deck is symmetrical with a twin kicktail. It also features a slight concave so that if you are a new longboarded, you will not fall easily, as you are locked in. The board is perfectly designed for the newbies but works well for the pros as well.
The board length is about 39 inches, which is not so long and not so short. The deck features a fiberglass core between the bamboo outer layers, making it highly durable and tough for different cruising styles. Its cork bottom design is to decrease the vibrations. 
The trucks are mounted differently to provide you with a versatile version of riding. You can tighten the trucks based on your needs and choices because tighter trucks mean tighter turns. Moreover, you don't have to worry about speeding because you won't face wheel bites. The larger wheel flairs prevent wheel bites. 
Along with the 50-degree baseplates, the trucks are 180mm, more comprehensive enough for your turns and carves. It's 70mm wheels makes your riding fast and sliding fun and easy. The high-quality components of this longboard are to make it different and highly beneficial for the riders. It means they also increase the life of loaded tesseract longboard, which is a plus for all the riders. Furthermore, it provides versatility so that you can ride in whatever way you like. 
You will need a wheel swap if planning to ride faster and in a severe manner.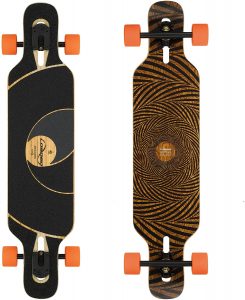 Your ride needs a suitable longboard to make you feel satisfied. The market offers a massive variety of different but best downhill longboards; it is tough to get the one that suits you. Arbor HighGround is an exceptional choice for any rider in terms of quality and performance, both. 
FEATURES:
Having a tuck position, this deck is constructed in such a way to support the

best downhill longboarders

of all levels. With a slight concavity, the design is perfect for downhill longboarding. The construction is highly durable because of the nine layers of maple wood. This more robust and reliable deck is what makes it suitable for different riding styles. 

The board length is 35.5 inches, which is not so long but cool. To make your rides speedy, the board has a stubby tail. The incredible graphics at the bottom of the deck is so impressive for all the viewers.

For durable and tough construction, there are nine layers of maple wood. It is a long-lasting board for all conditions and has enough capacity to handle heavy riders as well. 

The loose turning radius is the reason you are stable even at the highest speeds. These 43 degree Paris trucks are so useful and helpful for all riding styles. 

Not only the trucks are amazing, but the wheels are so smooth and reliable with 70mm and mid angle lip. The softer sidewall is to add perfection to your cruising. Arbor summit wheels are the best things you have with this longboard. It is one of the best downhill longboards because of the fantastic features it has. For smoother and perfect slides, summits are too good. For your thrilling racing or downhill speeding, it is the right choice. 

You can go for a change of bearings and wheels for higher speeds.
6. Landyachtz Osteon Red Reaper
Every longboard is good, but not all are appropriate for your riding style, weight, rider level, etc. decides what you should get. Consider all the factors before getting one because not all longboards are like Landyachtz osteon red reaper that suits everyone. It is a perfect addition to your longboarding journey. 
FEATURES:
If you are looking for something to add more thrill and excitement to your riding experiences, this is the one. Landyachtz osteon red reaper is the right longboard for your downhill riding. The board is stiff and long-lasting because of the nine maple wood plies. It is good enough to handle any rider easily. You will be much more stable and safer with it. A perfect pair of rocker profile and a slight drop make it versatile with a concave as well. 

It features a minimal kicktail with a deck length of 38inches. The larger wheel cutouts are to save you from wheel bites, giving them enough space. For all of your freeriding purposes, this fantastic longboard is the right option. 

Its bear grizzly 852s trucks are the reason for its smoother rides with kingpin reverse. The board also features Landyachtz hawg wheels for better turns and carves. If you are planning to cruise, then the bearings are fast, but you will need a better option for downhill speeds. The board performs very well in every way to make our riding fun and interesting.

The only thing is that you have to adjust and set up for street freeriding. Moreover, bearings are no s suitable for faster downhill rides.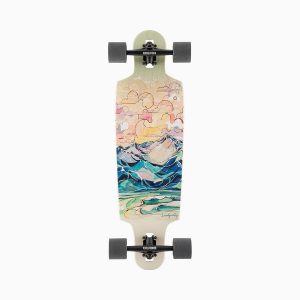 Atom longboards are always a blessing for longboarding experiences. Most beginners prefer this board because of its myriad benefits. Any of you can start using it even if you just planned to try longboarding. To enjoy overall advantages and performance, you don't have to think twice while buying some drop through longboard. Being one of the best downhill longboards, atom longboard never disappointed any rider.
FEATURES:
To leave the viewers amazed and stunned, you need to focus on the speed; while

longboarding downhill

. Speed is the key to downhill longboarding, and if your board cannot do that, it's a waste for you. The 41inches length of this extreme longboard is a top pick for various downhill skaters. 

The deck of atom drop through is stiff and reliable to make your journey more comfortable and better. With maximum stability, you can reach higher speeds with this board as it is tough enough. 

The super quality urethane wheels of 70mm with wide lip bound are what you might be looking for. No matter which kind of surface it is, you can ride smoothly. 

Its unique perimeter shape is also the reason behind its popularity. Want to take rough and rough turns? This board will never leave you alone. You won't face any wheel bite issues as well. 

Not only the wheels and the deck, but the bearings are ABEC 9 bearings. Unlike other longboards, atom drop through owns such bearings to provide you with faster and safer riding.

Moreover, you will never feel tired while riding on this board because a single push is enough t make your ride tremendously. 

As the board is perfect for beginners, it means the new learner will not face any balance problems. It will provide excellent stability and control to the rider for unforgettable experiences. It is the best choice for your downhill riding in every way hence don't wait and grab one for yourself.

The only drawback which is too minor is its shape, which might be uncomfortable for some beginners.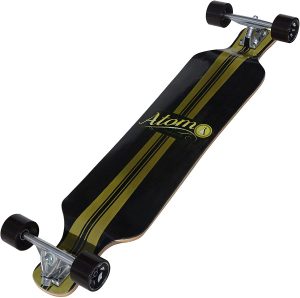 8. Magneto Downhill Longboards
Being a passionate downhill cruisier, you will need a good longboard with an efficient deck. Carving downhill is fun, but if you don't own a suitable downhill longboard, you will fail you enjoy your cruising. Your search for quality and performance ends at magneto downhill longboard. The high-quality deck is the reason behind the increase in its demands. 
FEATURES:
Magneto downhill longboard is full of beneficial features. To make the board tough and durable, bamboo, carbon fiber, and fiberglass are used. The usage of such materials in the board construction is what makes it lighter and faster.
The board has a length of 37 inches to help your legs fit perfectly. The legs will have enough room to secure body control. Along with two channels, there is a slight concave and a subtle hump. Even if it's about bombing hills, you can feel secure and locked in because of such features. Moreover, your rides will be gentle with increased stability. 
During downhill, you will enjoy aggressive carving as well, and for that, the board has 7-inch gravity trucks. It has high rebound wheels with 78A hardness which is an ideal factor. Furthermore, 70mm stainless steel bearings are to provide you with the best of your rides. This broader and lighter downhill longboard is the best choice for speedy and versatile riding styles. Locked feet are the most valuable part of downhill cruising. Because of its standard weight, you can carry it with you everywhere.
The only problem with this longboard is the sturdiness. The board is not that sturdy as expected. Hence it is better to ride accordingly. All other things are so convincing and useful so you can ignore this drawback.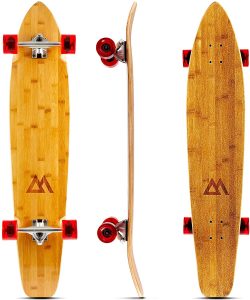 9. Enkeo Drop Through Longboard
What if you get a longboard that is highly recommenced and reliable for all your rides? It can be true if you opt for the Enkeo drop through longboard. This board never fails to make your rides superb because it is a good longboard among the best downhill longboards. It is the best pick because of the elegant looks and sturdy nature.
FEATURES:
With its incredible performance and classic looks, all your friends will be stunned to see your ride on it. This versatile board has an excellent length o 40inches, providing larger room for your legs to fit in. 
Are you worried about slippery boards and unstable rides? You don't have to because the Enkeo drop through longboard has a fantastic surface brushed to give you a non-slippery place to stay comfortably. Not only it has a perfect surface, but the elegant graphics are something you can't leave behind. The design and look are worth appreciating. Even if you are a beginner, you won't fall because of the suitable surface.
If your board has a sturdy deck, these issues will be decreased. Enkeeo drop-through has a 9-ply deck for better stability and control. 
The 70mm PU wheels are the best things for the heavier longboarders as well. They can carry heavy riders easily. The wheels can also provide higher speeds for the skaters having a love for speedy rides. 
Its aluminum trucks are of 7icnhes with two rubber rings. For better maneuverability and control, they are excellent additions as shock absorbers and control supporters. If you own an Enkeo drop through longboard, you can ride on any terrain without any issues. 
Are you planning to begin your cruising journey? What are you waiting for? Volador sword is the top pick for your new riding journey. Being a new learner, you will face difficulty if you will not get the right longboard. Hence, it is a good idea to buy a volador sword so that your new journey becomes the best part of your life. This sturdy ad durable skateboard makes your cruise comfortable and easy.
FEATURES:
If you are buying the volador sword, you must know that the minority and volador are owned by the same company, sharing the benefits. They are well-reputed brands, known for years because of their outclass longboards. The deck of the longboard decides how the board will stay and perform. This board has eight layers of maple wood to make it stiff and reliable. The sturdy deck of this board will make your ide securely. You will feel confident while cruising on it.
The wheels of the volador sword are so compatible with the size of 70mm and 80A. The bearings are also of good quality and performance as they are ABEC 7. 50-degree trucks are the other most impressive things about this board.
Apart from its performance and quality, the artwork is so satisfying for the riders and viewers both. The elegant and classy look makes it different from all other downhill longboards. The graphics are so pure to make you feel special. 
It doesn't matter even if you are 220lbs because the Volador sword can handle such weight without any issues. The ride will be the same for you with this weight as the weight capacity is higher. The length of this incredible board is about 42icnhes which is highly recommended for heavy skaters. 

The thing that may seem a bit doubtful for you as a new buyer is the rebranding factor. Volador is rebranded, which is ok, but we don't know the reason. Moreover, its maple construction is somewhere between downhill and carving, so consider these things before you buy this longboard. The length is beneficial for some riders, but for some, it is extra-large.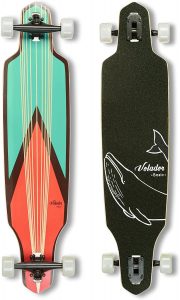 Conclusion
Because of the increasing demand for longboards in the market, there are many longboards but not all are good. Some are not suitable for you, whereas some are of low quality. Don't fall for the scams as we have already mentioned the top picks as best downhill longboards. Get yourself prepared for the passionate and thrilling journey of your life. It doesn't matter if you are buying it for fun cruising or transportation, a durable and useful longboard is a must. With our top picks, you can choose any of them according to your needs and desires.