Product Name:
Krown Wood Sunset Complete Longboard
Brand:
Krown
Length:
43 inches
Bearings Rating:
ABEC 7
Wheel Diameter:
65mm
Wheel Width:
N/A
Durometer Rating:
78A
Trucks:
6-inch Aluminum Alloy
Kicktail:
No
Shipping Weight:
6.6 pounds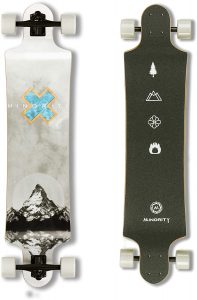 The Krown Wood Sunset Complete longboard is a 43-inch pintail shaped longboard that is an awesome choice for individuals who are on a tight budget and want to spend the minimum for a longboard. This pintail longboard features an ABEC 7 rated bearings, 65mm wheels which have a 78A durometer rating and 6-inch aluminum alloys. The deck of this longboard showcases a beautifully designed sunset graphic that matches with the deck's natural color.  So what types of riding styles can this longboard be used for? Given its small truck/axle width and its pintail shaped deck, this longboard is ideally to be used for cruising, carving and as means of transportation.
Let's dive in to see what are some of the features, pros and cons for this Krown longboard.
Key Features of the Krown Wood Sunset Complete Longboard
Canadian Maple Construction. This longboard's deck includes a 10 ply Canadian maple wood construction. This 10 ply deck construction is designed for strength, sturdiness and should handle anything you throw at it. In most longboards, you'll see 7, 8 or 9 ply variations and in general, having more layers simply means greater durability.
6-inch Aluminum Alloy Trucks. Like many pintail shaped longboards that are designed primarily for cruising, the Krown Wood Sunset Complete longboard's trucks provide a small turning radius in order to navigate through tight spaces and turn tight corners with ease.
ABEC 7 Rated Bearings. This longboard comes with bearings which have an ABEC rating of 7. ABEC 7 rated bearings are above average in terms of how precise they were manufactured.
65mm Diameter Wheels. The 65mm diameter wheels that this longboard is equipped with have a durometer rating of 78A which will provide a good "grip" for your rides. The 65mm diameter allows the board to have a greater acceleration which is ideal for cruising purposes. These wheels are not suitable for freeriding or downhilling as those types of riding styles require larger diameter wheels for maximum top speed.
Lightweight Longboard. For its deck length, Krown Wood Sunset Complete longboard is lightweight.  Its shipping weight is only 6.6 pounds which makes the longboard itself weighing approximately 6.0 pounds. This makes this longboard super easy to carry around with knee pads.
Pros
Beautiful sunset design at the underside of the longboard's deck.
Excellent longboard for beginners looking to get into longboarding.
Smooth turning capabilities.
Extremely lightweight for its deck length – This makes it easy to carry around!
Awesome price point. Currently, the Krown Wood Sunset Complete longboard is priced at a tag which makes it extremely affordable for those of you who are looking for a cruising or carving longboard and is on a tight budget.
Cons
The stock wheels that come with the Krown Wood Sunset Complete longboard are subpar in terms of performance.
The Canadian maple wood deck chips off fairly easily.
Insider Tips for the Krown Wood Sunset Complete Longboard
If the wheels to your Krown Wood Sunset longboard do not seem to spin well, loosening the trucks is the first step in troubleshooting the issue. If that doesn't work, changing out the stock wheels with higher quality wheels seems to be the only option based on experiences reported.
Conclusion
The Krown Wood Sunset Complete longboard is a great cruising beginner board that is available for cheap. While it certainly isn't the greatest beginner board out there, but for the price you pay, it'll be a great board to get to learn about longboarding. Its smooth turning capabilities as well as the weight of this longboard makes it a good board if you're looking for a commuter board which you can do cruising and carving on. All in all, if you're a beginner looking for a cruising longboard, the Krown Wood Sunset Complete longboard is a possible option available at an affordable price.