Man has been bestowed with two feet to walk on this earth but the impulsive nature of mankind didn't rely on merely walking. He wanted to imprint his footsteps on the waving wind. Skateboarding and longboarding gave man the liberty to mimic the motion of air so man carved his ways through nature. 
1950 Hawaii is considered to be the beginning of longboarding. The surfer customized their skateboards to imitate the motions of a wave on land. Only this time they customized it with longer decks and larger wheels.  Since then the sport has become known as one of the most exciting sports in the world. From speed thrills to fitness freaks; from Students to professionals, longboarding is considered a much-loved sport to all. 
Longboarding for long-distance:
When longboarding is concerned, the main style categories that usually come into one's mind are:
Freestyle

Free Riding

Downhill 

Cruising 
But the thrill lovers have maneuvered their way through a style called LONG DISTANCE PUSHING and PUMPING. Well, we all are aware that longboarding is used for commuting purposes but riding a long distance with time and again pushing can be tiring and practically not possible. 
LONG DISTANCE PUSHING and PUMPING presents you with all the techniques to use your longboard for longer distances in the shortest possible time.
To decide which longboard is best for long-distance, we must understand the nitty-gritty of the style. This would help us to have a preeminent choice. Let us dive into some detailed expedition of the style called LONG DISTANCE PUSHING and PUMPING
LPD basically known as LONG DISTANCE PUSHING and PUMPING is a technique to kick and push the skateboard across miles of distance.  
It cannot be mistaken as merely cruising. LONG DISTANCE PUSHING AND PUMPING has regulations of its own. There are several techniques involved along with immense hard work and commitment of longboarders who are crazy to choose this discipline of longboarding. 
Most of the time longboarders who decide on LPD choose accessories of their longboards meticulously.  The smart choice of deck, trucks, wheels, etc is a vital task when LONG DISTANCING is involved. 
When we talk about the term PUSHING and PUMPING, It is essential to understand both terms profoundly so that you can choose your board wisely.
Before we move to understand these terms, let us recognize the basic parts of a longboard. It will help you to further comprehend the movement (PUMPING and PUSHING)
Pumping is carving back and forth in a very controlled but fast manner.
Pumping is swinging your body on a board in to and fro motion, to shift the weight of the rider on the rails allowing the longboard to take small turns which results in an enormous increase in momentum, without even touching the feet on the ground.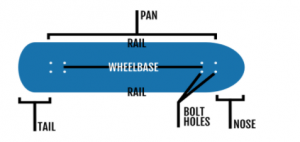 Basic points to remember
To and fro/ back and forth motion
Shifting of weights
Small turns
Feet not touching to the ground 
Pushing is applying force with one foot on the ground and one on a longboard to set in motion. In simple words, it is KICKING.
One can assume that pushing is a simple exercise, most of us do it every day but when longboarding is concerned this pushing divides into several motions.
In the section below we would get an idea about the fundaments of pushing and pumping.
FUNDAMENTS OF PUSHING and PUMPING:
Front foot short pump (wiggles).

Deep rearfoot pumps (carve).

Mongo push.

Regular push.

Uphill pumping.

Uphill pumping into a turn.

Full body pump at speed.

Linked toe side pumps into a "frontside" turn.

Ambidextrous pushing.

Linked heel side pumps into a "backside turn".

Everything linked.

The full body pumps wiggle and carves.

Heelside pumps to deep carve.

Using flex.

Skate on.
 Each motion is named for the readers to have a better and enhanced understanding.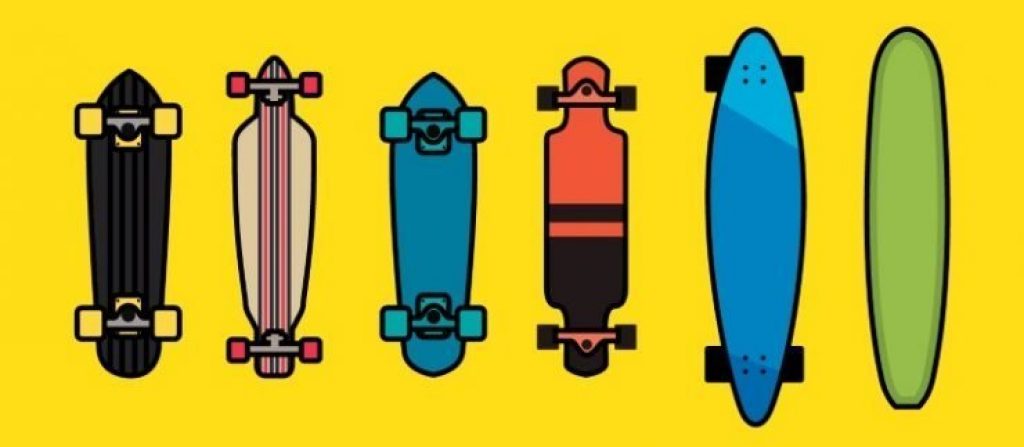 THE SPEED AND DISTANCE FORMULA
Long-distance longboarding is all about covering a longer distance in a shorter time. Usually, speed is either maintained or increased through pumping and pushing to keep the pace of the rider. Mainly longboarders practicing Long Distancing are observed to travel 12 to 15 miles on alternative days.  Some pros are seen to be covering a distance of 100 miles in a sole session. 
COMPETITIONS AND CHALLENGES:
There are a number of competitions arranged around the world for long-distance longboarding.  It is like a marathon or long races. Longboarders from all around the globe make special preparations to take part in these challenges. Some famous contests are: 
Miami Ultraskate

Chief Ladiga Silver Comet Skate Challenge

Skate Central Lakes Endurance Festival (Minnesota)

 

The Annual Centennial Sk8 Fest
Besides all the competition there is a relay race for longboarders where two riders compete with each other for 23 days. The riders are expected to skate 20-40 miles per day.
FEATURES TO CONSIDER FOR LONG DISTANCE LONGBOARD:
 AS stated earlier that most of the longboarders who practice long distancing like to customize their longboards. You may have also heard the term that any board is good for long distancing but some common features are to be considered when you are planning to buy the best longboard for you.
Dealing with the Deck of the longboard requires meticulous choice. The comfort of your whole journey is going to depend upon the choices you make now. 
Deck Material and deep drop brackets

Distance from the ground

Concave or not

Flexibility
1-Deck Material and Deep Drop Brackets: Most riders find composite decks suitable to fulfill their requirements. Some prefer Maple decks.  For the LDPers taking part in professional Formula 1 race kind of a thing, G-Bomb deep drop brackets are the best choice.
Specially designed for long distancing, Deep drop brackets propose vast adjustability of truck angels making it most excellent and suitable for taking part in any sort of competition.
However G-bomb bracket is an expensive choice, therefore it is opted for by professionals only.
2-Distance From The Ground:  since a long distance to be covered is an aim in this kind of sport, it is important to decide your deck's distance from the ground. It is wiser to choose a board with less distance from the ground due to stability. Dropped deck and Dropped-through decks are excellent choices. 
In Drop-thorough decks, the trucks are mounted through the longboard, and the dropped deck keeps the longboard closer to the ground. 
The blend of both gives you something perfect for the purpose.
3-Concave or Not: Pumping will be a lot easier for the board to have concave. Since pushing takes a turn with pumping when a long distance is involved. Slight concave is better for riders and it definitely helps to gain speed with pumping. Make sure the concave is not too much because it will fasten in your foot.
4-Flexibility: Flexi boards tend to be easier to do pumping which makes them suitable for long distancing. A firm deck doesn't compromise on stability but little flexibility is encouraged when long distancing is considered. 
A flexible deck absorbs the bump and bash on your way, making the long journey a bit comfortable.  
The choice fairly depends upon your decision whether you want to have a firm deck or the flexible one as both have their pros and cons.
They say wheels can carry you to the end of the world if chosen wisely. Similar is the case with long-distance longboarding. Selecting the right size of wheels will matter your overall journey.
Large wheels tend to give better performance at full speed. They are rapid when full speed is on. Smaller wheels have superior acceleration.  Wheels with a durometer of 78A-80A are considered to be soft and provide a firm grip and absorb shock fairly.
Wheels with a durometer of 83A are considered to be hard which makes them ideal for speed for longer distance so for long-distance longboarding usually large hard wheels is the best choice.
For an average rider 50º trucks (front and rear) are comfortable to get along but as mentioned earlier long distancing has a discipline of its own. The story is not that simple as seen. Huge customization is required in all aspects. Some riders like to choose 180mm regular trucks. Some riders favor narrow trucks to avoid getting tripped while pushing.
However, most of the long-distance experts recommend Randal and Bennet Vector trucks.
Randal trucks are thought to be easy pushing trucks. Gearing up the front with Bennet vector Trucks and rare with Randal, you will get some lethal combination of all.  This is one of the most common and traditional arrangements made regarding trucks.
BEST LONGBOARDS FOR LONG DISTANCING 
As we have collected enough data before we move on to the decision of picking the best longboard for long distancing. Let's take a look at some suitable options available in the market. 
 Some famous brand names produce exceptionally well longboards for long-distance. The names include brands like;
Bossa

Pantheon

Subsonic

Rayne 
Depending upon their rating, reviews and performance we have arranged some best longboards for long distancing.
Landyachtz Switch 

Landyachtz Evo

Rayne DemonSeed

Loaded Omakase 

Pantheon Trip Double Drop Longboard

Zen AB2.0 Push

Subsonic century 36
Now let us have a detailed look at each one of them.
Landyachtz Switch 40" longboard is considered to be one of the best boards available in the market.  Manufacturers claim it to be the number one choice of the riders since its launch. The longboard is one of the company's selling products for the last 10 years. 
Measuring  10" x 40"  this board weighs about 11.6 pounds. The standard deck makes the foot placement comfortable. Even though carrying a longboard is not an issue to worry about when long distancing is concerned but still the weight is a plus point for the board.  It is not heavy to carry. 
The bear grizzly blackboard comes with 180mm Trucks.  The board is equipped with Howgs Mocha longboard wheels with ABEC 7 bearings. The manufacturers facilitate their use by providing Ladyachtz signature Grip tape to avoid wheel biting.
The setup comes ready to ride you don't have to assemble the different parts to enjoy your ride.
Coming from the same manufacturers, EVO earned a distinguished position in the history of long-distance longboarding. The board has won many races and therefore gained the popularity of being an excellent choice for LDP.
The board is said to have no compromise over the stability. Its lower deck and de-wedged tail give the board ideal strength and turning is made efficient with its wedged-nose and de-wedged tail. 
It is heavier than Landyachtz Switch 40" but as pointed out earlier, weight is something to be least concerned about as carrying the board is not involved in long distancing.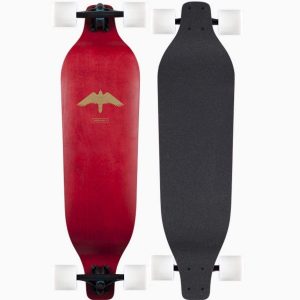 The board comes with a length of 36" and a width of 9.5". With built-in space ball 8mm bearings, 70mm Howgs Mocha 80A wheels, its speeding ability and power to absorb shocks is commendable. 
Landyachtz Evo is equipped with 45° 180mm Trucks to enhance its performance.
There are two designs available 
Falcon (Red) with specifications:  36″ x 9.5″ x 27.75″
 Skate & Explore (Black) with specifications:  39″ x 9.8″ x 31.7″
DemonSeed is a product from one of the renowned manufacturers Rayne. The brand has coined a great reputation for building longboards and accessories to endure the most challenging conditions. 
The best accomplishment they offer to its riders is the use of eco-friendly and recycled or upcycled material.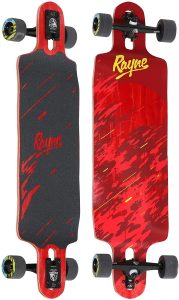 This particular board justifies Rayne's claims well. This 36 inches long deck is 20 inches wider.  It weighs about 1.1 pounds. It carries the title of the double drop-through mounting deck and is low to the ground for better stability and grip. The board definitely falls in the list of good looking longboards but its zephyr like movements is a trait that makes it stand out of all. 
 The board offers an extended commitment when long distancing is drawn in. With Caliber 50º, the 66mm wheels by "these" having durometer 78A are a deadly combination to win any race. 
Omakese is named as best longboard for LDP in 2020. It is manufactured by brand names" Loaded Boards".  The board has many distinctive features to be called preeminent. 
The board has wrapped around many properties therefore it is wise to call it fit to all longboard styles. It is liked by free riders, recommended by commuters, picked up by dancers, and now has earned a great position in the discipline of long distancing. 
The 36 inches longboard is 10 inches wide. The short but considerable width of the board makes the ride utterly stable. Having a short tail at the end of the board ensures smooth turns making it suitable for performing freestyle tricks and maneuvering dance moves.  
It is built as a fusion of concave and contour which gives it a superior edge for pumping and carving. The board would amaze you with its excellent high-speed ability to shift from front truck to back truck. The bamboo core, squeezed in between fiberglass /epoxy layers for added durability so your board is ready to deal with all the wear and tear of the weather and surroundings.  
The total weight of the board is approximately 4 pounds. 
This power-packed brand only offers the deck. Hardware, trucks, wheels, and bearings are not included. For compatibility manufacturers recommend certain wheels, trucks, and bearings. 
You can easily gather the information on their website or Amazon. The link is provided but for your convenience, the recommended hardware is quoted below too. 
TRUCKS: Loaded recommends 180mm, 50° reverse-kingpin trucks like Paris V2 or V3 for optimal agility and control.
WHEELS: Loaded recommends 70mm Orangatang Stimulus for freeride and freestyle or 75mm Orangatang in Heats for cruising and commuting.
ELECTRIC: The Omakase is also available as an electric skateboard featuring the Unlimited Solo Kit!
5. Pantheon Trip Double Drop Longboard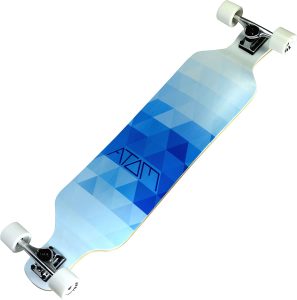 The board has set many records and is recommended by many famous LDPers. The 33 
inches longboard has an exclusive crescent drop platform. This 1.3 inches drop keeps you low to the ground increasing stability and grip on the ground       
The Pantheon's official website claims it to be refurbished.  It is all set to be launched in 2021. The manufacturers have declared to endow it with a 6-ply maple core squeezed in between triaxial fiberglass and rosewood veneer. The light weighted deck is durable and proves to have optimal strength.  
The Pantheon Trip double drop longboard comes only with a deck. There are certain recommendations regarding wheels, bushing, trucks, and hardware. 
Mostly the deck is coupled with "Pink Seismic Defcons" wheels with "Paris V2 150mm 50º " trucks another option for the front truck is "Don't Trip Poppies".

ZENIT BOARDS has gone out of the way to make AB 2.0 the best board when durability and flexibility is concerned. 
The 5 ply maple core is squeezed in between 2 full triaxial fiberglass sheets with carbon fiber on the bottom. The deck is made to tolerate all the harsh surroundings and can be your partner for longer terms.  The deck is united with a pleasant strip of Black Limba Veneer.
This 34 inches long deck is 9.5 inches wide. It has a low deck design with a drop of 1 inch for easy pushing and comfortable foot placement. 
The overall weight of the board is 3.5lb and the 28.5" wheelbase offers more stability and maneuverability. It can bear a riding weight of 200lb but added ply is recommended after 150lb. 

SUBSONIC CENTURY 40 is a celebrated longboard. The same manufacturers have purposed the smaller, light weighted version of their tried and tested product for LDP lovers.
SUBSONIC CENTURY 36 is a 7-ply maple deck. This 36 inches longboard is 9 1/2″ to 9 1/4″ wide. The 1-inch drop promises an efficient ride and ½ inch concave ensures comfortable placement of foot resulting in a secure ride. 
SUBSONIC offers a complete setup option with Randal and Bennet Vector Trucks.
Wheels offered with the setup are 80a 70mm Orangatang 4 Pres Zealous Bearings and hardware including Full Grip Tape.