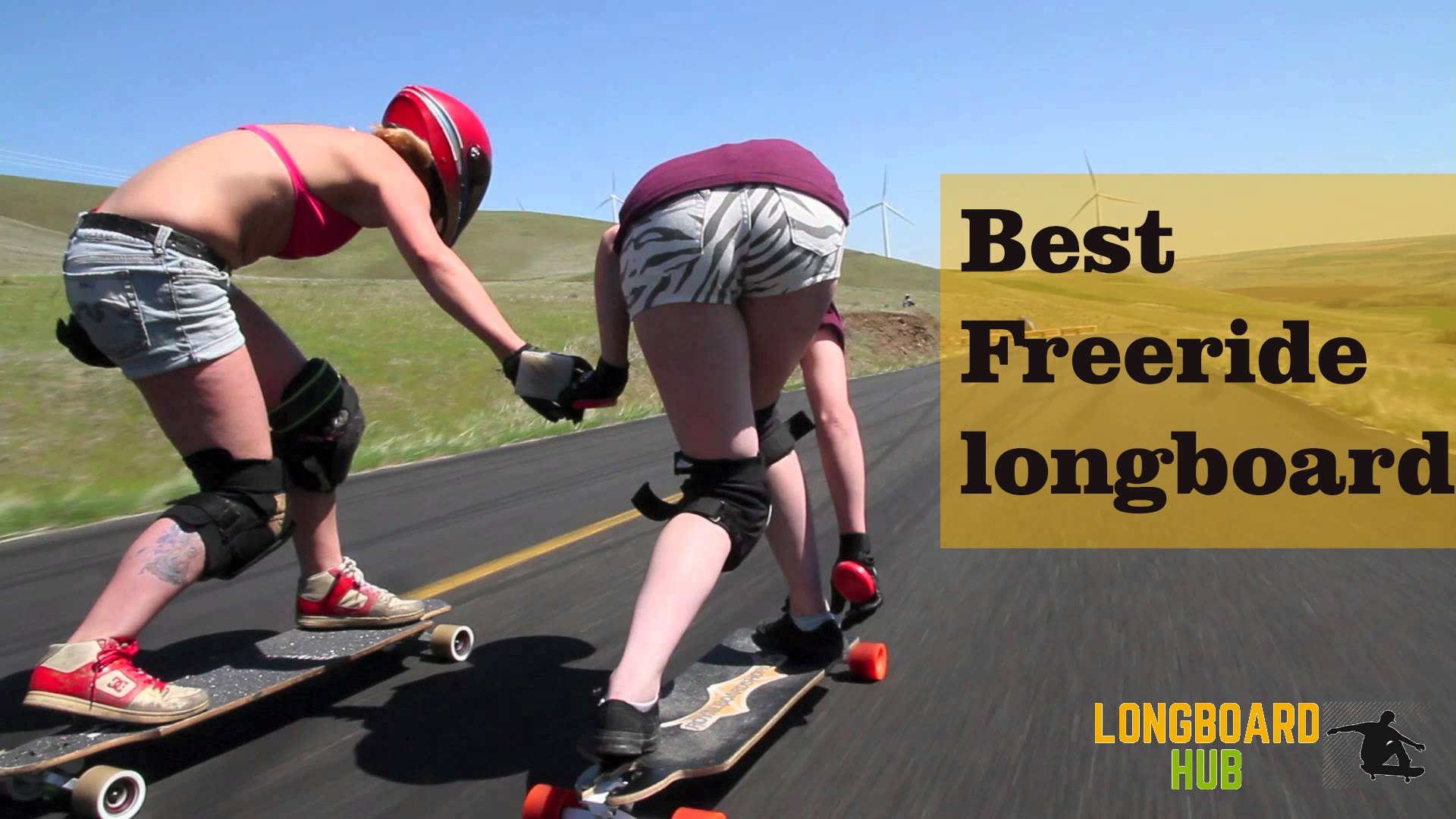 Freeriding is one of the most popular styles of riding longboard. It is one of those kinds of riding in which you need a minute to learn, and then you can master the ricks lifelong. It is a fun ride – you can enjoy the downhill race, curving, pumping, commuting, cruising and dancing, or any other ride tricks that come under the Freeride technique. It is called Freeriding because you are free to ride any way you want. Although all of these tricks have their different names yet they are subcategories of free riding.
Free Longboard riding is like a sense of freedom and speed. Freeride involves many techniques, and overall it is longboard that stands for downhill riding, at a controlled rate yet has swift, fast carvings, technical slides, and switching riding modes. Many people think that downhill riding and Freeriding are the same, but there is a difference (of course, it is a bit blurry).
Choosing the right skateboard for a longboard is very important – the right longboard for Freeride depends on many things, for example, weight, size, and skills. Also, it depends on the hill you will be riding on, the speed and technical tricks you want to perform while your freedom fills the fun ride.
Picking your first longboard for freeriding can be a bit tricky because:
There are many longboards in the market, and it is hard to choose one- especially when you are a beginner.
Secondly, a longboard for Freeride should be the one that accommodates your ride styling, and the design fits your personality well.
Many people think that drop through the longboard is not suitable for free riders, but it is not right. When you are doing well on other boards, drop through will not become your problem.
Features of longboard for freerides:
Are you facing difficulty in picking your complete longboard for Freeriding? Worry not! We are here to assist you in selecting your best Freeride longboard. In this article, you will get to know the features of a good quality free ride longboards:
Truck Mount style for Freeride longboard:
It is time to pick your first Freeride longboard, and when you are looking for which one is the best, notice the deck before anything. A Freeride deck is found in truck mount style. You can choose a drop-through or drop check deck or go for a double drop and top mount deck; there are plenty of options while selecting a deck mount. All of the mentioned can work well; it depends on your riding levels and riding goals.
Drop deck and drop through are the right choice for all types of riders' whether they are beginners, intermediate and pros – whereas, the top mount works best for experts.
Deck size of ideal Freeride longboard:
A directional deck or symmetrical deck is one of the best choices for the longboard. Here is how both are an ideal choice for longboarding.
Symmetrical decks are the best choice for Freeriding at low speed and better control over skateboard that may involve switch among riding styles. Balanced/Symmetrical decks are typically significant in size and come with large wheel cutouts and more space for big wheels.
These decks are generally short in size but provide much better control and responsiveness. It is a suitable choice for advanced Freeriding and high speeds. Directional decks are ideal for top mount deck – these directional decks are not common types of decks.
A longer wheelbase around 38 inches to 42 inches comes with a longer wheelbase that provides more secure riding downhill as compare to shorter decks under 38 inches. A more extended deck is advantageous as it gets less shaky while riding at speed and you will learn riding quickly. On the contrary, shorter longboards are a good choice for sharp and fast turns.
Kicks and flex for Freeride longboards:
An excellent type of Freeride longboard deck should be firm and stiffer in make and made. It will provide more stability at high speed. A standard good quality Freeride skateboard should have eight to nine ply maple woods. You can also go for bamboo wood and hybrid fiberglass construction.
A Freeride longboard can have kicks if you want to do some fun tricks and stunts. Having a kick on a longboard all depends on your riding style. Kicks are quite incredible features for slides, stunts and quick turns – but it means it will need a short wheelbase and reduce the stability of the longboard at full speed. So we can say that kicks are the right choice for technical and slower styles or mix riding styles like Freeride and freestyle. Make sure that when you are going downhill avoid kicks or keep it limited.


Trucks for Freeride longboard:
If you are looking for the best truck for Freeriding skateboard, then the reverse kingpin trucks are the preferred type. Reverse kingpin trucks provide more control over a skateboard and keep it flowing at slow speeds and also it keeps the longboard stable at full speed. Expert freeriders aim to achieve technical benefits from the longboard. That is why they focus on selecting small freestyle decks and traditional kingpins as they are narrow, divey and turns. It also facilitates throwing prompt slides. Standard kingpins are more durable than a reverse kingpin.
One of the essential elements of a truck is its height – it should be favorable for the Freeride style of riding. Drop through and drop platforms in lower ride height provide more stability and control over speed.
Truck baseplate angle:
A truck angle is a crucial angle between the hanger and baseplate of the longboard for Freeride. The hanger holds the wheels and should be good enough. Higher angles of trucks provide more control over longboard when you are taking a turn at low speed, and when you are taking turns at high speed, it will offer you enhanced stability. Lower angle trucks provide less control, yet they give you more strength.
Angle degrees range between 45 to 50 degrees. Fifty degrees are most suitable for free riders as it gives you excellent support on twist and turn (mix stunts).
Wheels for Freeriding longboard:
Wheels are a crucial part of your skateboard setup for Freeriding. Many factors define wheel quality suitable for Freeriding. The first among them is wheel size – large wheels around 70mm helps to roll you down faster. The diameter of the wheel should match the deck's size accordingly – it will allow for a smooth ride and avoiding wheelbites.
Best Freeride longboards:
Here is the list of few best Freeride longboards:
Santa Cruz's longboard is one of the best gifts for those who want to set foot in the Freeriding world. It is amazingly economical to start as a beginner. It has a drop-through mountain. The desk's size is 40inch, and it is made of durable and robust maple x eight-ply. The wheels are made of high quality and branded. It is one of the excellent gifts for people less than 210 pounds. The eight-ply maple ensures its strength and durability. The wheels are made of PU, and the truck is high-quality aluminum. Bearings are smooth comes with factory–fitted ABEC 9, which means nothing can stop from speedy Freeriding experience. Wheels and trucks both come under the Santa Cruz name, and the price is much lower than renowned skateboard brands. A longboard for teenagers and kids is never attractive if it is not graphically aesthetic and appealing. Santa Cruz longboard for Freeriding fulfills all demands of beauty.
Pros
It has a drop-through mountain deck, which means it is the perfect choice for beginners. It provides better stability and provides enhanced control of your ride.
The desk is Canadian Maple wood, which makes it sturdy and robust. It also ensures its long life span.
Wheels are made of PU, and trucks are good quality aluminum with ABEC 9 bearings. The bearings ensure a smooth and speedy ride down the hill.
Graphics are smart and aesthetically appealing. It is black with a 3D design of a magnificent lion in bright red and other high contrast colors. The crown logo of Santa Cruz is right on the lion's head, presenting the appearance of lion God that makes the image more magnificent.
The skateboards can easily withstand weight up to 210 lbs; that means it is suitable for teenagers and kids to start their Freeride journey.
Cons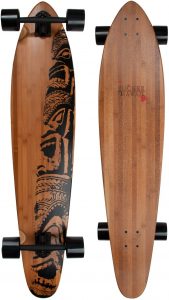 It is one of the elegant longboards for free ride tricking. The incredible shape and flexibility make it Jucker Hawaii's first-ever perfect longboard. The design is beautiful and robust, and the board design of kicktail helps in doing tricks while you ride. When you search for brands that provide you beauty and functionality, the Hawaiian board will rank among a few first. The Hawaiian longboard brought the feel and inspired look like you are flowing and cruising down the hill right towards the beach below.
The beautiful bamboo board is made of maple wood, and it has fiberglass bamboo lamination on it. The lamination allows incredible lightweight, and you can ride in the way you want. It is not wrong to say that it is one of the all-purpose boards. The deck is dropped through the mount and 42 inches in size that ensure stability. The size of the board is good enough to carry it around in your backpack anywhere. Wheels are made of good quality material and go along with the deck size. Trucks are aluminum seven inches with ABC 7 bearings for smooth and standard speed.
Pros
It is one of the pre-assembled longboards. All you need is to order, receive, unpack, and then start your speed adventure instantly.
The deck is strong and robust; the drop through mount deck provides stability. On the other hand, maple is known for strength, and bamboo laminations make it swift and provide an excellent final touch.
Hawaii's for their simple and elegant designs on longboards and this board is called their first perfect piece of perfection for all types of riding.
The kicktail design ensures you to perform any Freeride trick, and you will enjoy your ride. The design represents the Hawaiian spirit, and its component promises to give you an unmatchable fun ride experience.
It is the right choice for beginners who want to start as free-riders.
Cons
You might need to tighten up the trucks of the longboard before first use.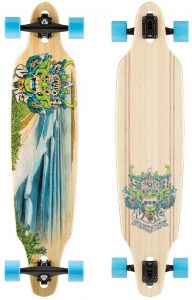 Looking for something smart, pretty, and functional, try this lookout skateboard – a big brother of a mini longboard. The board is made of bamboo; it is flexible and durable. The five-ply molding process makes the deck cambered/ concave. It offers complete control over your aggressive ride.
Pros
The longboard is strong and durable – the deck is constructed with bamboo wood and flexible choice for all types of riders. The deck is drop-through, which is reliable for Freeriding tricks and cruising.
The skateboard flexibility and long life depend on many things; including 72mm 78A offset TS wheels. The longboard consists of charger trucks of 10 inches by Gullwing. Bearings are made of PDP ABEC 5 with steel mounts. The longboard provides you extra security with grip tape.
Love the art on your longboard; then, it is one of your choices. The longboard has a beautiful art design on its deck. The right size and lightweight bamboo deck allow you to carry the board in your backpack anywhere.
The board is manufactured in different styles using taco molding process 5ply vertical bamboo wood laminated. It gives your longboard a concave shape.
Lookout longboard is the right choice for beginner riders.
Cons
Bearings are ABEC 5 that needs to change after a short while – as it hurdles smooth and speedy ride.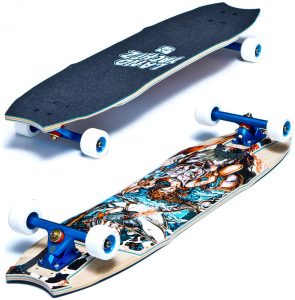 It is one of the complete skateboarding solutions for Freeride. Let's take a start with a deck design that consists of micro-drops. It has a concave design with an exact amount of flexibility. The deck is made of hardcore fiberglass/maple – it ensures its strength, long life span, durability, and no doubt in its lightweight. The size of a deck is 40 inch which makes it an incredible choice for tricks.
Wheels and trucks make your longboard swift, smooth, and speedy. The wheels are built of high-quality PU, and trucks have unmatchable Caliber characteristics along with orange bushes. There is one thing for sure: you may not need to upgrade your longboard for a long time.
Now talking about deck design, it is unique as the complete longboard – no doubt it is strong and durable; the deck shape speaks for itself. The ends are finely crescent cut, and it is not something typically found in every second longboard. The board has a minimal kicktail shape that makes the longboard look nicely rounded. All of these characteristics make one thing clear: this longboard is capable of brilliant downhill speed. It is a professional longboard, and you will feel excited to have it once you examine its features.
Pros
The construction of the deck is firm and robust. It is made of eight-ply hardcore maple wood and flexible enough for Freeride longboard riders. The cambered deck provides unmatchable flexibility with shock-absorbing features. The deck's size is 40 inches, which means the components are vital for pro riders, and length offers better control on a skateboard to beginners.
Not only length, but its width is also favorable for all types of riders. It has ten inches long deck and thirty-seven inches wheelbase. It provides better stability for all experts and beginners.
Wheels are highly durable and made of PU well fitted with 70x51mm and 78A size dimensions. The bearings are one of the best stock grades ABEC 9. That gives you complete control over cruising, free riding, and commuting.
A full speed is nothing whiles your ride downtown when you don't have a smooth kingpin. Landyachtz longboard has a reverse kingpin with adjustable 45 degrees / 5o degrees. It provides a soft twist and turns.
The deck's design is inspired by European and Russian talent, and there is a full range of graphic designs from vintage and classic collections to modern and recent grades.
Cons
It is higher in price due to professional quality features.
Junli's Freeride longboard is one of the most affordable solutions for your skateboarding passion. It has all a beginner rider who wants to start the journey of love, fun, and thrill rides. Mostly the longboards are strong, yet they are not suitable for heavyweight and tall riders, and they have to look for something with better solutions (this search is quite a hectic one). But worry not, Junli has a solution for you – the longboard is highly durable and robust, and it can easily withstand weight up to 330 pounds.
The decks' construction is pressed high quality eight layers of maple wood. Not only this, it has an anti-slip brushed black base, which ensures your feet grip on the deck. It is 41 inches long and 9.5 inches wide, making it a comfortable choice for both experts and beginners. The board is fully assembled, and you will get high performance without any doubt.
Wheels are also right in quality, PU material, and standard size to go along with longboard. The trucks are made of alloy in 7 inches, a highly responsive material with extra elastic PU support pads that means you will have enhanced control over your ride downhill. Bearings are also excellent ABEC 11 for the speedy ride and smooth turns.
Pros
The graphics are excellent and detailed oriented explore the world of Freeriding with eye-catching and stunning graphic designs. The Freeride curves and cruising styles will bring the best joy experience in your life. There is a variety of 3D designs available to choose the one you like most.
The material of the longboard is strong eight plies pressed maple wood. It comes with anti-slip polish in black and provides you complete grip on your skateboard to avoid unwanted slip and trip accidents. The size of 41' makes it suitable to carry around in your backpack.
The wheels are black made of high-quality PU material in a perfect standard size. Trucks are made of suitable quality alloy in 7 inches – the high deck restrains wheelbite issue. ABEC 11 bearings provide smooth turns and full speed.
The Freeride longboard is the right solution for all youngsters and adults – also it is suitable for Freeride, cruising and many riding styles.
The longboard is pre-assembled, and it comes with a tool kit for minor requirements.
Cons
You may need to tighten the truck grip before first use.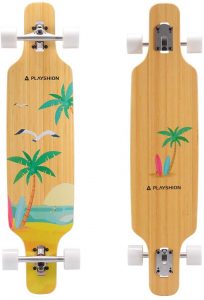 Are you looking for a longboard that is capable of providing you all types of riding support? You can do cruising and freestyle tricks with ease on Playshion longboard. It has a drop-through mount that provides stability and flexibility – the deck is made of 8 ply maple wood. Although it has so many plies, it provides flexibility for performing tricks. Kicktail design allows you to do some stunts and tricks without damaging the longboard. Bearings are made of good quality ABEC 9, which provides optimal push efficiency and cruising with smoothness.
The ABEC 9 bearings make downhill cruising an easy task compared to other skateboards. The soft wheels provide smooth and stable rides. Moreover, if you are looking for a cheap and beginner skateboard for cruising and freestyle riding, this is the one for you.
Pros
The drop-through deck is 39 inches made of 8 ply maple wood. That provides your desk enough flexibility to cruise and freestyle riding. The maple wood construction makes it strong and robust, so now you can do some tricks without damaging the longboard deck.
The wheels and trucks are all made of good quality. Wheels are made of PU material and available in a standard size. On the other hand, trucks are strong aluminum 7 inches with soft bushings and ABEC 9 bearings for a comfortable and smooth, speedy ride.
The flexibility and durability allow the longboard to withstand weight up to 250 pounds, which means it is the right choice for kids and teenagers.
Excellent black surface with various 3D designs gives you a choice between selecting the one you like most. Its smart size and attractive look will be eye-catching and make it easy to carry in your backpack. You can also take it on an airplane due to its sleek size.
It is an affordable choice for all types of riding, particularly cruising and freestyle.
Cons
It has a lower deck, and you may encounter a wheelbite problem. It will hinder the speed and also leaves an impact on the lifespan of the wheel.
It is one of the stylish longboards in 40 inches sizes. It is incredible work of longboard engineering. The longboard consists of revolutionary technical items that provide you a fun-filled smooth ride. The deck comprises a hundred percent 8-ply maple woods that provide unmatchable strength and incredible physical performance. The longboard can withstand 220 pounds of weight. The unique and astonishing shape helps avoid wheelbite from any angle so that you can enjoy the ride with full speed and uninterrupted turns.
The wheels are made of PU good quality and available in a standard size. Trucks are 7 inches cast aluminum, equipped with carbon steel axle with adjustable kingpin between 45 & 50 degrees for various riding styles. ABEC 9 bearings ensure fast speed. It is one of the best choices for Freeriding and cruising.
Pros
The longboard has a drop deck mount – the deck is made of 100% good quality maple. The deck's size is 40 inches, making it smart and easy to carry anywhere you want. The longboard has high tech equipment that makes it quite functional and favorable for beginners. Drop deck makes it the right choice for downhill riding and cruising.
PU wheels of the longboard are durable in standard seventy mm, 78A size. It comes with ABEC 9 bearings that allow you to have an unmatchable smooth and speedy ride, and you might less pushing during your ride.
The trucks are seven inches aluminum with kingpin reverse style. Kingpins are easily adjustable to two different degrees, 50 and 45, respectively. It allows you for carving and cruising.
There are varieties of designs available for deck inspired by Atlantic. It ranges from vintage to modern designs. It is full of artistic designs on both the up and downside of the deck.
The longboard can easily withstand weight up to 210 pounds; that is why it is ideal for kids and teenagers.
Cons
Hardcover carving is intricate due to the low deck of a longboard.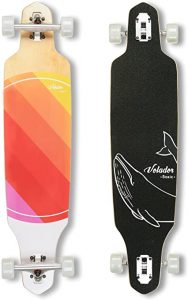 It is one of the stylish longboards for Freeriding and cruising. The first-ever thing that will capture your eyes is bamboo beauty and decencies. The board tries to capture the Hawaii spirit and passion, the essence of its magnificent beach. The shine of wood, slim appeal of design provides a traditional longboarding root. The design and its decency make it relevant linked and add an eye-catching factor.
The trucks are made of high-quality Paris material; the color will not fade or disorder in a short time. It is not wrong to say that it is valuing the standards of longboards most. There are several designs varieties of longboards – all of them are great for dancing, Freestyling, cruising and much more. It is among the first most accomplished Freeriding board. It is one of the longboards that are excellent on both beaches and urban roads. If you are looking for some surfer vibes and high-quality longboards, this one is going to be your choice. The wheels are made of high-quality PU and run smoothly. The deck upper layer (surface) has top finished grit texture that offers an enhanced grip for feet, and you will not need the grip tape anymore.
Pros
It is one of the most stylish longboards we have reviewed in this list so far. The bamboo look and hardcore maple construction provide it with excellent durability and sturdiness. Also, it gives Hawaii a feel with the incredibly smooth and speedy ride.
The deck is 42 inches long, which is quite suitable for both pro riders and beginners. It has enough space to put your feet on the board, and size helps in performing Freeride tricks smoothly. It has dropped through the mount, which ensures flexibility and stability.
The wheels and trucks are made of high quality. The truck is 7 inches excellent Paris material with color fading and vanishing resistance features.
The design of the longboard deck is an elegant cutout design that helps to eliminate any wheelbite problem when you are going through the carving phase. The longboard comes with smooth finishes and grit that gives anti-slip resistance and a firm grip on a longboard. So you may not need grip tape.
The 42 inches long deck is suitable for cruising, and you can also perform some light freestyles and dancing. The cutout design avoids wheelbites, and 34 inches wheelbase makes it flexible and stable.
Cons
The longboard is not much favorable for tall riders due to its low deck.
Conclusion:
Freeride longboards are an incredible choice to begin your riding adventures. It is easy to learn, and gradually you will become an expert at tricks and stunts. Freestyle longboards are a great choice for cruising, dancing and Freeride fun rides.