As an outdoor physical activity longboarding is the most popular activity which is enjoyed by people of all age groups especially the younger generation as it is thrilling and fun. To make sure you are most comfortable you need to dig out some of the best longboard brands that off waterproof longboards, drop through longboards, etc. the best longboarders such as professionals or experts take a lot of time to research into brands that make the best longboards. A very minute error can ruin your longboarding experience and affect the performance of your longboard. 
People who have recently started taking interest in sports can probably buy a longboard that is cheap and does not really need exciting features and best quality as longboarding is not a hobby for them. However, for people who aim to become one of the best longboarders, they need to find a longboard that is going to help them achieve the best skills for this activity. We do not mean to say that cheap and high quality cannot coexist. They definitely can and in the list that we have formed for you, there are many affordable longboards that do not cost a lot. Now you don't necessarily need to buy a longboard that falls under the expensive category. All you need is good quality for an outstanding longboarding experience. 
BEST LONGBOARD BRANDS
Follow our guide which lists down the 10 best longboard brands to select the best one for yourself. 
1-Quest 
The quest is a longboard company that was founded in California by a company called Mars. By setting the bar high, the quest longboards are in for a high competition with other brands and have marked their popularity amongst consumers. In fact, the name "quest" matches ideally with the performance of their products and the products themselves.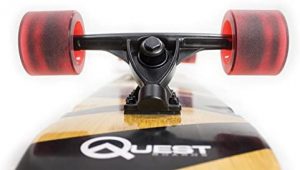 Longboards are provided with a combination of great features and amazing style, thus catering to all desires that a rider has when it comes to a longboard. All levels of riders can benefit from this brand as it has features that align with both beginner and pro longboarders. 
The Quest longboards in general are very affordable and reasonably priced and have high durability at the same time which makes them Popular. Wouldn't you prefer to ride a longboard which is inexpensive and at the same time offers the same riding experience and durability that you would expect from an expensive longboard? The riding experience, the style and the comfort level are all excellent. These longboards are perfect for city riding, downhill riding, carving or cruising. 
DESIGN & COLOR:
The design and color serve as a bonus point as there is a lot of versatility in colors and the cool graphics available that are not so pricey as well.
RIDING STYLE:
If you are looking for a ride with thrill then quest longboards are perfect for you. They have designs and structures built in a way that they help with your riding styles. You can do freestyle riding, cruising, carving, or downhill.
DECK:
Almost all the longboards of Quest have a hardwood maple deck that is multi-ply. 
WHEEL:
The wheels provide a good grip and prevent wheel bite. 
TRUCK:
The trucks are usually either lightweight 7″ or 6″ aluminum trucks which provide enough stability and durability for a long time. 
BEARING:
The precision ABEC 5 bearings provide smoothness and give a perfect performance.
Most popular quest longboards:
Quest artisan maple 44″ longboard. (Overall)

Quest California native spirit longboard. ( For beginners)

Quest native spirit kicktail longboard. (For Cruising)
2-Atom
The brand atom came into being in 2005 by a company called MBS. Atom has been offering a variety of longboards at very affordable prices. The high-quality materials and unique designs are eye-catching. Such great quality is provided at low prices making it the ideal option in the market. Mostly the atom is suggested for newbies but expert levels riders will also be satisfied with it.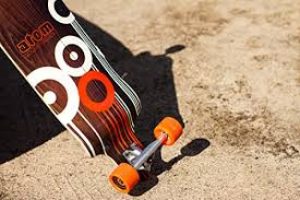 Atoms longboards are high in quality and durability making them perfect for those who desire longboarding. If you do not want to spend a great amount of money only practicing then as a beginner this longboard is best. The longboards are lightweight, easy to ride, and can be easily carried. This brand is a people's favourite brand as it is flexible and allows riding for multi-purposes.
RIDING STYLE:
Atom longboards are ideal for freeriding, cruising, and carving. They provide smoothness, maneuverability, stability, and safety. 
DESIGN / COLOR:
The graphics are unique and colorful. The amazing designs on the atom longboards are exquisite and attractive with components that are high quality. 
DECK:
Atom has always been concerned about producing a durable and long-lasting deck. The Atom drop-through longboard comes with 41 inches of large full maple laminated deck. Under the deck, there is a special abstract that comes along with it. Besides, there are longboards like Pintail which has PHT graphic materials and beautiful arts.
WHEELS:
The hardness and high rebound urethane wheels provide a higher grip, easy sliding, and a comfortable ride. 
TRUCKS:
There are some minor issues that come with their trucks but they have a wide variety that offers alternatives. 
BEARING:
Bearings can be different for longboards but the ones commonly used for atom are ABEC-5. These are high speed and are lubricated. 
Best longboards of Atom:
Atom drop deck longboard (beginners).

Atom all-terrain longboard (Trails)

Atom drop through 41-inch longboard (affordability)
3-Yocaher
Yocaher was established in 1975 and is California based. They have made their brand popular by giving satisfaction to all their customers. Yocaher is one of those longboard companies that provide consumers with sophisticated longboards with versions that can be modified according to the rider's demands and likings. If you are a parent who is looking for a secure longboard for their kid then this is the one because it offers creativity and is designed for all kinds of riding. 
The yocaher is another example of high quality at a cheap price. This longboard is also sturdy and well balanced which makes it a suitable choice for heavy longboards. The brand is termed outstanding for its high quality components which a rider requires, for example, brakes, decks, parts, brakes, and other components that can be customized. 
RIDING STYLE:
The yocaher longboards are suitable for all types of riding for example going downhill, free riding, and cruising with a high speed. With a reduction in flex and a more thick deck, the drop down boards becomes ideal  fordown hilling. 
DESIGN / COLOR:
The yocaher longboards consist of many designs and colours. They are very unique and elegant. 
DECK:
The decks of these longboards are 80% made up of hardwood 9-ply maple which is strong making it suitable for down hilling or cruising.
WHEELS:
The wheels are shock absorbent and ride smoothly as they are soft. 
TRUCK:
The trucks are wide and large which helps with ease in riding and they prevent wheel bites. They ensure a fun and secure riding.
BEARING:
 The most redundantly used bearings for the yocaher longboards are ABEC 7, ABEC 5, and ABEC 3. These ensure high durability and give strength and stability.
Yocaher favorites:
Professional speed drops down longboard. (Overall)

Blank and checker complete drop through longboard (beginners).

Complete kicktail longboard cruiser (value)
4-Sector 9
Sector 9 was founded in 1993, California, and has now spread globally. Since then has competed with many other longboard brands. It is regarded as one of the leading manufacturers for longboards.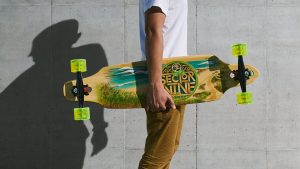 Sector 9 is perfect in all relevant requirements that come along with a longboard. The quality of their longboards is very high and has the best performance. Such a longboard brand demands for a higher price which makes it affordable only for pro riders. 
The products that sector 9 offers are unique in their own ways which mean that the prices and features differ for all of them. The style, color, design, and size are factors one would look at while buying a longboard. All these factors are in excellence in sector 9. They have never failed to surprise their customers with the versatility and innovative quality of their longboards. 
RIDING STYLE:
Sector 9 longboards provide a smooth, stable, and comfortable ride. You can easily carve, go downhill, cruise, etc. The riding experience is great for both beginners and expert level riders. 
DESIGN / COLOR:
The designs of these longboards are beautiful and elegant. You will be genuinely attracted to the variety of colours and designs. 
DECK:
The decks available in sector 9 products range in all sizes. Bamboo decks are common and provide a smooth ride.
WHEELS: 
The wheels are able to provide a high speed which is great for cruising. The performance of the wheels in sector 9 longboards varies from one board to another. 
TRUCK:
Sector 9 longboards have trucks that are gull-wing sidewinder. Trucks that come in silver, white or black provide a better carving and freeriding. 
BEARING:
The most commonly used bearing in sector 9 is ABEC 5 which provides a fast and soft riding experience. 
Best longboards manufactured by sector 9:
Pinnacle Lookout Complete Skateboard (overall)

Blue Wave Lookout drop-through Longboard (beginner) 

Aperture Sidewinder Drop Through Downhill Longboard (downhill)
5-Eightbit
Eightbit is a longboard company that is referred to as the master of the pioneers of longboard makers. They are becoming more and more popular with each passing day. This brand presents to you a mass variety of longboards. The boards are unique to their styles, shapes, colours, and sizes and come at very budget-friendly prices. The longboards are speedy and they are environmentally-friendly. They are attractive due to their colors and designs.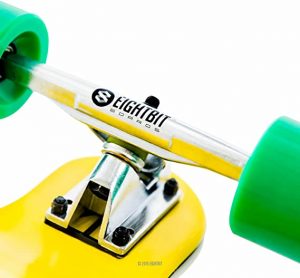 Eightbit is famous for its secure and safe longboards. They use solid good quality wood, aluminum, or plastic in order to provide safety to their consumers. They are not only winning the hearts of customers with the brilliant performance of their longboards but also the outstanding appearance.
RIDING STYLE:
The riding style offers a variety of styles such as cruising, freestyle, going downhill and sliding, etc. Their design structure makes it safe to ride. 
DESIGN / COLOR:
The design and beautiful colors attract customers as they are satisfied with the visuals. 
DECK:
The deck can absorb strain and is able to ride on surfaces that are rough. The deck of the longboards has shown maximum durability. 
WHEELS:
The wheels are large and are noise-free. They can also pass over the cracked road. 
TRUCK:
The trucks are Durable and lightweight. They are wide providing more stability at a speed that is high. The wheel bite is prevented as well.
BEARINGS:
The bearings of most longboards are high-speed precision and they are bearings that are made of stainless steel. They offer a smooth ride and do not rust. 
The best longboards offered by Eightbit:
Banana Skate Board – Retro Skateboard

Inch Drop Down Complete Longboard

27 Inch Complete Skate Board – Retro Skateboard
6-Santa Cruz
The Santa Cruz Company was founded in1973 and since then they have been winning hearts. Santa Cruz was an already popular brand for skateboards so when longboards were launched they were easily accessible to people and became famous.

Their products are durable and long lasting. They used advanced and innovative technology which makes their longboards a suitable choice for all levels of riders. 
RIDING STYLE:
Longboards which are manufactured by Santa Cruz go well with all styles of riding. Some longboards have special features for a certain type of riding style, for example, some are better suited for freestyle riding, some for downhill riding, and some for cruising. There ate plenty of styles that you can choose from. 
DESIGN / COLOR:
The designs are beautiful and innovative while the color contrasts are quite unique. This makes Santa Cruz longboards known for the stylish and eye-catching looks. For example, a longboard of Santa Cruz called the lion God Rasta drop through cruiser free ride longboard became the talk of the town for its unique and extraordinary design. 
DECK: 
This brand gives more attention to the size, design, and shape of the deck of their longboards because it is one of the most important components. The decks are usually constructed with plastic, maple, and also bamboo.
WHEELS: 
The wheels are exceptionally larger of this brand's longboards which gives it an edge from the rest of the brands that are available in the industry. The diameter of the wheel is the determining factor for which surface you can ride your longboard on and that varies from one model to another. 
TRUCK:
The trucks are strong and durable in all of the longboards by Santa Cruz. The longboards have trucks that are lightweight and are made with silver or either aluminum. The trucks help the best longboarders to maintain stability and also prevent wheel bites. 
BEARING:
The bearings are different for each longboard depending on the requirements but generally, the longboards by Santa Cruz have bearings that are known for their high durability and their ability to last long. If you are someone who loves high speed then these bearings are known to be suitable for such riders.
Top 2 longboards produced by Santa Cruz:
Land Shark Rasta Sk8 Complete Skate Boards

Mahaka Rasta Cruzer
7-Mayhem
The mayhem longboards have reached a high place in the longboard industry due to their high quality longboards. This longboard company manufactures a vast variety of longboards which are sold at relatively lower costs. This is one of the reasons why customers preferred this brand as they do not compromise on quality while being affordable. The products of mayhem are highly durable and are also high in speed.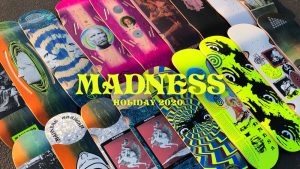 To make sure that the longboards are well balanced, a proper shape and weight are given to the longboards. For newbies, the design is 100% suitable but both beginners and expert level riders can ride these longboards. The designs are extraordinary and well attractive. 
RIDING STYLE:
Hill bombing, cruising, and freestyle are some of the distinguished riding styles that this longboard brand offers. Different longboards are appropriate for all riding styles, however, each longboard is safe and secure but at the same time, it is thrilling.
DESIGN / COLOR:
The designs offered are very eye catching and well developed to make the products more appealing to customers. They give a very sleek and aesthetic look to most of their products.
DECK:
The decks are mostly either made of bamboo or plastic and sometimes maple. They are both strong and highly durable. Also provides substantial flex to the rider. 
WHEELS: 
The wheels depend on the weight and size of the deck hence they vary.
TRUCKS: 
Aluminum is mostly used in the trucks of these longboards. They are long lasting and big which helps prevent wheel bites. 
BEARING:
The bearings used in their products are rustproof and of high quality. 
The best mayhem longboard in the market is:
8-Retrospec
Retrospec is a brand that was founded initially as a bicycle brand which is one of the main reasons why it is less known in the longboard industry. However, now it is known to be one of the best brands for manufacturing longboards. Retrospec is not known for an expensive price; rather they offer the most affordable and reasonably priced best longboards. The methods they use for transportation are extremely environmentally friendly.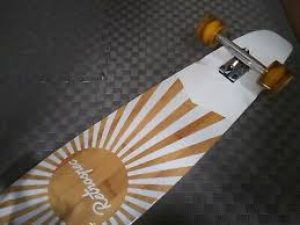 Retrospec has uses technology that is advanced and is one of the leading technologies. This helps them to produce a wide variety of boards with a lot of versatility, especially in longboards and mini-boards. Customer service is also a very important aspect when it comes to a brand and luckily Retrospec has amazing customer service which includes a return policy that is 50 days long and live chat service with free shipping. This is also another factor that is helping them grow rapidly in the market for the best longboard brands. 
DECK:
The decks that are normally used for this brand are made up of bamboo and artisan maple. This provides more flexibility and higher stability to the longboard. it makes the longboard higher in strength making it less prone to break. 
TRUCKS:
The trucks used are mostly reverse kingpin trucks which are made up of aluminum. These trucks make sure there is no rusting and you can easily move around with the help of these. 
WHEELS:
The wheels of longboards produced by Retrospec are shock absorbent and will prevent wheel bite. They also help to turn easily without the fear of stumbling, falling off, or getting hurt while taking sharp turns. 
BEARING:
The bearings used in these longboards differ usually but some use ABEC-7 bearings which provide a faster speed to the longboarder.
The best longboards available in the Retrospec brand are: 
Zed Bamboo Longboard (beginner) 

Rift Drop-Through Longboard (cruising)

Tidal 41-inch Drop-Down Longboard Skateboard (downhill)
9-Volador
The volador is another longboard company which is established by ORCA Industries Ltd. Just like many other brands volador also considers performance to be top-notch and at the same time be affordable for all customers. The thing which is most impressive about this brand is that it is made from wood which is harvested only and only from sources that are sustainable. They also are known to collect offcuts so that they can be recycled. This makes this longboard company environmentally friendly.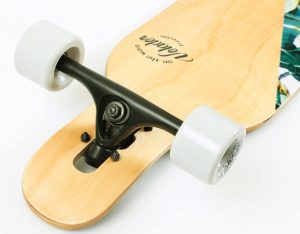 The longboards that this company produces not only come with a price that is modest but also comes with the best quality materials which are sturdy as well so they can lift more weight without breaking. All components constructed in their longboards are well made and have artworks that are unmatchable. The longboards also provide a smooth ride.
DECK:
The decks used in these longboards are usually built of layers of hard rock maple. The decks have a beautiful design to them plus they are sturdy which makes them capable of lifting heavyweights.
COLOR/DESIGN:
There are many colorful artworks that are used for the longboards produced by volador. They have exquisite graphics that are eye-catching. 
WHEELS:
The PU wheels used can differ for each model but they are very durable and give a smooth ride to the longboarder. 
TRUCKS: 
The trucks usually used are also reverse kingpin aluminum trucks which are adjustable and thus they support higher maneuverability. 
BEARING:
The bearings are also likely to vary from one longboard to another but mostly ABEC-7 bearings are used which are chrome steel ones and thus provide more stability. 
The best longboards built by volador are:
40inch Maple Longboard (smooth ride)
10-Rimable
The rimable is a brand that is suitable for beginners who are in need of a budget friendly longboard. If you are on the best longboard brands surf then surely you need to take a look at this one. Their models have the ideal combinations of colors and designs which are innovative. Rimable products are not as high end as other popular brands but their performance is not poor either.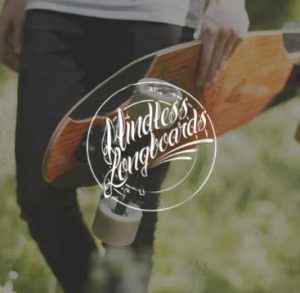 Their collection of longboards is not as vast as other brands but the longboards that they do offer include cruisers which are great for carving and cruising. 
RIDING STYLE: 
There are many different riding styles but each longboard has different features that cater to different riding styles. Carving and cruising are two main ones that can easily be done while the longboards that are produced by rimable. 
DECK:
The deck is usually built up of maple which is strong and stiff. This makes sure that heavy riders can benefit too from the solid deck as it will not break with more pressure. 
DESIGN/COLOR:
The colors are quite funky and the designs used by rimable for their longboards are also extraordinary which makes them unique.
WHEELS:
The PU wheels on these longboards spin perfectly. Longboards' can easily take sharp turns without falling off the longboard or getting hurt in the process of doing so. 
TRUCKS:
The trucks are also mostly 7 inches reverse kingpin trucks which are made up of aluminum, help prevent wheel bites and they also help in turning easily.
BEARING:
ABEC-11 bearings are available in some of their models but they usually vary from model to model. The bearings are generally well built for stability. 
The top 2 longboards built by rimable are:
RIMABLE 41 Inch Drop Deck Longboard (ride)
As you can see now that there are many different brands of longboards in the market that offer high quality at affordable rates. In this guide, we have listed down the 10 best longboard brands in 2021 that are worth taking a look at and if you are thinking about buying a longboard then you can choose from the brands we have suggested. Your work has been made a lot easier as you won't have to search in detail for brands yourself as we just shortlisted them for you. Do let us know if you bought something on our suggestion.