In the 1950s when the waves on the Hawaiian beaches weren't good for surfing, surfers would take their longboards on the streets and cruise all across the town by simply improvising. This act was called "sidewalk surfing." Longboarding is not just an activity that is fun and thrilling but has also started becoming an addictive sports activity. Longboarding has started to be used for many reasons such as transportation or sports. Longboarding is a thrill seeking activity in which you have to push yourself down a hill at a high speed with a calm attitude.
Longboards are longer and as compared to skateboards they have wheels that are bigger in size. This makes longboards more stable, easy to ride, and very fast. After skateboarding became popular, longboarding also made its way into the trending list. Longboarding is now referred to as a very serious sport and is loved by sports enthusiasts.
Buying a longboard can be confusing and difficult as there are so many various varieties of brands in the market that are offering a wide range of longboards. Each brand also has various models of longboards which increases the number of longboards in the market and forces you to do more research to figure out which one is best for you. Each longboard has features that are specific only to that longboard. It is always best to focus on buying a longboard which has a good reputation for producing high quality products.
To help you decide which longboard is going to be best for you we have researched and shortlisted the 11 best quality longboards in 2021. You can now easily select a longboard that has a good brand value. We have discussed in detail each longboard in reference to their unique features, advantages, and disadvantages. Follow our guide to select the most suitable and high quality longboard for yourself.
1. VOLADOR 42 Inch Freeride Longboard Complete Cruiser
The volador longboard measures 42 inches and is a freeride longboard. The longboard is great for all levels of riders starting from beginners to experts. It is durable and affordable at the same time. The deck of this longboard is highly flexible and shock absorbent due to the drop through camber feature. It is built from 8 ply artisan maple which is natural and uses epoxy glue. This material is healthy and environmentally-friendly. The deck has the ability to carry 250 pounds which makes it the best loaded board for heavy riders.
The grip offered by the deck is exceptional while the reverse kingpin trucks which are adjustable and made out of aluminum allow higher maneuverability. The trucks measure 7 inches and can be adjusted from 45 to 50 degrees. The wheels are durable and measure 70 x 51mm and are made from 78 PU with ABEC-9 chrome steel bearings. The wheels are soft which restricts you from riding on rough terrain but they also offer a very smooth ride. All these components are top notch making this the best drop through longboard.
The design of the volador longboard was loved by the masses. The graphics are modern, retro, and very bright. This particular model gives the perfect vintage look. It was manufactured from across the Atlantic and is built with the most top notch engineering used for longboards. This is evident from the fact that your ride using this longboard will be smooth and exciting. For cruising the wheelbase which measures 34 inches and the 9 inch wide deck make it ideal for cruising. You can also use this longboard for racing.
The customer rating given to this longboard was 4.3/5 stars, with a great number of positive reviews. The price is also very reasonable for this longboard.
Pros:
The design is fantastic and exquisite which attracts consumers to itself.

The trucks are adjustable and you can turn them easily.

It is a great longboard for cruising and high speed.
Cons:
As for beginners, this longboard can lack stability.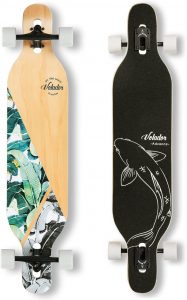 2. Atom Drop Through Longboard Review
To make this atom drop through longboard a perfect longboard for carving while going downhill, maximum stability is provided while a low deck. This longboard is going to be perfect for you if you need to cover long distances such as for work, transport for school, and longboarding across town, and also cruising. The price of the longboard is somewhat high but the performance and quality are worth it.
The drop through deck is 9.6 inches wide and is made up of maple hybrid and bamboo. Wheel bite is prevented from this longboard which makes it easy for the rider to carve to and fro on the street. The deck is curved and also flexible enough with a wide width and a large length which can lift a weight of 250 pounds. You easily master the 180-degree turn by leaning down a little bit. The bearings are lubricated ABEC 9 and are high speed with high quality.
The grits are coarse and are made from 46 coarse grit which prevents you from slipping. The trucks of the longboard have 180mm hangers and 40-degree bases and are of the styles of a drone. The wheels are made from SHR material that is 78A.
The board has an outstanding performance with eye catching looks. The design is elegant and comes with a graphic photo design that is heat transferred. This makes the longboard stand out amongst other boards to. The craftsmanship is brilliant which makes you enjoy your thrilling ride as there is very less resistance and your ride becomes smoother.
The ratings given by consumers were also great. On amazon, the reviews given were 285 along with a mean rating of 4.4/5.
Pros:
Cons:
The turning circle of the deck is large which requires more effort for the rides to take a complete 180 degree turn.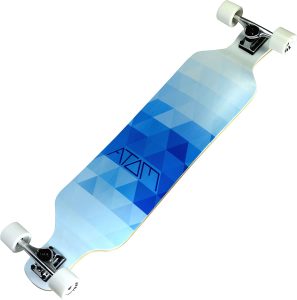 3. Playshion Drop Through Freestyle Longboard Cruiser
Learning how to longboard can be a time consuming process but with the right board, you are all set. The Playshion drop through freestyle longboard offers high stability; it is more durable, provides a smooth ride, and has a ground clearance that is low. This longboard choice is excellent for those who love to cruise as this is a freestyle board and you can easily perform tricks and stunts as well.
The longboard is an ideal choice for longboarders who weigh heavily. The deck of this longboard is flexible but also very strong at the same time as it is made from 5ply maple and 2ply bamboo that can hold out against carves and bumps. The longboard can easily carry a weight of up to 250 pounds.
The wheels of this Playshion longboard are big, soft, and made of polyurethane which makes it a perfect choice for beginners. The large wheels measure 70mm x 50mm and are built from PU. For steering, the wheels are quite hard but to provide a smooth ride they are soft enough. The bearings used are ABEC-9 which gives the longboarder a very smooth ride. Fitted with brushings that are soft, the 7 inch trucks are made from aluminum.
The Centre of gravity is low which means that more stability is offered to riders who are heavy with beginners included. This makes this one of the best drop-through longboards. The ground clearance measures 4 inches which are great. This makes the longboard easy to push and to be in control of while applying brakes. The length of this longboard is 39 inches which makes it one of the sturdiest longboards but also supports different styles of riding. You can ride this longboard using many riding styles, for example, freestyle riding, carving, and sliding, down hilling and cruising. The longboard can be carried effortlessly as it does not weigh so much itself.
This longboard is sturdy with high quality components but comes at a very budget friendly price. The reviews for this longboard on amazon are also great.
Pros:
This longboard is suitable for people who are heavy and bulky.

It has many features that make it a perfect choice for beginners.

The ground clearance for this longboard is quite low.

It can be used to ride with various riding styles.
Cons:
When going downhill the longboard can get somewhat wobbly.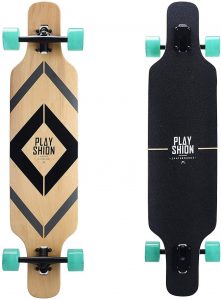 4. Quest QT-NSC44C The Super Cruiser
The quest super cruiser is a very budget-friendly product despite the fact that all components are made from exceptionally high quality materials are the brand value which is great. The longboard is a great choice for newbies. The deck of this longboard is 44 inches made from bamboo and maple and is 7 ply. 44 inches serves as an ideal size as it provides enough grip to those who are longboarding for the first time. The deck also has some beautiful artisan designs which add more details to the longboard and are extremely captivating.
The components of this are all top notch with bearings that are ABEC-7 and 7 inch trucks that are made up of aluminum to prevent rusting. The trucks are lightweight and are made up of durable wheels which measure 70mm PU. The longboard is a pro-style one but it is also easy to ride for beginners. The quest offers the best quality components which enhance the performance of the longboard and also sets the bar high in the market for other longboards to compete with.
The longboard has wheels that are soft and they have wheels wells that help protect the longboarder from wheel bites. You can take sharp turns while carving and cruising without any fear of stumbling or falling off. The longboard can be ridden for various styles such as cruising across town, kicking around campus, and going to class. The longboard is captivating, durable, and a very affordable choice. The weight capacity for this longboard is super high as it can carry weight up to 280 pounds.
The reviews are high in number and are positive thus they serve as proof of the quality of this product. Buying this longboard will not disappoint you as it is one of the top notch products in the market and you can it is totally worth buying for the price factor.
Pros:
There are many thousands of positive reviews available.

The ratings given to this product are also good.

The large size and high stability make this longboard ideal for beginners.
Cons:
You cannot explore many riding options with this longboard.

5. White Wave Bamboo Longboard Skateboard Complete
The white wave bamboo pintail longboard has a wheelbase that is long enough and has a concave shape that makes this longboard perfect for carving and also cruising across the city. The pintail concave shape makes it more easy for you to turn when you carve while going downhill. The deck of the longboard is a combination of bamboo and maple wood that is Canadian and also has a grip tape which is clear. The longboard is an affordable and reasonably priced one with its amazing features, high durability, and sleek, captivating design.
The bearings of this longboard are ABEC-9 hellion-2 that has spacers that are built in and also the bearings are fast, durable, and very sturdy reducing the resistance offered by the wind. The wheels are made of urethane which is high rebound and measure 70mm x 50mm. the wheels are highly responsive and can ride over rough terrains such as those with pebbles or cracks. The trucks are 7 inches and are made with aluminum and come with soft brushings. The longboard is able to lift a huge amount of weight with its capacity for the load being 250 pounds. This makes it high in stability and supportive for longboarders who are heavy and bulky.
The longboard has dimensions that measure has 41 inches long x 9.25 inches wide that provides a comfortable standing space for longboarders. The graphics on the deck are heat transferred with a grip tape that is highly durable. The design and components are such that the rider gets the best and smooth ride possible. The longboard also has lights that glow in the dark making it very eye catching at night.
The longboard is a little high in price as it is a little more costly than the other longboards but the ratings of this white wave longboard are high and it is one of the top rated longboards with a rating of 4.6/5 stars and has 207 positive and excellent reviews.
Pros:
The reviews given by customers are amazing and the ratings are high.

The longboard is strong when it comes to strength and has high durability.

You can use this longboard for a fast ride if you love thrill-seeking activities.
Cons:
It falls under the category of expensive longboards.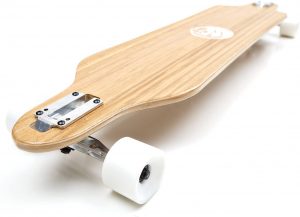 6. Slendor longboard
The slendor longboard has dimensions that measure 42 inches long and 9 inches wide which is large enough for all riders. The deck is a drop-through camber one that is made from 9 ply natural hard rock maple which is cold pressed. The deck is highly flexible and has a shock absorbent property. The deck uses epoxy glue that is a healthy and non-toxic glue making this longboard more environmentally-friendly. The wheels of this longboard are 70mm x 51mm which have a rock finish and are made from 85A PU. The PU ring has the shock absorbent property and it adds cushioning which makes the ride a lot comfortable and easy.
The bearings used in the wheels of this longboard are ABEC-11 and are high speed bearings that are made from chrome steel. The trucks of this longboard are 7 inches and are made from aluminum which is adjustable to 45 and 50 degrees. The longboard can be used for a variety of riding styles such as down hilling, freestyle, cruising, and high speed riding. The wheels have a turning radius which is wide making them suitable for all age groups.
If you are worried about your money going to waste then this news is going to be great for you as this company offers you 100% cash back if you are not happy with the longboard or are unsatisfied. The ratings that this longboard has are 4.5/5 stars with over 60 reviews all of which are excellent and positively written.
Pros:
The deck is 9 ply which is hard and stable

The bearings allow easy turning and riding.

100% guarantee to get your money returned.
Cons
Not appropriate for expert riders.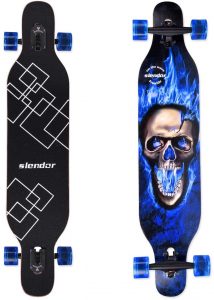 7. Minority downhill maple longboard
The minority downhill longboard is made from 100% maple which is hard rock 8 ply and is cold pressed. The length of the longboard is 40 inches and has a low center of gravity which makes it great for all speeds, fast or slow.
The wheelbase of the longboard is 37 inches and has a 10 inches deck which makes it great for downhill riding or riding on the streets. The trucks are 7 inches which are adjustable to 45 and 50 degrees and are reverse kingpin made of aluminum. This provides the rider with high maneuverability. The wheels measure 70mm x 51mm and are made of 78A PU. The bearings are ABEC-9 which offers the most smooth ride ever.
The designs which have come from across the Atlantic are exquisite looking. The boards are smooth and high speed. They can handle a weight of 220 pounds.
The reviews are also not bad as the ratings are 3.7/5 stars which are good in terms of the cheap price being offered for this longboard. This longboard is worth the attention because it has many positive ratings and is also a very affordable longboard. The features are great such as the adjustable trucks and are also environmentally-friendly with the maple deck which is made out of wood that is sustainable. This longboard is definitely worth buying keeping in mind the wonderful price factor.
Pros:
The price is cheaper

The trucks can be adjusted

The wood is sustainable

Heavy riders can also benefit from it
Cons:
The longboard is heavy itself making it difficult to carry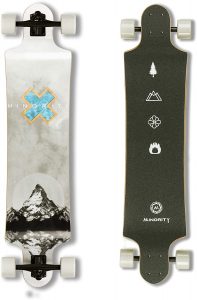 8. MBS All-Terrain Longboard Review
The MBS longboard works well on all terrains including streets, dirt, concrete rough paths, etc. the longboard measures 39 inches and has a drop down deck that is made from 10 ply maple. The drop deck model is worth buying as it maintains the height over the trucks but is super low in the middle. The low center of gravity makes it easier to push around. The deck can easily handle anything.
The wheels of this longboard are 100mm in diameter and 65mm in depth and are 78A PU. The wheels are made of urethane and are high rebound built for speed. The wheels are large and are well balanced. They can handle rough terrain and can easily ride on the streets. There is no weight limit defined for this longboard but it is good for heavy riders too.
The deck of this board that is made from maple wood has cutouts in order to help prevent wheel bites. 
The ABEC-9 bearings are shielded by rubbers so that the board is safe to ride in all environments.
Pros:
The deck is sturdy

A smooth ride is offered

The wheels are large
Cons:
The low deck might not be able to ride on terrains with rocks and pebbles.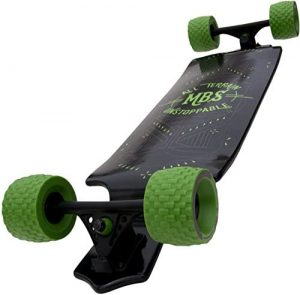 9. SANVIEW 42inch Complete Bamboo Longboard
The sanview longboard is 42 inches long and 9 inches wide. This makes the longboard a pretty good one in length as it will provide a comfortable standing space to the longboarder. The design of the longboard is such that it is appropriate for all levels of riders starting from beginners to experts. The deck is made of bamboo which has a beautiful artisan quality to it making it comfortable and highly flexible while riding. The deck also has a grip tape which is OS780 and it helps the rider to become more stable. In fact, it is very high in stability as compared to other longboards.
The longboard has the shape of a cruiser and thus that helps to enhance the performance of the longboard. The 7 inch trucks have a casting of aluminum to protect them from rusting and also have 83A PU brushings that make the longboard easy to control and easy to turn. The wheels are built from PU that is SHR 78A and measure 70mm x 51mm making it a high rebound. The bearings are ABEC-9 that has balls of nylon built inside them ensuring a fast and smooth ride.
The price of this longboard is affordable with 121 reviews that are positive and have a high rating of 4.5/5 stars. The longboard is great when it comes to maneuverability and high durability.
Pros:
The design on the deck is highly aesthetic

The price is reasonable

You can easily turn and take sharp turns from corners
Cons:
The wheels need to be adjusted in order to turn easily.
10. Skatebolt electric longboard:
This longboard is an advanced longboard that is made from modern and high technology making this longboard an expensive one and a dream longboard for every longboarder out there. The features are amazing and advanced which makes the price so out of reach but it is definitely worth spending money on.
The longboard is an electric one as suggested by the name which makes it very easy for transportation uses. You can ride it in two modes; normal and sports one. The speed of this longboard at its maximum is 13.5mph in the normal mode which is suggested for riding in traffic or through a place that is very crowded. The sports mode allows you to speed faster with a maximum speed of 25mph and you can ride it anywhere you find it suitable.
The longboard has motors that are dual and are powered by 500 watts. The batteries are powerful enough to allow the high speed that this longboard is meant for. You can easily travel to work or college using this longboard. It is great for covering a long mileage and can also be ridden on most terrains.
The longboard has a service for maintenance which is for 6 months and passes all the quality tests with it being highly technical. The deck is made up of maple wood which is 8 ply and is very sturdy making it suitable to lift heavy riders. The configuration of this longboard is perfect and the way it is built is very captivating.
The ratings of this longboard are not very high due to the price factor as it is around 600 dollars but the product is high end and excellent quality which makes it worth the money. The reviews of this longboard are 138 in number and the average rating is 3.9/5. If you are looking for something that is rapid and advanced and you are able to pay the price then this longboard is definitely not worth leaving. It has some very unique features and it rides like a dream with its smoothness. The battery life of this longboard is long lasting and it has a high speed.
Pros:
The longboard is very strong, powerful, and fast.

The battery is great and long lasting

It is the only electric longboard which is so good

Offers maintenance and technical support.
Cons:
It is an expensive longboard.
11. Retrospec
The zed longboard is 44 inches and is quite lightweight making it easy to carry. The large board provides a comfortable space for foot placement. The board is made of bamboo and 8 ply Canadian maple wood. The zed longboards have kept in mind the ambitions of the street surfers in the 1950's while making this longboard. The design of the longboard is an eye catching one and is quite sturdy and stiff. The longboard is a tough one and is very high in durability.
The combination of the wood is also sourced to be ethnic and was designed in Los Angeles. The shape of the longboard is a classic one that allows the rider to take turns that are sharp and can pass through corners like a lightning bolt. The bearing of this longboard is ABEC 7. The wheels have a measurement of 70mm and are built from PU that is 85A. Moreover, the trucks of this longboard are 7 inches that have a brushing of 90A, and have a PU casting which is black.  
The price of this longboard is quite reasonable and this longboard is a high competitor in the market. Though, it is affordable but does not compromise on quality making it so popular amongst people. The longboard has over 900 reviews which are a lot and also have a high rating of 4.6/5 stars
Pros:
The ratings are the highest and the reviews are excellent.

The price is affordable as it is under 6o dollars

It has a vintage and retro aspect to it which imitates the very first longboards built.

The maple and bamboo deck is very strong
Cons:
The trucks are loose and need to be tightened before you ride them.
We have listed the best overall longboards and the best drop through longboards in this guide. You can the best quality longboards in this guide and choose one that meets all your requirements. Finding longboards in the vast variety that is available today is very difficult hence we have come to rescue you and help you by making your job easier. Do give us feedback if you buy any longboard on our recommendation.