What are the Best Longboards? Everything You Need to Know About Longboarding
Welcome to Longboard Hub, the best online resource available on everything you need to know about longboards. I can only guess, but you're probably here to learn more about what are some of the best longboards you can buy today.
With literally hundreds of different types of longboard products out there, it can be extremely frustrating in narrowing down the best longboards you should consider.
I have been in the same situation not too long ago when I did tons of research on longboarding. As such, I created Longboard Hub to share the research and knowledge I've gathered so that you can use this information to purchase a longboard that suits your needs.
Why Longboarding?
Longboarding is a subculture of skateboarding that has been gaining lots of popularity in the past few years. Simply put, a longboard is sports equipment that can be thought of like a skateboard, but only longer. If you're uncertain as to whether you should get into longboarding and/or purchase a longboard, here are a few reasons why we and many other people love longboards!
Reducing Your Carbon Footprint. The amount of vehicles in the world is growing at an enormous rate. In 2014 alone, over 80 million passenger cars were produced; this equates to about 219,000 new cars being produced every single day. How insane is that! As such, many individuals who are environmentally cautious and do not have the need for long-distance travel make use of alternative means of transportation. Traditionally, bicycles have been the norm in this respect; however, skateboards, or more specifically, the use of longboards are becoming more prominent since it is indeed a lot of fun.
A Great Hobby and Learning Experience. Getting into longboarding is a great way to spend your past time and at the same time, build friendships. More importantly, most people would agree that the process of mastering longboarding – being able to balance and maneuver yourself on a longboard – requires TONS of practice and patience. This helps reinstate the importance of such values in order to get the rewards we seek, whether in longboarding or in life.
Longboards are fun! This one's pretty obvious, but longboarding is an extremely fun and cool sport to get into. If you've always enjoyed seeing other people skate, now is the time for you to get a longboard!
Before we dive into the 5 best longboards that are currently available in the market today, it is important to first go over the different types of longboarding activities you intend to pursue. In other words, how do you plan to ride your longboard?
Longboard Riding Styles
Cruising / Carving
If you plan to use your longboard as means to get to nearby places such as college, the mall or to meet up at a friend's place, a cruising/carving longboard is what you want. This transportation style of riding allows you to "cruise" around with your longboard. The use of longboards for cruising purposes has several advantages when compared to using a bicycle.
A few of these advantages include being able to maneuver easily in tight spaces, can be conveniently carried onto public transportation, and not needing any bike locks! Most longboarders fall in this category.
A stiff or flexing board works for cruising and if you're confused about which one is more fun, flexing wins! If you're going to be using your longboard to navigate you through the city, shorter boards are often used as they are more responsive and are more suitable to tight turning.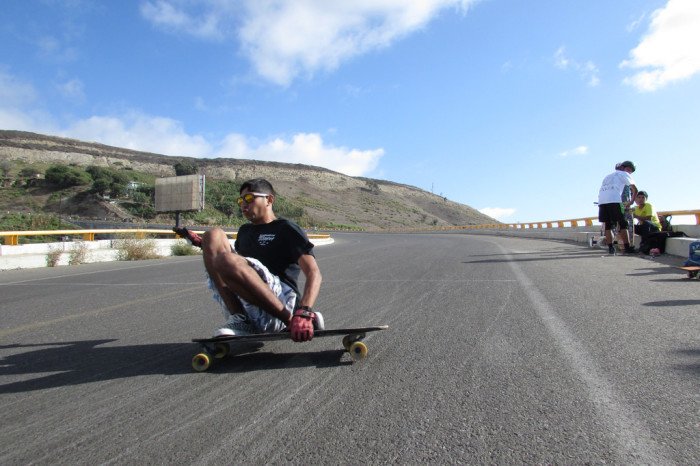 Freeding
Freeriding is a longboard riding style in which you ride hills at a good speed and at the same time perform slides, curb hops, hands down slides, or flips. Sliding with your longboard is often done to control the speed at which you are going. This style of riding is usually not the best style to get into if you're a beginner.
Freeriders typically make use of stiffer construction boards with a concave shape as these not only provide stability but also helps lock your feet to the board.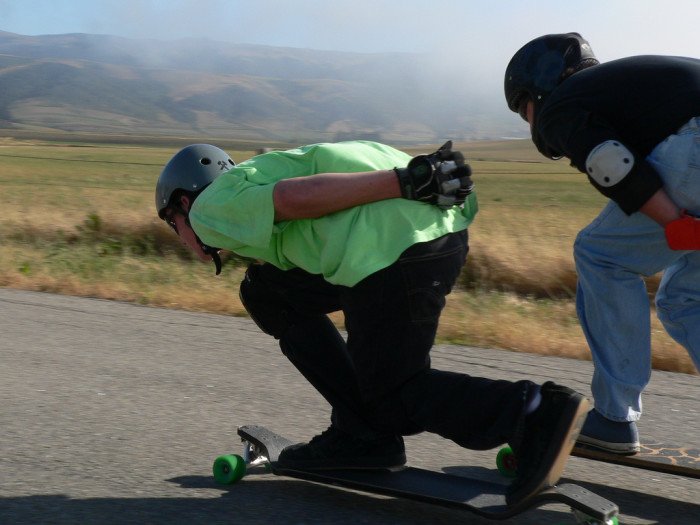 Downhill
If what you plan to do is to charge down a hill at high speeds with your longboard while maintaining control, then you'll be interested in downhill longboarding. Downhill usually requires you to be in a crouching or tucked in position on your board not only to reduce wind resistance but also to increase stability.
As riding on a longboard on a downhill can gain speeds of more than 60 mph, it is a relatively dangerous style of riding. This type of riding requires some experience with longboards and therefore is more common among people with intermediate or expert level skills. Similar to freeriding, a longer and stiffer board is usually used for downhill longboarding as stiff boards are more stable and allow more control when compared to casual boards.
Freestyle
Creativity plays a big part in freestyle longboarding. This type of riding makes use of different dancing maneuvers, tricks, flatground tricks and other stylish elements such as performing side-stepping maneuvers. This type of riding style is often associated with skateboards and the old style of skating. In general, freestyle boards are suitable for cruising and carving with the only specification freestylers usually look out for is the inclusion of two kicktails.
Some of the Best Longboards Today
Having figured out what type of longboard riding style(s) you'd like to get into, now it's time to dive into the best longboards out there. This list is based on months of data that we have been collecting. Among things that were looked into included which longboards were people most interested in, the ones that were purchased the most as well as the ones which have the highest overall ratings.
Let's dive into the top-rated and most looked at longboards around.
The Sector 9 Blue Wave Lookout Drop-Through longboard is one of the bestselling Sector 9 longboards around today. This 42-inch lon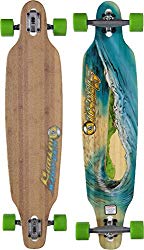 gboard has a weight of 7 pounds and features a 5 ply vertically laminated bamboo for the deck. This longboard has a drop-through mounting deck which not only lowers your center of gravity for increased stability, but Sector 9 also features this board as freeride capable. The Sector 9 Blue Wave Lookout longboard comes with a high-quality reverse kingpin 10-inch Gullwing Chargers truck and 74mm 78A Sector 9 top shelf wheels. The combination of all these features makes this longboard one of the most versatile and best longboards around right now.
Produced by M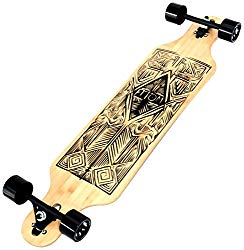 BS who runs the Atom line of boards, the Atom Longboards Drop-Through longboard is an ultra-low riding 42-inch longboard that is a great pick for anyone looking to get into longboarding.
This board features a full maple laminate deck, reverse kingpin longboard trucks, and wide-lip 70mm x 51mm super high rebound urethane wheels. The Atom Drop-Through longboard is suitable for many different longboard riding styles, including those who want to cruise, carve, freeride, and even downhill with their longboards.
The art design on the board is simplistic, yet Atom Longboards makes it look cool and futuristic. All around, an extremely great longboard to get.
The Quest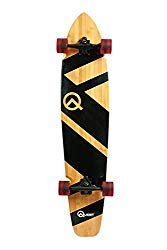 Super Cruiser Artisan Bamboo longboard is currently one of the best and most inexpensive longboards around. This longboard's construction features multi-ply hardwood maple and a great looking Artisan bamboo deck.
The Artisan bamboo deck not only looks stunning, but is also designed for durabilit

y and sturdiness. This 44-inch board features a kicktail, 7-inch aluminum trucks, and durable 70mm polyurethane (PU) wheels. If you're looking for an everyday longboard you can use to cruise around town, you can't go wrong with the Quest Super Cruiser Artisan Bamboo longboard.
The Santa Cruz Skate Mahaka Rasta Cruzer is one of those boards with the looks of an all-time classic. It not only looks great but also performs great which makes this Santa Cruz board one of the favorite longboards among many people. This 43.5-inch pintail shaped longboard has a 100% North American maple deck that looks and feels stunning.
This longboard comes with a good quality Bullet B150 Black Cutback trucks as well as the Road Rider 65mm wheels which are rated as 78A durometer wheels. What's more, is that the Santa Cruz skateboarding brand has a ton of experience in meeting the needs of the skateboarding and longboarding community.
Santa Cruz has been designing and making skateboards and longboards for over 40 years and is the oldest continuous skateboard company in the world! If you're looking for one of the best longboards that has been made by a much-respected brand in this skateboarding world, the Santa Cruz Skate Mahaka Rasta Cruzer is right for you!
T

he Yocaher Mini Cruiser longboard is a shorter board that comes with 15 different colors you can pick from. This longboard has a length of 27 inches, is lightweight, weighing in at only 7 pounds and comes with 62mm gel wheels for a smoothness feeling in rides. The Yocaher Mini Cruiser longboard is perfect for someone who frequently uses the board to navigate and get through crowds. This "short" longboard is perfect in terms of control and making tight turns.
Choosing the Best Longboard Parts
If you're someone who is interested in customizing the different parts of your longboard to suit your preferences and feel, there are four main components that you should be aware of. In particular, if you're a longboarding enthusiast and like to "build" your own longboard, knowing the best bearings, trucks, decks, and wheels are extremely important.
Understanding the anatomy of a longboard can be a useful learning process to determine the best longboard parts that you want to purchase. If you're a beginner looking to learn more about the world of longboards, read on for more detailed information and definitions!
The main parts as shown in the figure are the longboard deck, trucks, bearings, and wheels. Below are some of the factors that you should look into while selecting longboard decks, trucks, bearings and wheels.
The longboard deck is a piece of material, typically a wooden board that you stand on while riding your longboard. The standing surface of the deck is lined with grip tape which is the sandpaper-like layer that provides traction between the top surface of the deck and your shoes. Three things that are common to most longboard deck selections are its length, the flexibility of the board, and if the board has a kicktail.
Deck Length
Have you ever wondered if the reason for the different longboard lengths? This is one of the main concerns for those who shop for a longboard. The underlying theme behind having different deck lengths is the controllability of the longboard. The deck lengths for longboards vary anywhere between 22 inches to 60 inches or more.
Again, selecting the right deck length is dependent not only on preference but also on the type of riding style you wish to pursue. For example, if you are looking to do quick maneuvers and make tight turns on city streets, then a shorter deck is recommended. If you're looking to freeride or ride downhill in the future, something in the range of 36 inches to 44 inches would work best in the long run.
The bottom line is that a longer board is more stable to ride on, however making tight turns or carving corners can be less quick. On the flip side, shorter boards are quick to carve but less stable. Typically, if you are unsure exactly what you'll be using your longboard for, something in the range of 36 inches to 44 inches will be the best value for your money as it'll suit various different needs. Keep in mind that longer boards are generally heavier!


Deck Flexibility
Having a board that is flexible is often the preference for many longboarders given it is indeed more fun! One of the benefits of having a flexy deck is that it can especially help to reduce the shock you feel when you're riding over a rough terrain. This in turn can reduce the stress exerted on your ankles and knees.
In addition, riding on a flexible longboard which translates into riding at a lower level (closer to the ground) results in a lower center of gravity and therefore gives a sense of stability. On the other hand, a stiff longboard deck provides a direct responsive feel to individuals and is more common in the downhill longboarding scene.
Deck Kicktail
Kicktails are the tips of the longboard deck that bent upwards. A kicktail on your deck is extremely important especially if you want to maneuver your board. Some longboard decks have kicktails at each end of the longboard.
These are just three of the many other factors that play a role in selecting the best longboard decks if you do decide to build your own longboard. Other longboard features that one should take into account include deck shapes, deck wheelbase, deck width, deck mount, deck rail, deck camber, deck concave, deck construction, and deck traction.
Don't feel overwhelmed if you're a beginner; swapping parts out of a longboard is usually only pursued by someone who has been longboarding for awhile.
Longboard Trucks
Next on the list is longboard trucks. The truck of your longboard is a part that is attached at the bottom of the deck where the wheels attach. In short, the longboard truck is responsible for how stable and how responsive your longboard is. As stability and responsiveness are probably the two most important factors in determining the quality of your longboard ride, picking out the best longboard trucks to satisfy both factors is key. So what is it do you have to keep in mind in order to pick out a suitable longboard truck? Here are a few things you should keep in mind: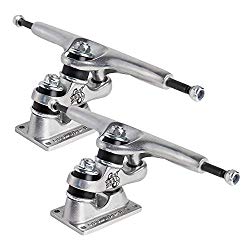 Truck Width
The width of a longboard truck is referred to as the width of the two ends of the truck where the axle ends. Longboard truck widths range anywhere between 150mm to 180mm. Making sure that the truck width matches your longboard is easy; all you have to do is to ensure that the width of your longboard deck is as close to as the width of the truck.
Having a perfect match is ideal as this will result in the leverage points on the longboard to be properly aligned with your trucks and wheels. In general, a wider truck translates to having a more stable longboard while a thinner truck equates to less stability.
However, a thinner set of truck equate to quicker turns when compared to wider trucks. For example, 10-inch or 180mm trucks are mostly used in downhill riding and freeriding to provide maximum stability while 9-inch or 150mm trucks are common for cruising and carving riding styles.
Standard or Reverse Kingpin Configuration


The next major thing to look into while selecting a good performing truck is whether it is a standard kingpin or reverse kingpin truck. These two different types of setup refer to the way the kingpin or large bolt that runs through the center of the trucks are placed.
Standard kingpin trucks are tucked behind the hanger, facing inwards toward the center of the board, which ultimately translates into less interference when grinding or performing other tricks. As such, standard kingpin trucks are more commonly seen in boards that are used for freestyle and tricks.
Reverse kingpin trucks, on the other hand, are more common among longboards because this makes them more responsive at slow speeds and at the same time, provides more stability and control at high speeds. What's different between a standard kingpin truck and a reverse kingpin truck is that a reverse kingpin truck faces outwards toward the nose and tail of the longboard. The design of the reverse kingpin truck allows for a greater craving and turning ability.
In general, a reverse kingpin configuration equates to a smoother response while a standard kingpin equates to a sharper response. The truck width and kingpin configuration are two key features one should pay close attention to while selecting a longboard truck.
There are many other factors that affect the selection of the best longboard truck including the truck angle, truck height, as well as the setup of the longboard's bushing seat.
The third component of the longboard that enthusiasts should look into are bearings. While longboard bearings are relatively small parts, they are very important components that allow your wheels to spin. Simply put, the bearing is an element that allows the rotational movement of the longboard's wheels while reducing friction and handling stress. Without the use of bearings, there will be too much friction between the truck axle and the wheel. This will not only restrict the longboard's wheels from spinning but can also result in damage to the longboard truck axle.

Compared to old clay bearings, most longboard bearings today are made of tiny steel or ceramic balls that are set on a circular track inside a ring that works in unison with the fixed axle of the truck and the inner hub of the wheel. Longboard bearings are conveniently designed such that they are all manufactured to a standard size. If you have been looking for the best longboard bearings for your board, you'd probably encountered dozens of different types of bearings, each at a different price range. What's the difference between a $10 bearing and a $100 bearing? How do you pick the best longboard bearing?  The ABEC rating and material type are the two most common features you'll want to look at if you're planning on customizing your longboard.
Bearing ABEC Rating
The industry-accepted standard for defining the quality of different ball bearings is known as the ABEC rating. This standard, which was developed by and named after the Annular Bearing Engineering Committee (ABEC), divides bearings into 5 different classes, from the largest to smallest tolerances: 1, 3, 5, 7, and 9. The higher the ABEC rating, the smaller the tolerances, and therefore, the more precise, efficient, and greater speed capabilities it can handle. For those of you who are curious, the tolerances in this standard refer to the space that is allowed between the steel balls and the inner and outer track. It is important to note that bearings that have a higher ABEC rating do not define how fast your longboard can go.
Bearing Material
Aside from the bearing's ABEC rating, the material of the bearing is usually what differentiates between a $10 and a $100 bearing. A precision-tuned ceramic bearing performs more efficiently and has a longer lifespan when compared to a stainless steel bearing. As such, ceramic bearings often cost much more than stainless steel bearings. Among steel bearings, the grade of the different types of steel is often reflected in the price difference.
In addition to these two main factors, picking the best longboard bearings requires the consideration of the use of spacers, lubrication, and the maintenance of the longboard bearings.
Longboard Wheels
Choos
ing the best longboard wheels first requires an understanding of what these wheels do. Obviously, they are designed to rotate to give you a forward and backward motion. More importantly, since the wheels are the only parts of the longboard that is in direct contact with the riding surface, it determines how well your longboard grips and turns. The selection of the best longboard wheels requires the consideration of the diameter, contact patch as well as durometer rating of the wheels.
Diameter/Height of the Wheel
This is one of the most obvious features that you'll need to first look into when selecting longboard wheels. The wheels for longboards can have diameters of between 64mm and 80mm. The two things that wheel diameter affects are acceleration and speed. A larger diameter wheel accelerates slower but can achieve a higher top speed and vice versa for a smaller diameter wheel.  Most commonly found longboard wheels have diameters of between 65mm and 75mm.
Aside from speed and acceleration, the diameter of the wheel should also be compatible with your longboard's configuration without causing wheel bite – a phenomenon whereby the wheels make contact with the longboard deck causing it to come to a complete stop! To avoid wheel bite, things to look out for in your longboard deck is whether or not there is a large cut out to accommodate the height of the wheels.
Contact Patch Width
The contact patch of a longboard wheel simply refers to the width of the wheel that makes contact with the riding surface. Typical longboards have contact patches in the range of 38mm to 55mm. A wide contact patch, having more surface area directly in contact with the ground, provides more grip. On the other hand, a thin contact patch has less grip and therefore has greater slide-ability. Freeriders typically get thinner contact patch wheels as they are able to easily slide around while individuals who downhill ride prefer a wider contact patch for more control. For cruising and carving riding styles, the typical contact patch range of 38mm to 55mm is recommended.
Durometer Rating
Polyurethane wheels were introduced to the skateboarding world in the 1970s and bring many advantages including durability and demonstrating shock dampening features to ensure a smooth ride. However, at the same time, different longboard wheels can have different hardness depending on the type of polyurethane used to make the wheel. This is exactly what the durometer rating is. In general, longboard wheels can have durometer ratings between 75A and 101A, with the larger number representing a harder wheel.
How does a hard or a soft wheel affect longboarding? A lower durometer rating provides more traction and grip to the riding surface while a higher rating allows for better slides and glides. Most longboard wheels are on the softer side; however, for those who are looking to freeride and perform downhill riding, a "harder" wheel is recommended. Many longboarders recommend wheels with ratings of 78A or 80A regardless of the riding style you usually pursue as these durometer ratings offer a good balance between grip, speed and slide-ability.
The longboard wheel diameter, durometer rating, and contact patch width are three fundamental areas that any longboard enthusiasts should look into while "building" their own longboards. Other areas that should be considered while picking out the best longboard wheels include the wheel's lip profile, core placement, and wheel texture.
---
Common Longboard Terminology
Many people who start getting into longboarding are often unsure what certain longboarding terms mean. This list of words are here to help you understand these terms and will actually make you look like an expert in longboards!
Bearing Spacers – This refers to the small metal cylinders that go in between the two bearings in a wheel.  Bearing spacers allow the tightening of the nut on the wheel which provides support to the longboard bearings so that these bearings can spin smoothly without being too loose.
Carving – This refers to one of the longboard riding styles. This type of riding involves turning back and forth downhill, forming "S" shapes. This is not only fun but also allows longboarders to control their speed.
Concavity – The concavity of a longboard refers to the curvature between the two sides (left and right) of the board. A concaved board helps lock your feet on the deck, giving individuals more control overturns.
Durometer – The durometer rating of the longboard wheel translates to the "hardness" of the wheel. Harder wheels are often needed if you intend to slide with your longboard.
Downhill – This refers to when you zoom down a hill as fast as you can. This is also referred to as speedboarding and can get upwards of 60 mph. As such, this type of riding is dangerous especially for beginners and is only recommended for intermediates and experts.
Drop-through – This refers to the way in which the deck is mounted onto the truck by "dropping through" it. This is often done so that it lowers the center of gravity of the rider for increased stability. Drop-through longboards are also common among long-distance rides as it makes it easier to push and perform a footbrake.
Freeride – A form of downhill riding, freeriding is more oriented towards tricks and skills rather than speed. Some of these skills include stand-up and hand down slides as well as foot braking.
Freestyle – This is also known as "Dancing." Basically, this focuses on the technical sides of handling a longboard on flat ground. Freestyle riding routines often involve different types of music and choreography.
Griptape – This sandpaper-like material lines the top surface of the longboard deck as a means to provide traction between your shoes and the board.
Kicktail – This is the "tail" of the board which can be "kicked." Kicktail refers to the back of the longboard which is bend upwards and is often an essential part in performing tricks such as ollies and kickflips.
WheelBite – Simply put, wheel bite refers to the situation whereby the wheels of your longboard is in contact with the deck. This can happen when turning hard or when just after you land from a trick. The use of riser pads and ensuring that the diameter of the wheels are not too large will solve the problem.
Making Your Pick on the Best Longboard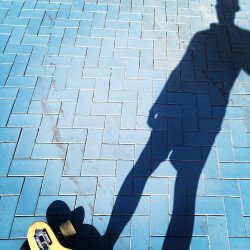 We hope that this comprehensive guide and all other information on this website will help you significantly in your journey to learn more about the best longboards in the market and in picking THE best longboard for you! Be sure to check out our reviews of the different longboards, the best longboard brands as well as any other articles related to longboarding on this website!
Have fun longboarding!