A longboard is a type of skate which is usually longer than the primitively designed skateboards and comes in a wide variety of shapes. This type of skateboard Is usually used for cruising and traveling for a longer distance as it is specifically designed to travel for longer distances with relatively more ease. It has slightly more pace thanks to its construction, materials, and hardware. This is becoming popular gradually among the skateboarders as freestyle and longboard dancing are the new popular styles. Longboards are friendly and easy to steer and drive and even to learn as compared to other skateboard types. It is all courtesy for their added length and width.
Most of the longboards measure 84 to 150 centimeters in length while width ranges from 22 to 25 cm. The longboard's design allows it to take big turns and quick short carves without causing any trouble. There are three axes for this skateboard type. Its components are deck, trucks, bushing, raiser pads, bearings, grip tapes, and wheels. The main body of longboards is called Deck which can be of different shapes namely Fishtail, Drop through Hybrid, and Cruiser.
Pintail:
Fishtail or Pintail shape of longboard provides looser trucks and larger wheels which are the basis for its smooth and serene feel and carving. Its deck shape resembles those in surfboard and skateboards alike. This means that your ride will be immuned against bumps and jolts that might be on the pavement. You will need to be sure if your longboard can survive an aggressive ride. This shape provides protection and immunity from wheel bite which is caused by wheels coming in contact with each other. This makes it a perfect skateboard for those how to want to learn how to skate.
It has a sturdy and stable base for those just beginning. It has plenty and ample space available for long ride and cruising. Pintail longboards have top-mounted trucks that keep the hoard high and easy to steer and change its directions. Their dimension can vary but mostly their length averages between 38″ to 46″ and width from 9″ to 10″. It is one of the most famous types of longboards. It is used for longer rides. These are the top ten longboards picked by experts for those just starting or considering a shift from their skateboards.
1. Sector 9 Mini Lookout pintail longboard:

Sector 8 is a reputable and well-respected name I longboarding and their pintail longboards are no exception to the built quality and ride experience their longboards deliver. This type of skateboard will be loved by daily commuters and cruisers for its agility and the premium quality it offers. Its dimensions are similar are to the other longboards but its width differs with being slightly slimmer. This slight change results in numerous subtle and devious details that come together like the strokes of a painter's brush. The plastic riders additions help it to eliminate the wheel bite threat and provides a cushion during leaning and carving. The wheels are slightly smaller sizing 65mm but they work perfectly for daily commutes as they give higher acceleration and needless pushing to gain that top speed. These all combine to make it a great longboard and of the best product of sector 9. Overall, the craftsmanship of the deck, the trucks, the wheel- even the fit of the grip exhibits the kind of effort put in making this perfect longboard. It has certainly the looks and the performance to match it as well. This skateboard won't let you down in any department.
Features and Specs:
Length: 40"
Width: 9.2"
Wheels: Nineball 65mm with Greaseball bearings
Trucks: Gullwing Chargers 9" risers-High Rebound Bushings
 Comes with a custom Black ERG Grip Tape.
Pros
Premium Quality
No hardware upgrades required anytime soon
Comes with risers to reduce wheel bite and wonderful carving experience.
Cons
Premium hardware usage increases the upfront price.
2. Atom Pin-Tail Longboard skateboard: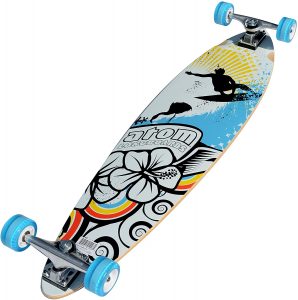 Atom is a longboards manufacturer that has earned itself a good reputation when it comes to entry-level boards. They offer longboards of various styles at a compellingly low price. It has made it able to make a strong foothold in the longboard market. It enables people to find the best longboard of their styles in an affordable price range as compared to competitors in the market. It all comes down to the usage of industrial stock hardware. Atom saves a lot of money by using this technique likewise the competitors. Its biggest problem arises in the form of deck material.
There is a lot of fuss about the Canadian and Chinese Maple and it's a long debate to carry on. There are some differences between these two materials. But the deck is still managed well by the Atom engineering department. The industrial parts can also cause doubt in your heart. Obviously, there is going to be a difference in their quality and durability as it is visible in their price differences. But they are worth your money and time. They always provide a good worth for your money spend. It is a great longboard for casual riders as evident in its price and looks. But it will certainly require some maintenance as time progresses but that won't be an arduous task. It is reliable, durable, and most certainly affordable and is the best value for your money.
Features and Specs:
Pros
Affordable price is its best quality.
Low price makes it easier for you to get into skateboarding
Good Quality deck with good grip and seamless design.
Cons
Hardware is industrial stock and will be needed to be replaced.
Only suited to people of certain age groups like adults and youth.
3. White Wave Pintail Bamboo Longboard: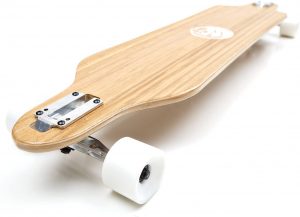 Whitewave is a relatively new company as its first dates back to 2014. So, they haven't been around for that long. First and the most prominent feature of any White Wave board is its clean look. One of the most used terms in longboard manufacturing is industrial stock hardware. These include many parts like kingpins, trucks, bearings, screws, and axles. This type of material is virtually used by every longboard manufacturer in longboard production. This kind of hardware is mass-produced and it genuinely reduces the cost of production. White Wave has always exhibited a high level of attention and detailing which is often overlooked by its competitor.
They pay attention to every single detail in their production. You should rest assured that literally everything in your White Wave pintail longboard is aligned and designed to its perfection. Even if someone gave the task to find out discrepancies of any sort in their longboard it would be an immensely energy-taking task and he wouldn't come with any discrepancy because simple there aren't any. Baseplates, graphic patterns, and even bolt holes are perfectly aligned. Spray paints are used delicately so their art isn't affected.
White Wave is simply about affordability and reliability and they didn't stop making their designs until they were able to find the harmony between these two. Combined with bigger parts manufacturers in the longboard industry they could compete with the big fishes like Sector 9 and Rayne.
Features and Specs:
Length: 40"
Width: 9.5"
Comes with company-fitted ABCEC9 Hellion bearings, polished aluminum trucks, and high rebound bushings.
Pros
Deck is made from premium materials
Deck's design provides subtle concavity.
Clear grip tape allows it to show its natural beauty.
Cons
Use of Industrial Stock Hardware (however, its effects are alleviated as much as possible)
4. Quest Totem Natural Pintail Longboard:

This longboard has no particularly good quality-built material but its setup is actually quite good. Its pros and cons or some of the customer reviews might make you reconsider your intentions for buying it but it actually is a really good longboard with its specific vibes. It has a Maple/Bamboo deck with its unique and one of its kind American inspired graphic mosaic which makes its particular vibe. It certainly resonates with a lot of people and if it does with you as well you should consider buying it. Sometimes the reviews don't particularly suit well with the product and the same is the case with this longboard. You can't really blame the longboard if you don't even know which side of their board goes against the pavement. You can even upgrade most of its parts if you wish to. It will be in line with the premium ones with its unique art and setup.
You have to upgrade your longboard hardware in any case so it's worth your money and time. With all the factors combined this longboard is a pretty good deal for one to avail.
Features and Specs:
Pros
Beautiful and intricately designed Maple and Bamboo Deck
Very affordable price range
Rear kicktail adds to its agility as well as stability
Cons
The only worthy thing seems only to be the deck due to stock hardware quality
It has a slightly shorter deck suited to riders with less weight.
5. Yocaher Beach Series Pintail Longboard:

Yocaher offers four different beach-inspired longboard designs on its belly is one of the most eye-catching longboards you will ever see. Each image is carefully crafted and designed and is vivid and colorful with more focus being on realistic touch. This is a bit off the mainstream tribal arts and the geometric pattern overlaid on one another. The beach design was taken well by the people and it has made name for itself in recent years and become a signature design for Yocaher's longboard lineup. There is none complaint about its artwork and design and the only complaint was it is peeling off. But due to scarcity of complaints like this, it was maybe due to the lack of care or not so proper storing facility.
Yocaher has been in this business for a long time may most of its deck artwork is done in-house including its shape, pattern, and graphics. Its deck like the other Yocaher longboards is pretty tough thanks to its 9-ply Maple pintail deck. It offers a medium flex but with little or no concavity and is perfect for a deck of this style.
There were many false reviews about its deck quality and its graphic problems but they are not true. Even after rigorous testing and experimenting none of these was found to be true. And to be honest it didn't damage the brand's reputation at all and is still one of the most trusted longboard brands out there. The best manufacturers will have negative as well and this brand can't be an exception of course. Only negative thing is that its hardware looks like imported industrial stock hardware despite it being a local brand. All of this is done to keep its prices in min ranges. This is a longboard for the people just starting and the beginners out skating. It has a pretty long life span.
Features and Specs:
Length: 40"
Width: 9"
Wheelbase: 24.5"
Pros
Long-standing brand.
High-resolution deck graphics
Cons
9-ply Maple is on the heavier side
Industrial Stock Hardware
6. Rout The Architect Pintail Longboard skateboard:

Gloating a classical longboard look, this longboard brand doesn't need any sort of introduction. It is one of the best longboards manufacturers in the world. This pintail longboard demands itself to be on the sand boardwalks hustling through the crowds of people. It is best suited for those who want to skate and surf at the same time. It gives you the true skateboard vibe of carving, cruising, and shredding. If you are looking for new turns this longboard is a perfect match for you as it comes with Dano 70mm 78a Clear Longboard Wheels, Gullwing Charger 10" Silver Truck, Abec 7 skateboard bearings, and Black Grip tape.
Features and Specs:
Length: 39"
Width: 9.5"
Wheelbase: 29"
Black Grip tape
ABEC Skateboard Bearings
Gullwing Charger 10"
Pros
Great for cruising and carving
Great of beginners
Maple Constructed body.
Ready to ride right out of the box
Surfboard inspired looks
Provides perfect value for the money.
Cons
May have a little sliding issue
Trucks are needed to be greased more often
7. Quest  Karma Pintail Longboard:

It is a classic high-spec longboard that is a classy and elegant choice for all skaters. It is suitable for people of all age groups. It has a massive deck that is perfect for beginners and pros alike. It has a long and massive deck with perfect artwork on it its maple. This longboard can be used anywhere from campus to boardwalk. It will give out a mellow vibe which is matched by equally elegant Eastern-inspired abstract art and solid construction on both top and bottom. This longboard will make you fall in love with itself and you will definitely love to cruise and new turnings on it.
Features and Specs:
Length: 44"
Width: 10"
Height: 4.5"
7 Ply Durable Bamboo and Hardwood
Lightweight and Sturdy 7" Aluminum Trucks
Durable PU Wheels
ABEC 5 bearings
Pros
Its lightweight deck provides crazy turns and a cruising experience.
It has an elegant and stable deck design shape and is comfortable
Great for freeriding and downhill moves
Beautiful abstract artwork on the deck
Polyurethane protects the wheels
The diverse sort of design makes you feel comfortable while playing
Cons
Can't take turns in full radius
Truck feels a little bit heavier.
8. Yocaher Punked Pintail Longboard:

The Yocaher Punked Pintail Longboard is an easy ride longboard that is ideal for beginners. It prevents the wheel bite and the wheels can't come in contact with one another. It provides enough foot space which makes it a great campus cruiser. The high-quality ABEC 7 chrome bearings ensure a smooth, serene and comfortable ride experience even on the rough patches. It has a healthy acceleration and is speedy. Yocaher is well known for its high quality and tough longboard independent of your skateboarding skills.
Features and Specs:
Length: 9"
Width: 40"
Height: 5"
Wheelbase: 27"
ABEC 7 Chrome Bearings
Black Premium Grip Tape
9-ply Maple
Pros
Smooth soft and serene ride experience courtesy of its soft wheels.
Stable deck for high-speed cruising
Minimize bolt and jolts during the ride
Suitable for riders of all levels.
ABEC7 chrome bearings add to its smooth motion.
It has a perfect strain and shock-absorbing capabilities.
Provides balance at the high-speed ride.
Cons
No concave curvature
High Board
Has Stiff Bearing
Wheels are huge
9. Goldcoast Pintail Longboard:

The shape transcends time and is great for cruising and carving which gives you an easy and comfortable ride experience that is very hard to delete from your mind. It is a perfect longboard if you wish for comfort and versatility while skating. It was good to go anywhere anytime. Its 71mm wheels get you over the bumps for a very cathartic ride experience. It one of the most popular longboards produced by Goldcoast and is a beautiful product of simplistic beauty with clear grip tape and a beautiful Goldcoast graphic on its bottom. It has durable 5-ply bamboo as its deck material.
Features and Specs:
Length: 44"
Width: 10"
Wheelbase: 26"
Wheel Size: 71mm
ABCE 7 Bearings
Century 7" Trucks
Pros
5-Ply maple deck construction ensures a smooth ride
Smooth and Stable Carving
Extra Durable Bamboo
Great Cruising and Hill Riding experience.
Wheels provide you comfortable cruising and get you over the bumps quite easily
Its design offers you the liberty to use it wherever and whenever you want to
Cons
Doesn't have a lot of flex
Bearing can be rusty might needed to be replaced.
It is perfect for beginners but not so much for intermediate long boarders.
10. Laavva Pintail Cruising Longboard: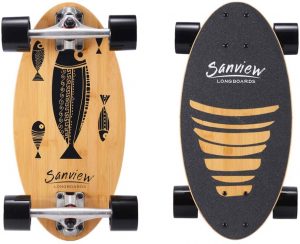 The ultimate new Laavva Pintail Longboard is a conduit to dodge the daily arduous tasks. The Laavva Longboard is designed by keeping in mind the girl's and boys' preferences. It can be used by both alike. It can be used for various skating styles be it sweeping the corners downhill, cruising the boardwalk, zooming along the pavement, or having fun with your buddies. This is a perfect match for all your needs and is pocket friendly as well. It has a tapered body and is perfect for any shoe type so you don't have to worry any further about your particular skating shoes anymore. It helps beginners a lot more as compared to the other longboards. It has an elegantly designed maple which is rock hard by the way and makes it furthermore attractive and appealing. The paint used ensures that it's top in its best form all the time so you never get bored with your skateboard.
Features and Specs:
Length: 42"
Width: 9"
7-ply Hard Rock Maple with top-notch graphical deck
PU Wheels with 78A hardness
ABCE 9 Bearing with highly viscous lubricant ensuring a smooth ride
7" Aluminum Trucks with Bushings
Pros
It offers a comfortable and smooth ride around the sharp turns and corners even at a high speed
Deep carving and smooth cruising along the hills as well the streets
Gives ample flex while surfing the curves
Tricks are easy to perform on this longboard skate
Laavva did a pretty good job as it has splendid and elegant looks.
The board itself is sturdy and robust while being lightweight at the same time.
Cons
It is suitable for a certain level of skateboarder which is beginners
It lacks sharp turns while on the smooth ground
Conclusion:
These are the best longboards manufacturers have to offer to the skateboarders in the market right now. But in the end, it all comes to the personal preferences of every person but this should help you clear the air help you choose the best pintail longboard for yourself.