Longboarding has seen quite a rise in popularity in recent years. Like skateboarding, it is a more modern and refined version of the sport in fashion in the early and late 2000s. Suppose you're someone who has dappled in longboarding or is interested in doing so. In that case, you're probably aware of the fact that you require a decent longboard truck to do so, which is quite possibly what led you to this article in the first place.
Two key factors always have to be taken into account while deciding what longboard you would like to invest in: the quality of the longboard truck itself and whether its size is suitable enough for you or not. Factors such as color, design, and the material of longboard trucks should be second in terms of priority but are also important for the decision making process. To save your time, we have researched far and wide and compiled together 8 of the best longboard trucks one can buy in 2021. Our buying guide given below will pinpoint the key features one should take into account when purchasing a longboard truck
1. Yocaher Longboard Skateboard Trucks Combo Set
Features Of YOCAHER LONGBOARD SKATEBOARD TRUCKS COMBO SET
Yocaher Longboard Truck users claim that individuals who don't own this product miss out on some next level longboarding experience. Compared to other longboard trucks that are in the same price range as the Yocaher Longboard, or even higher, this one performs exceptionally well.
This board is of the finest quality, and its stock wheels, which are enclosed with the trucks, enable the rider to have a smooth and bump-free ride. It is also relatively easy to adjust the trucks, a task that might seem like a hassle to most users who aren't well versed with longboards. All you have to do is either tighten or loosen the Kingpin according to your needs.
The wheels are strong and sturdy enough to go over hard substances and obstacles smoothly without getting damaged or affecting your riding experience. The cut on edge, while riding is limited as top-notch plastic material, was utilized for the trucks' risers. This also further eliminates the occurrence of wheel bites.
This pre-assembled truck is the most desirable option for those users who might be intimidated by the thought of having to arrange together parts of their longboard trucks. Multiple users recommend this longboard truck due to its high-performance rate, as well as the fact that this longboard truck does not compromise on quality either, given its affordable price rate.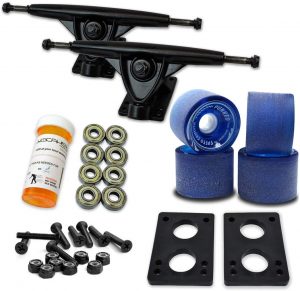 Pros
Sturdy and durable

Strong, and gives you a smooth ride

Easily adjustable to get the perfect fit

Economical and affordable pricing

Finest quality longboard
Cons
Comparative to other longboards, its bearings can be slightly slow
2. BEAR Grizzly 852 Gen 5 Longboard Truck
Features Of BEAR Grizzly 852 Gen 5 Longboard Truck
Heavyweight riders usually have to search far and wide to attain the best possible longboard truck that accommodates their riding style and needs. The BEAR Grizzly 852 was specifically designed while keeping heavyweight riders in mind. Other longboards may have cheap quality axles and, when exposed to heavy loads, end up getting cracked or disfigured.
But the BEAR Grizzly is unlike these boards. It sets the benchmark for most heavyweight longboards, and one no longer has to be insecure about their weight to ride a longboard truck. High-grade materials were used to make this longboard durable and sturdy, and it works as if it is brand new for a minimum of three years. According to multiple longboards trucks reviews, users had no reason to complain or be dissatisfied regarding their Bear Grizzly Purchase.
Most customer reviews highly stressed the excellent quality of this truck's base plate. With a unique eight-hole design, the base plate gives off a modern and futuristic look so that users can have fun without worrying about not having a truck that isn't trendy or cool enough. The Bear Grizzly's versatility is commendable, as it is fit for use by both old riders and ones that are entirely fresh to the sport of riding longboards. Maneuvering and having a smooth ride is as easy as ABC with the Bear Grizzly.
Pros
Lightweight yet suitable for all types of loads

Versatile enough to be used by any user

Finest quality aluminum used for manufacturing longboard parts

Sturdy, durable, and stable

Prevents wheel bite during downhill rides
Cons
Users complained about the logo scratching off easily
3. Thunder Polished Team Skateboard Trucks
Features Of Thunder Polished Team Skateboard Trucks
Based on multiple customer reviews regarding the best longboard trucks, a high satisfaction rate was found among the Thunder Polished truck users. A unique and innovative Hi truck technology is utilized in this board to give users a raise that is best suited for them. Measuring 147mm in width, the Thunder Polished truck is hard-wearing and can easily glide upon any terrain type.
Its lightweight nature ensures that the ride is pleasant and comfortable. Users can benefit from the fact that this Truck comes in a set of two, and both can easily be adjusted into the skateboard while eliminating the need for another pair. Quick and speedy, users will be able to experience a wobble-free ride while using this versatile longboard.
The Thunder Polished truck's top-notch performance guarantees it one of the top spots for the best longboard trucks amongst users.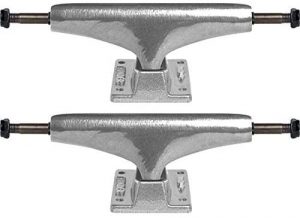 Pros
Extremely durable

Lightweight and easy to use

Maximum carving capacity

Lifetime warranty against manufacturer defect
Cons
Not the best longboard for riding downhill
4. Independent Stage 11 Trucks
Features Of Independent Stage 11 Trucks
Simple, iconic, unique, stylish – these are a few words that can be used while describing the Independent Stage 11 Truck. This longboard does not compromise on durability or performance and leaves its users extremely satisfied based on the multiple customer reviews that we scoured through.
With a 55m baseplate and a hanger incorporated into this truck, the Independent Stage 11 is known for its superior build and exceptional performance rate. Users find this board to be very efficient while maneuvering or turning around corners. It is also sturdy enough to be stable while in use, with an excellent grind clearance throughout this longboard truck's usage.
The Independent Stage 11 is equipped with a hollow hanger, making the board itself feel very lightweight and comfortable to use. Skating and grinding are usually preferred on this specific longboard, given how terrific the experience is. With an eye-catching design and a significant brand name, this longboard truck wows most users, as well as to non-users.
Users who purchased this truck brand it as the best investment they have ever made and continue to stress how enjoyable the longboarding experience is with this specific truck.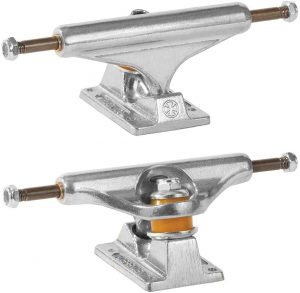 Pros
Extremely durable

It comes with a 55m base plate fitted into the longboard

Sturdy, stable, and durable 
Cons
Users are required to make separate purchases or bearings and wheels since they are not included in this longboard set
5. Caliber Trucks Call II Longboard Truck
Features Of Caliber Trucks Call II Longboard Truck
Multiple longboards review by users have had this caliber trunk being ranked at the topmost position. The Caliber Trucks Call II is essentially an upgrade of the Caliber Trucks Cal I and is new and improved and ready to use.
Extra care has been taken to design the details and improve this longboard's features, especially taking intricate components into account.
Only the finest quality materials have been used, making this longboard truck sturdy and long-lasting. It is also durable enough to endure all sorts of weather such as the sun, rain, wind, etc., and will take a significant amount of time to show any effects of wear and tear.
Multiple users claimed that the board looked brand new even after two years of usage. Compared to its predecessor, the Caliber Trucks Cal I is 40% stronger.
Unique and innovative techniques have been utilized in its manufacturing process to ensure that the board is secured entirely and lasts for a long time. For instance, the bushing seats have been completely redesigned to reduce any excess movements and have a completely smooth and stable ride by evenly distributing the rider's weight across the board.
Users are given the option to either purchase this longboard with bearings or without. The prices of the longboard will differ from each choice. Experts would recommend buying the board with the bearings to allow users to maneuver downhill more safely and efficiently.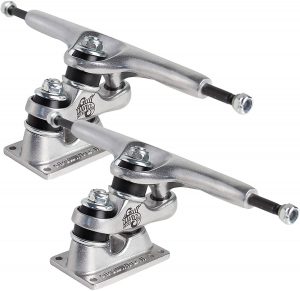 Pros
An upgraded version of the Caliber Trucks Cal I

Finest-grade materials utilized for manufacturing this board

Easy to install and use

Smooth maneuvering and turning process

Weather and wear-and-tear resistant

Equipped with bushings
Cons
Bushings can be quite noisy
6. Havoc Skateboard Trucks
Features Of Havoc Skateboard Trucks
Havoc trucks are yet another longboard that is at the topmost section on a longboards trucks review made by multiple users, and for a good reason. Durability and resistance against harsh weather such as sunshine or rain make the Havoc Skateboard popular amongst most users.
A-grade material has been used to manufacture the Havoc Skateboard Trucks, further hindering the wear and tear process. This skateboard's design would be incomplete without adding a touch of aluminum alloy, which is what makes it so strong and sturdy, yet lightweight at the very same time.
The longboard's size is versatile enough to be compatible with most types of wheels and decks. The wheels of these trucks are also praise-worthy, given the fact that they have a tight grip feature, which eliminates the fear of skidding or falling off of the board during turns. A longboard that ensures its users' safety is one that deserves to be added to the list of best longboard trucks. The screws and the bolts further secure the board and are tautened well enough without users having to worry about tightening them continuously. This feature adds to the level of safety and comfort that the Havoc longboard provides to its users.
Pros
Highly durable and sturdy

Tightened screws and bolts

Compatible with almost all types of decks

Resistant to harsh weather conditions

Lightweight
Cons
It has to be assembled correctly to ensure bearings work efficiently
7. Sector 9 SideWinder II
Features Of Sector 9 SideWinder II
Although many longboard companies only have one specific design for their longboard trucks, Sector 9 SideWinder is available in a wide array of colors and sizes, giving users the option to customize their longboards according to their tastes and preferences. Keeping these features in the account, Sector 9 is still categorized as an affordable longboard.
The longboard also does not compromise quality, given its relatively low price, which makes it an even better option for a cheap, customizable longboard. Sector 9 performs quite well, even with complex and complicated turns. As it is equipped with a double KingPin, this longboard truck is ideal for sharp and endless caves and arches.
Users may have to tweak with the kingpins to find the most suitable setting, which might seem complicated in theory but is relatively easy when carried out practically. One will be amazed by the performance of Sector 9 after slight nudges and adjustments. Performance-wise, this board is an excellent option.
But the Sector also has a unique and distinctive grid pattern, which gives off a modern and futuristic look and is sure to make heads turn. Indeed, one might look cool while using or even carrying this longboard.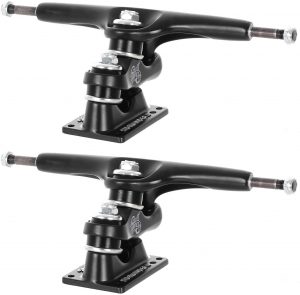 Pros
Pocket-friendly pricing which is affordable for most users

Colour and sizing options allow for customization of longboards

Unique and futuristic design of longboards

Smooth and easy turning

Equipped with a double kingpin
Cons
Not the best longboard option for higher speeds
8. SCSK8 Longboard
Features Of SCSK8 Longboard
The SCSK8 Longboard also gives users the option to choose from a variety of multiple colored wheels. With an 80a hardness, the wheels are thick, healthy, and durable enough to give one a smooth and bump-free ride on this longboard. It should also be mentioned that these wheels are marveled for their versatility and ability to be compatible with numerous types of decks.
The truck's gaskets are replaceable and can be either loosened or tightened according to a user's needs and preferences. The installation itself, though it might be intimidating and daunting to new users, is quite a simplistic process. Unlike a few other longboards, this longboard set comes with all parts without any additional components that have to be purchased separately by users. The price is also quite affordable and is decent, given the performance quality of this longboard.

Pros
An ideal longboard for both beginners, and professionals

Excellent quality wheels for a smooth ride

Affordable pricing
Cons
Quality of bearings is slightly average
How to Choose the Best and Most Suitable Longboard Truck for yourself
The longboards mentioned above are some of the best and most popular ones in the market, but how do you know which one is the best fit for you? Certain features directly impact a longboard truck's performance, and these features or factors need to be taken into account if you're considering investing in a longboard for yourself. The following buying guide will enlighten you on factors that you need to be on the lookout for.
Longboard Trucks Buying Guide
Price: Quite often, the price range is the first thing that directly impacts what type of longboard truck a user might purchase or might be willing to buy. Users will have a budget from which they will make their longboard buy and search for a specific price range that fits their budget, rather than focusing on the product's features. For the best price, one can consider scouring through online websites as they usually come with impressive price offers, as well as warranties.
Width of the Hanger: The width is usually not considered by most purchasers but definitely should be the top priority. Users need to ensure that the hanger's width is of a perfect size. If the hanger's size is too small, the longboard may end up being unstable and shaky. A too-large hanger will hinder users from maneuvering efficiently and smoothly. It is always recommended to buy a longboard with its bearings aligning with the edge of the longboard's deck. It is best to opt for a broader truck as a beginner as they are relatively more stable and help you get accustomed to the longboard. These are typical sizes that are roughly around 170mm and 180mm and are perfect for cruising downhill, as well as carving.
Kingpin: The type of Kingpin that one should opt for depends on how its owners will use the longboard. For instance, if you only want to cruise down the street or ride in parks, the standard Kingpin is the way to go. It is also tucked and hidden so that it doesn't act as a hindrance while you pull stunts or perform complicated tricks. Standard kingpins give the board a low height and ensure users have a stable and smooth ride. On the other hand, the reverse Kingpin makes the board slightly taller and has been designed to accustom higher speeds and account for better stability in the longboards. It usually works well for multiple activities such as cruising, freeriding, riding downhill, or simple transportation.
Height of the Hanger: To avoid the possibility of wheel bites during the ride, users are always recommended to opt for a higher hanger height. Experts recommend a height of between 2.3 – 2.5 inches for the best possible performance.
Base Plate: Most users, even professionals, are unsure about what precisely the base plate is. This feature is the angle at which your hanger is located, and the way your longboard truck turns is highly dependent on this feature. A 50-degree angle, which is the norm for most longboards, works well for all types of activities such as cruising, transportation, freeriding downhill, or carving. An angle lower than this will make the longboard's speed slower and result in the turner being a slower and more hectic task. A higher angle is usually recommended so that your longboard is responsive and stable enough for you to have an enjoyable ride.
Bushings: Users can customize their longboard trucks by merely swapping out the bushings. These bushings are available in various shapes such as barrels, stepper barrels, eliminators, cones, and step cones. Each kind and type of shape impacts the performance of your longboard in one way or the other. For instance, the cones are usually to be opted for if one is looking for a less restrictive, fun, and lively ride. However, if one is more accustomed to faster rides, the higher restrictive bushings will be a better-suited option. The user's weight also affects the type of bushing they should opt for. Comparatively, users of a lighter weight class can go for soft, less restrive bushings, whereas users who may be on the heavier side are recommended to use the hardened bushings. It is quite practical that bushings are priced at reasonable rates, and users can mix and match them as a way of customizing their longboards.
Bushing Seat: Users who may buy the reverse kingpin trucks will have diverse bushing seat options. A broader and comparatively less restrictive bushing seat will enable users to have a free, lively, and joyous ride, all the while giving them the ability to take as many turns as they would like to. Experts recommend wider bushing seats for activities such as freestyling or transportation. In contrast, restrictive bushings are best suited for riding or cruising at low speeds or as a way of gaining stability for high-speed rides. Users can feel safe and secure by using restrictive bushing seats if they would ever like to go high-speed riding.
The information given above should help prospective buyers of longboards or old users looking to upgrade to a better truck that is more suitable for them. Users should assess or estimate how they would use a longboard and point out specific features that might help them utilize their longboard truck smoothly and efficiently. Buying a longboard is an investment, and users should make sure they get the best out of their truck riding experience by opting for the right product. The perfect longboard for you will be one that both satisfies your needs and allows you to have fun safely and securely.