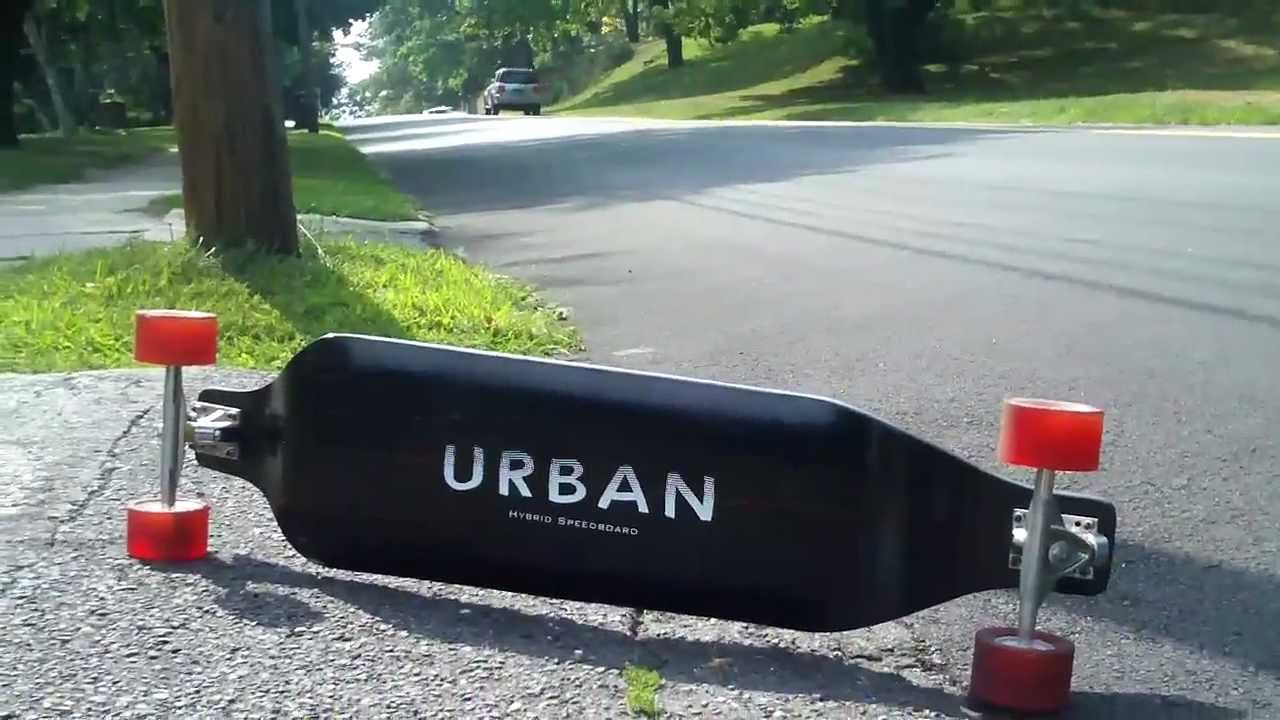 A long board is another type of skateboard that tends to be longer and wider than your average skateboard. Longboards are used for various purposes, for example, just going out for a casual ride or in the more competitive environment such as Downhill racing. The longboard is commonly used for cruising and freestyle riding.
Over the past few years longboarding has gained a lot of popularity and it has become a favorite sport for many sports enthusiasts, longboarding is not just a physical activity for professional people but people of all age groups and skill levels enjoy it. This sport has a certain thrill to it that people enjoy and it excites them. Urban longboards are not just great for travelling long distances but they also great for all kinds of tricks and stunts. However, to gain an amazing experience from longboards you need to select the right one.
If you have a low budget but you still want to buy a longboard for yourself then you must look for the cheaper options but looking for cheap options does not mean that you have to compromise on quality. Safety is associated with quality hence it is important to never compromise on that otherwise all your money will go down the drain and your riding experience will not be as good as it should have been.
If you start longboarding as a hobby and are not sure which longboard you should buy then follow our guide in order to find some of the most beginner friendly longboards for yourself. You'll tend to have more stability with a wider board. Some beginners like to learn on a smaller board but that can be particularly difficult and is not recommended for most beginners, instead make it easy and buy a great cruiser to start with.
Longboarding comes with many advantages as it is environmentally friendly, it saves your time and your money, walking will make you reach your destination slower while a car can be expensive. Hence, urban longboards serves as the best middle option for commuting. This method of transportation is great for everyday and you can easily travel to your office, school etc.
Choosing the best urban longboard can be a little difficult as there are many urban longboards available in the market.  A longboard that has a good size will never disappoint you as it will save you from tripping or stumbling. Are you also struggling to find the best urban longboard? Don't worry because we have selected the 7 best urban longboards available in 2021. Now you can easily choose the one that suits you best.
Here is a list of the 7 best urban longboards that are reasonable as well as high quality:
1. Loaded Boards Icarus Bamboo Longboard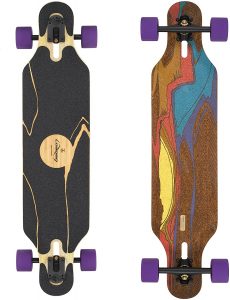 Features Of Loaded Boards Icarus Bamboo Longboard
Loaded boards is a company of longboards that was established in 2000. Up till now they have constructed a wide and versatile range of longboards through which they have made their name in the industry and are still growing while achieving many milestones. This Urban longboard forum is in reality wonderful for longboarding. That is an excellent longboard for straphanger. The wheels of this longboard are big and they provide more leverage as well as control over the board to the longboarder. The flex pattern on the deck enables the rider to experiment with different riding styles. The deck made up of bamboo is quite strong and gives the perfect balance between flexibility and stiffness.
• Versatility: This board operates with full flexibility. Also, this urban longboard is specially designed for snowboard carving style, freestyle, free ride and it is great for transportation purposes. The overall presentation of this longboard is certainly brilliant and it is ideal to be used as an alternative for means of transportation. This longboard is a high performance longboard and is particularly designed for snowboard carving style, freestyle, and also other longboarding styles.
• Stability: The stability of this urban longboard is high. The trucks are fitting in a way that they provide a low center of gravity and that helps to push and turn easily. Gravity plays a major role in controlling the board. This makes longboarding easy for beginners and well as experts.
• Carving: This Longboard has one-eighty mm Paris trucks installed in it. This means that the turning response of the longboard is quite high. This board helps you in enjoying a super amazing carving experience. The rider is also enabled to take sharp turns and ride with a fast speed. This characteristic adds a notable value to the longboard.
• Performance and quality: This longboard is extremely powerful. These 80 mm eighty wheels have more rolling power than anything, Heavy tire wheels provide a smooth ride on bumpy roads, cracks and uneven paths.
Pros:
Recommended for flexible craving. This longboard offers a high flex that is great for carving
The deck has a bamboo ply that makes this longboard high in strength and gives it enough stiffness to carry load.
This longboard is suitable for all age groups including heavy riders.
The wide wheelbase makes it easier to turn and pass swiftly around tight corners.
The trucks provide a high response while turning and riding.
The grip provided by the longboard is stable and strong.
2. LandYachtz Switch Longboard:

Features Of LandYachtz Switch Longboard
If you are in search of a longboard that provides the rider with higher stability, a stronger grip and better comfort then the right choice for you is the LandYachtz switch longboard. the company of this longboard promises high quality longboards and they do not let their customers down in terms of a bad performance. Other than grip, safety, comfort and some basic features this longboard is also known for its appearance and design. The models offered by their company are super innovative and unique making them stand out.
This longboard is particularly known for being the best longboard for downhill riding. Not just that, the height of the longboard makes it suitable for cruising around town as well. The speed, stability and comfort that this longboard offers, makes the performance of the longboard outstanding and brilliant. This longboard is also great for sliding and freestyle riding. This means you are free to perform tricks and stunts with this longboard. if you want a high performance longboard then this one is the perfect one for you. The drop through deck style that is symmetrical makes this longboard easy to ride and stable while taking sharp turns. LandYachtz Switch Longboard is among the best urban longboards for travelers. Below are just some of its exciting features.
Structure: The longboard deck is constructed with a 9 ply maple. The maple ply design is indeed very exquisite and it gives an elegant finish to the longboard. This makes the longboard eye-catching and attractive for the consumers. The strong and good quality construction has added worth to the board.
Special Board: This board is available in many sizes for everyone to ride. It is 35 to 40 inches long with a width of 9.5 to 10 inches. The wheelbase of the longboard varies from 27 to 32 and this makes it a good longboard for traveling at long distances. This board is very useful and due to its cool features, it's known to be very user-friendly.
Excellent stability: The drop board style and the flex pattern make this longboard have a higher stability. The deck is more close to the ground and this helps the rider to ride the longboard easily without putting in much effort.
Ready to Go: This special board is suitable for all types of riding styles. The 2-inch drop on the board is designed to make it slide easily. Certainly, it's among the best urban longboards.
Pros:
Available in different colors and sizes which makes it more attractive and eye-catching for the consumers.
This longboard provides a high stability to the rider.
Excellent for commuting.
The maple ply deck makes the board very strong and stiff giving it higher strength and durability.
Two inches dropped platform makes sliding more easy and thus make it more travel-friendly.
Cons:
There were no major complaints about this longboard.
3. Аnсheer Longboard Рrо Drор Downhill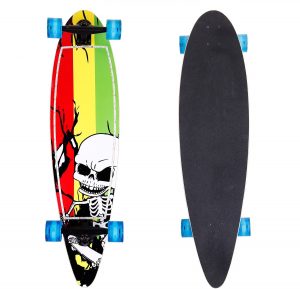 Features Of Аnсheer Longboard Рrо Drор Downhill
Ancheer is one of those longboard brands that offer customers a high quality longboard which is also a heat transfer feature in it. The prodrop downhill longboard by Ancheer has a brilliant combination of high quality components such as brushing and bearings that are smooth, the deck is strong and top notch and the wheels are fantastic making this product worth spending money on. The designs of this longboard are quite exquisite and they are of excellent quality as well. The designs and colors being offered by Ancheer are truly exceptional and they make your riding experience a great one with high quality performance.
The reviews on this prodrop downhill longboard are superb and they provide enough legitimate proof for other potential clients. The Ancheer longboards are usually used for slalom racing, racing at long distances, cruising, and sliding, commuting and also downhill riding. This longboard is excellent for all riders with various skill levels. The trucks of this longboard are so exceptional that they provide you with the feeling that you are surfing on land. The flex deck of this longboard is non-slippery and it provides the rider with a high performance level. The center of gravity is low in this longboard and this provides a more optimal experience of riding. It is also the best commuter urban longboard.
Its great features are listed below:
Beautiful Desk: This board is made up of nine Canadian Maple ply and a high-density deck of (40×10 inches). The deck can carry a maximum load of 220 pounds or 100 kilograms. This weight-bearing capacity makes it perfect for heavy riders.
Grip Tape: This board has a black OS780 tape. This type of tape has an optimal and good adhesive power. Its use has made the board more user-friendly. The gripping tape gives a very smooth ride to the rider.
Improved Wheels: This board has new and improved 78A SHR PU wheels which are sturdy and smooth. With its new and innovative Anti-Bite tire technology, it helps in preventing tire bites and offers an amazing trouble-free ride. The wheels of this longboard are upgraded as well.
Bearings: The ABEC-11 bearings that are made of chrome steel and they provide a higher accuracy. The bearings are 90A and have a high response brushings (PU) and they make your ride more enjoyable. The 7-inch aluminum trucks are lightweight and are able to reduce vibration while riding. With a low center of gravity the longboard proves to be great while turning.
Pros:
Nine ply maple deck that is strong and makes the longboard higher in strength.
The wheels used are of good quality making it easy for the rider to turn and swiftly pass through tight corners.
Fast metal bearings ABEC-11.
Suitable for all children and adults.
Has anti-bite technology.
4. Playshion Freeride Drop Through
Features Of Playshion Freeride Drop Through
The Playshion freeride drop through longboard is a 39 inches longboard that offers freestyle riding along with cruising. This longboard has proven to be flexible as well as robust. The Playshion longboard is a multi-function longboard that allows you to perform freestyle tricks and stunts, allows you for downhill riding, cruising, carving and many other things. This makes the experience of riding this longboard so thrilling and fun. This is one of finest commuter Urban Longboards. This consists of incredible wheels and a low weight which adds as much stability and the overall manipulation for the rider as well.
Now you may enjoy all the thrill and excitement that comes with this longboard and its ability to be so versatile but wearing a helmet is a must so that you are easy and protected at all times. The Playshion longboard is a great board for beginners as all the features in this board prove to be beginner-friendly. Moreover, this longboard allows the longboarder to have more control over the brakes and also it is very easy to push around. Safety is extremely important and this is why the beginner-friendly features help to provide the confidence that is essential for newbies when they ride the longboard for the very first time.
The deck: This board has an eight-ply maple deck with 2 dye plies to make it look good. The deck of the longboard is designed gorgeously. It is thirty-nine inches long and 9 inches wide. It can lift up to 250lbs of weight. That is why it is a great fit for everyone. This also makes it beginner friendly.
The Wheels: This board has a durometer of  78A and wheels that are reverse kingpin with a high rebound. These 70 mm to 50 mm wide wheels are just amazing. These wheels are made to run and to provide you the best ride.
The Trucks: Aluminum trucks of seven inches height, along with ABEC-eleven bearings, and 83A PU response board bushings make this board a high quality one. The longboard is absolutely excellent for riding smoothly. This board is suitable for any type of riding style due to these components.
Grip Tape: The adhesive tape is applied at the top and has a heat transfer graphic and the lower part of the longboard for a high quality performance. The strong grip provides a safe ride.
Pros:
The design is an eye catching one and it attracts many customers.
ABEC-11 bearings that provide more stability.
The longboard is great for beginners as the features used are all beginner-friendly but this doesn't mean that experts cannot use it.
Has a seven-inch Aluminum truck.
It is great for heavy riders as the weight lifting capacity of this longboard is high.
Cons:
There were no major complaints about this longboard.
5. Minority Downhill Maple Longboard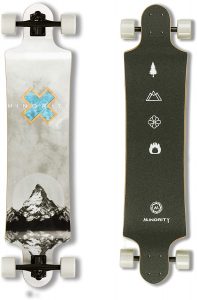 Features Of Minority Downhill Maple Longboard
It is currently an alternative to maple wood planking but this continues with a long shrinking board, which means that all its development is modified according to the low concentration of gravity. A reasonable price and a good set of benefits make it a solid choice for anyone!
The minority downhill longboard is a 40 inch board that has a maple deck and it is famous for being an absolute work of aesthetics, high technology and longboard engineering. The advanced technology used for this longboard makes it absolutely revolutionary and provides the riders with a very smooth and exciting ride. The high strength and high quality brilliant performance is achieved by the cold compressed 8 ply maple (hard rock). Even heavy riders with a weight up to 220lbs can enjoy riding this longboard.
The minority downhill longboard is a highly maneuverable longboard as the longboard's shape is constructed in such a way that you can ride it from any angle that you wish and you do not have to fear wheel bites. The longboard is quite speedy and will definitely stand out in a race between freestyle riders. The longboard is manufactured for riding styles such as downhill riding as well as carving. The design and graphics of the longboard are outstanding and they are as good as the physical performance of the longboard.
The Deck: the deck size is 40 inches x 10 inches and has a surface that is closer to the ground which makes turning and riding easier. The low gravity provides higher control and makes it easier for the rider to ride downhill with a fast speed.
High-Speed: The longboard can be used for riding at various sloping angles and at the same time have a high speed.
Driving : the trucks of the longboard are adjustable to 45 degrees and 50 degrees. This makes it highly maneuverable.
Pros:
The longboard has a reasonable price and is good for you if you are on a budget.
Well-built for a downhill longboard.
The deck is powerful as well as sturdy. This provides a more stronger and well built deck to the rider's.
6. Volador Commuter Longboard
Features Of Volador Commuter Longboard
This long Volador board is an excellent boating board from here to there smoothly. Volador is ideal for starters; the quality is simply not good enough for experienced riders. They just can't beat the quality and pay attention to the details provided by the longboard products that can be provided
The motive behind Volador is to construct as many high quality, top notch and user friendly best longboards as possible in this new modern era. Volador has raised the bar very high with their good quality products In the market. Their creations are innovative as well as unique which fulfills their aim and makes them successful. If you are searching for the best urban longboard that allows you to do tricks and stunts then this longboard is the perfect choice for you. The quality is advanced and thus this allows the riders to ride swiftly and carve easily.
The Volador longboard is essentially great for those people who love nature and enjoy being close to it, as you ride through the city, bolting past the wind, you can enjoy the view of nature such as the mountains when you take a downhill ride. Another great aspect of this longboard is that it is very environmentally- friendly. This is because the wood they use is sustainable and the epoxy glue is methanol free making it non-toxic and thus reducing the harmful impacts on the environment.
The Quality: It features a large enough deck (42 ') made of 8 ply hardwood maple. That makes the board very strong in terms of strength.
The Wheels: The wheels are 70mm in size and the wheel's durometer is 78A, which provides a strong grip to the riders. However, the 78A is not suitable for a person weighing 175+ lbs.
Pros:
You can select from a wide variety of options in terms of graphics and colors.
It is a long, stable board with enough flexibility
There is no problem with foot placement.
The price is quite reasonable
Cons:
You may need to tighten the truck before using it for the first time.
The wheel durometer is not suitable for very heavy people.
7. SCSK8 Professional Speedy Longboards

Features Of SCSK8 Professional Speedy Longboards
Speed is the one thing that is most unique to this SCSK8 professional speed drop down longboard as it was constructed keeping that in mind. The center of gravity of this longboard is low and this makes it more close to the ground, thus increasing stability along with a high speed. This longboard is a high quality and brilliant performance longboard as it performs equally or even better than some expensive longboards. People who love to ride downhill with a rapid speed then this drop down style is great for them. The longboard provides greater control even when the speed is high making this longboard suitable for sliding.
The Deck:  the deck has a good quality and it is very sturdy and strong making it less prone to break.
Material: The building materials for the deck are maple. The material used for construction is maple. The maple lamination is 8 ply and is quite solid and stiff. The maximum weight the longboard can carry is 220 lbs.
The Wheels: It has 70mm wheels and this height provides high stability to the longboarder. The speed provided by the ABEC 9 bearings is quite fast. The trucks used for this urban longboard are 7 inches and they are made up of aluminum to prevent rusting.
There are some complaints about bearings as well as the wheels. Some customers had to replace these components to make the performance of the longboard better.
Pros:
The price is affordable and reasonable as well.
Good for beginners.
A large deck with a strong construction.
One user claims to have encountered some problems with wheels and bearings.
Final Words
Many people find it very difficult to select the best longboard for themselves as there are plenty of options available in the market. Not just that but every brand also launched so many models that comparing each one of them has become a tough task. In a world where things have become so fast and easy and it takes just a click to search or buy something. We decided to make this task easy for you as well and provide you with the best urban longboards that we have shortlisted for you. Our guide has provided you with the best urban longboard reviews to help you select the most ideal option for yourself. We have listed above 7 best urban longboards that are not only affordable but also come with a high quality and they are absolutely loved by people. Drop in your feedback if you buy a longboard on our suggestion.