If you are reading this article, you are probably looking for a cheap and affordable scooter that would serve you speed, balance and versatility features within your budget. Or you are a beginner in the scooting game and do not find it wise to get an expensive scooter that you might end up damaging while learning. Or worse still, that isn't the best type for you.
With the combining versatility, eco-friendliness and thrilling excitement of bicycles and the comforting feature of a vehicle all derived in the scooter, it has gained more popularity within people over time. More eyes have been opened to the needs of scooters every passing day.
However, the notion is that cheap electric scooters are made of compromised materials and may not be durable. No doubt, you cannot compare the perplexities, quality and features of a cheap electric scooter with the far expensive ones. Nonetheless, there are some fast electric scooters that fall within a low budget and can serve well for the price you pay.
I have been able to put up a number of cheap fast electric scooters that can provide you that comfort, versatility, speed and exciting feel you can get in any scooter. Kindly read on!
Reviews of the Best Fast Electric Scooters
1. Razor Power Core Electric Scooter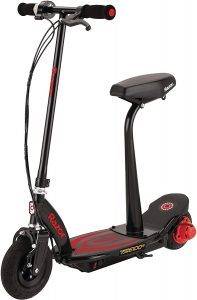 Razor Power Core Electric Scooter Features
The Razor power electric scooter is beautifully designed with really matured colors and durable materials. The scooter features a rechargeable and sealed lead battery that is of 12 volts, the battery life of the battery can last up to 60 minutes on continual usage. However, it takes very little time tom charge.
So, if you are on a long trip, you could just have to pause for a few minutes to charge then move on with your trip. The frame of this Razor scooter is made with genuine alloy steel material yet very light weight which makes it swift to move and super convenient to ride without hassle.
This scooter is designed to accommodate both kids and adults having a maximum weight capacity of 120lbs. The strong and sturdy deck is also decorated with electroluminescent light and 6 LEDs below the deck too to make riding a thrilling experience and ensure safety during night rides. Another amazing feature of this cheap electric scooter that makes it top the list is the power core technology. This feature provides a hub motor that makes riding seem seamless even on rough and bumpy terrains. This motor uses 90 watts energy and requires little or no maintenance.
With just a push of the throttle, you are off on the road and bouncing. In addition to the smooth ride provider by the hub the tires of this razor scooter are flat free, airless and shock absorbing to enhance a smooth and itch free ride all through. The scooter can run 16 kilometers in an hour at a stretch conveniently for an hour. Additional features that this scooter provides are its retractable kickstand and hand operated front brake.
Key features
Electroluminescent light

Front braking system

Weight capacity of 120lbs

16km/h distance
Pros
Inexpensive

High speed

Fast charging battery

Light weight

Less maintenance
Cons
Short lasting battery

Maximum weight of 52kg
2. Razor E200 Electric Scooter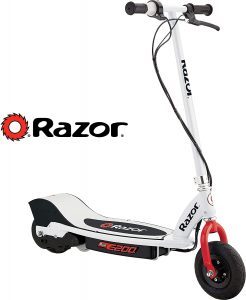 Razor E200 Electric Scooter Features
Thinking of getting an electric scooter that is within budget for your teenage kid? You should keenly consider this E200 scooter. The E200 scooter, just like the several other razor products is designed with quality and durable materials. The scooter is suitable for anyone older than the age of 13 however, must be within a maximum weight of 154lbs or 70kg. The deck is designed to accommodate full size and provide optimum balance for you while riding.
If you are just learning, I would recommend this scooter for you because it provides you with comfort and full weight balance which would help you gain confidence and motor skills. The scooter promises durability and ruggedness with its' alloy steel, anti-rust frame and fork. In addition, this scooter has is powered by a high torque motor that provides a thrilling excitement with its' acceleration of up to 19 kilometers per hour.
This motor is 200 watts, has a single speed, and is chain driven. The battery of this E200 electric scooter is one that can run 40 minutes at a stretch under continuous usage at high speeds of 19km/h. This kind of speed allows you to cover a very long range within a short period of time. It is the perfect choice for commuting and short-distance movements.
If you want to catch cruise while you go for those annoying errands, the scooter is your best shot. The scooter features materials designed for ruggedness and durability, solely to provide comfort balance and confidence while riding. The fork and frame are made with entirely steel material to ensure your safety all the time. The E200 is definitely no scooter for kids, it promises all the fun and thrill you need as a 13-year-old and upward.
Key features
Chain driven motor

8 inches pneumatic wheels

Hand operated brake

Rear braking System
Pros
Weight capacity of 70kg
High speed
Sturdy deck
Quality materials
3. Gotrax GXL Version 2 Electric Scooter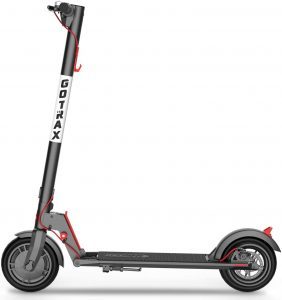 Gotrax GXL Version 2 Electric Scooter Features
If you are getting a scooter that would serve you in rough roads and still be very rugged and durable, you should check out this Gotrax electric scooter. The Gotrax brand is an American trusted brand that is known for the production of quality and affordable scooters, hoverboards and the likes.
The GXL V2 scooter is a new model of the older one and provides new and improved features to serve you better. It uses a digital display that shows you the battery life, current speed and turn on headlight. You can als0o conveniently move the scooter about because it is foldable and light weight. This version uses 8.5 pneumatic tires.
Pneumatic here meaning, the tires are air filled and optimize pressure to be able to give you that bouncy ride. In addition, these tires are shock absorbing, therefore, you don't have to worry about your body vibrating anytime you get on that rough road. Another mind-blowing property of this scooter is that it is designed to be powered by a 250 watts motor having a maximum speed of 15.5 meters in an hour. To reach this speed, it is simultaneously built with a 36 volts battery.
With this battery you can cover within 9-12 miles even in maximum speeds. When the battery is completely flat, it takes about 4 hours to charge fully. However, you must know that the weight on the scooter determines how long the battery of any scooter would last. The higher the weight, the shorter the life span and the other way round. In this case, the scooter can conveniently carry 220lbs or 100kg and reach its maximum potential as described.
Key features
Dual braking system
LED digital display
36V battery
Foldable
Pros
Light weight

Weight capacity of 100kg

Rugged for rough roads
Cons
4 hours battery charging time
4. Jetson Lumi Kick Scooter
Jetson Lumi Kick Scooter Features
The Jetson Lumi scooter uses 3 wheels that are made with PVC material. It is specially designed for kids especially 3 years and above. It provides a thrilling and exciting ride for kids with is glow features that are on the deck and the wheels. The glow in the dark features not only makes kids always want to ride but also ensures safety and making them visible when they are riding at night.
With the just released Lumi electric scooter, parents and kids have found a delight in the riding of electric scooters. The scooter features pretty amazing features that would bring glow and smiles to your heart as you ride or watch someone else ride. The two wheels in front and single wheel at the back design is made to provide balance while riding and allow kids and beginners to master the motor and coordination skills.
The Jetson Lumi is an awesome gift idea for your kids. With this scooter, you don't not have to worry about buying a new one as your kids grow older because it has an adjustable handle bar. Hence, you save yourself some extra cost and provide your kid with a long-term companion. Judging by appearance, the Lumi scooter looks fragile and incompetent.
On the contrary, it is designed with durable and quality materials. The frame is reinforced with steel yet very light and easy to carry. Furthermore, it is designed with beautiful and lightweight plastic to give the scooter a beautiful and attractive look. To ensure comfortability while riding, this scooter is designed with a grip support handle and wide deck to accommodate both legs at the same time. The scooter features a rear fender foot-controlled brake to ensure swift access to and quick control of the scooter while riding.
Key features
Rear fender braking system
Glow wheel and deck
Adjustable height
PVC wheels
Pros
Light weight

Grows with the kid

Very affordable

Provides visibility for night rides
5. Razor RX200 Electric Scooter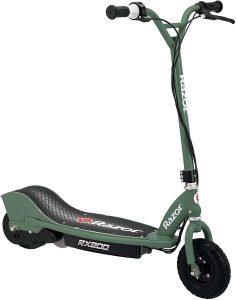 Razor RX200 Electric Scooter Features
The RX200 electric is an improved model of the popular E200 scooter. It is designed specifically for off road rides. This aim is actualized by its' inbuilt heavy duty allow wheels and specially designed off road tires. The scooter is an upgraded version as it is designed to run with a high torque, chain driven motor.
The motor and battery of this scooter can provide you with a maximum riding speed of 12 meters per hour for 40 minutes at a stretch. The scooter is powered by two 12volts batteries, making 24volts in total. These batteries are led batteries and are rechargeable. You don't have to get it separately; it comes with the scooter pack. Though it takes about 12 hours to completely charge the battery, you can cover a long range within a short time depending on the weight on it. You can be guaranteed of the durability of the RX200 scooter because it is particularly made of off-road rides.
That means that ruggedness is the primary purpose of its design. The frame and fork are made with genuine alloy steel materials. In addition, it comes with a new model gear ratio for quick trail riding. To give up apt and easy control of the brakes, this model comes with a rear brake hand control brake that ensures quick response.
The retractable kickstand, user adjustable handlebars, full deck tape, triple bolt clamp and soft rubber grip make the RX electric scooter a perfect choice for comfortability and durability of riders all day long. If you are a like me, you would enjoy riding competitions and I would definitely choose this scooter. The tough tires and wheels leave the competition in the dust!
Key features
50 PSI wheels
Rear braking system
Retractable kickstand
All grip deck
Pros
Light weight

Soft rubber grips

Rugged and quality materials

Weight capacity of 154 pounds
Cons
Requires assembling
12 hours charge time
6. Glion Dolly Electric Scooter for Adults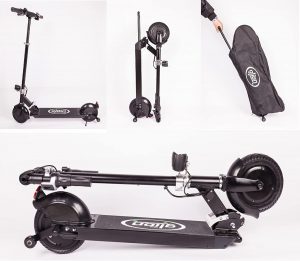 Glion Dolly Electric Scooter Features
The 2 wheeled Glion electric scooter is one that features a number of amazing mouths opening properties. If you work within a close range to home and see the need to beat the everyday traffic, this Dolly electric scooter is the best choice for you. It features a 250 watts direct current hub motor with which you can run up to 15 miles on a maximum speed of 15 meters in an hour. Furthermore, the li-ion battery of this scooter is super strong and quick to charge. It is 36 volts and 7.5ah.
You can cover as much as 15 miles distance with just one full charge and amazingly, it takes only a little above 3 hours to charge fully. The frame is made with aircraft aluminum which is very strong and makes it perfect for everyday use. Another amazing feature of this scooter is that it is foldable and optimizes a foot folding mechanism.
Being foldable, it is also lightweight, making it supper easy to move around without hassle. The motor uses no chains, no gears or grease. That means you have little or no need for serious maintenance. In other words, it saves it time, money and effort. Get yourself this scooter and make flat tires and unforeseen vehicle issues a thing of the past.
The tires of this scooter measures 8 inches and are filled with honey comb hence, never go flat. Versatility is a thing you would enjoy with this scooter because it is foldable in different directions and you can store it conveniently at a corner of your house or office without consuming much space. You can either stand it vertically or lay it on the ground depending on your choice.
Key features
Rear braking system
Lithium-ion battery
Electric hand brake
Honeycomb tires
Pros
Foldable and lightweight

Hand operated brake

Versatility in storage

Cost effective

Fast charging battery
7. Gotrax XR Ultra Electric Scooter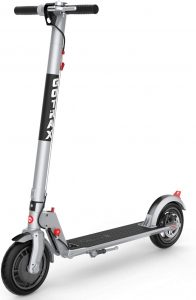 Gotrax XR Ultra Electric Scooter Features
You definitely get what you're paying for in this Gotrax XR electric scooter. The lasting battery, modern display, safety features, hub motor and several others are the mouth opening features you get to enjoy in this Ultra Electric Scooter. The XR Ultra scooter has a LED display that shows you the battery life, current speed, speed mode and headlight.
With the 8.5 degrees irradiation angle of the scooter, you can be calm while riding at night because it not only helps you to see but allows you to be seen by other people. In addition, the light can cover a 26 feet irradiation distance. Furthermore, the scooter is powered by electricity and uses a 7.0 AH, LG battery.
This battery can run up to 17 miles under optimum conditions including rider's weight. To ensure the battery last for longer durations and serve you well, the scooter is designed with a Smart Battery Power System. This electric scooter features a hub motor powered by 300 watts. The motor runs really quietly such that you can easily sneak up on people without their notice. Due to this reason, you should be careful while riding through crowded places to avoid any sort of accidents.
The motor boasts of being able to speed up to 15.5 MPH, however, in reality, it runs 13.5 MPH conveniently. Climb hills without stress or worry with this scooter. It can easily incline 15 degrees hills with ease making it perfect for commuting. In addition, conveniently carry the scooter with up without stress or hassle as it is lightweight and easy to carry.
It features a one-step folding mechanism to aid its possibility. Longevity and durability are promised with the aluminum made steel and fork of the scooter. Another plus to this scooter is that it has a safety button that prevents the handlebar from folding while riding.
Key features
300 watts hub motor
LED display
Smart Battery Power System
Rear braking system
Pros
Silent operations
Irradiation light for visibility at night
Light weight and foldable
Energy saving
8. Viro 550E Electric Scooter for Kids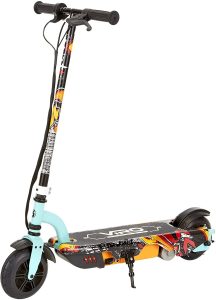 Viro 550E Electric Scooter Features
The Viro 550E electric scooter uses a hand operated brake unlike the regular foot brakes of regular scooters. This hand brake provides optimum control over the scooter even on high speeds. With the aid of the hand operated throttle located on the right-hand side of the handlebar, you can control the speed of the scooter.
The scooter can run up to 10 meters per hour providing a smooth and easy ride. Additionally, this scooter is designed with a street finishing touch to make you the spotlight anytime you ride through the streets of the neighborhood or even long distances. Asides this, the scooter has LED lights that ensure visibility and aid vision during night rides.
The SLA batteries of this scooter allows your kids to cruise round for up to 40 minutes, covering an average distance of 6 miles upon full charge. Specially designed for kids, their safety is put into consideration by the manufacturers. Such that, the chain drive and the motor of the scooter is fully enclosed.
In addition, all the electrical parts that enclosed underneath not only to prevent the kids from playing with them but also to prevent it from damage by dirt, debris or dust while riding. Importantly, you can be ready assured of your kid's safety if your kid has to ride at night because the scooter comes with a LED light that has other road users to spot anyone riding on the scooter.
Bring a never-ending smile to your kids face by getting this 550E electric scooter which would make them the spot light whether at the park, in school, or on the streets of the neighborhood, thanks to its beautiful and glowing design.
Key features
Rear braking system
Polyurethane tires
Chain driven
Pros
Adjustable height
Included tools for assembly
Glow feature
Emission free
9. Razor E300 Electric Scooter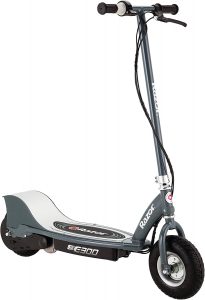 Razor E300 Electric Scooter Features
The blue E300 scooter offers more than beauty. It is a quality scooter for both youth and adults likewise. The E300 scooter offers a super deck and frame size to accommodate riders from 12 years of age and above. However, the maximum weight the scooter is designed to carry is 220lbs or 100kg.
With its super big pneumatic tires of 10 inches each, improved high performance, chain driven motor and soft hand grip, riding becomes a much easy and comfortable thing to do even if you want to ride long distances. The air-filled tires provide a bouncy yet less vibrating ride for you on rough and bumpy roads due to its shock absorbing property.
Likewise, you can ride comfortably around without being worried about getting the attention of people around due to the noise caused by the scooter because this chain-driven motor gives a noiseless ride. Ride on and sneak up on people as you desire but you must be careful of crowded places to avoid accidents.
In the advertisement of this product, it is said to be able to reach speeds of 15 meters in an hour. True, but to be able to attain this speed, you must have charged it fully for a long period of time. The scooter is built with two 12volts batteries. Before use, you must charge the battery for 12 hours, after which subsequently, you charge for 8 hours.
Sometimes, the charging indicator light might show green before it's 8 hours, do not regard it, charge it regardless. The recommended maximum charging time of the battery is 24 hours. With a battery this strong, you have the world at your finger tip. You can ride at full speed for up to 40 minutes nonstop without hassle.
Key features
Rear braking system

Hand operated throttle

High performance motor

Weight capacity of 220lbs
Pros
Wide deck and frame
Silent operations
Absorbing tires
Increased acceleration
10. Razor EcoSmart Metro Electric Scooter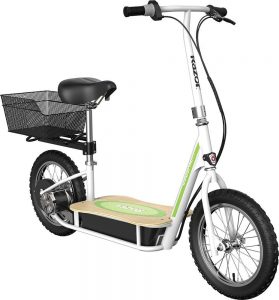 Razor EcoSmart Metro Electric Scooter
Get yourself the benefits of a scooter plus the benefits of a bicycle or even a car from this Metro Electric scooter. The sit and ride scooter not only give room for comfortably sitting, it also provides a detachable basket and rack to hold your luggage while you ride like a chief. The scooter has 2 wheels and both of them are 16 inches each. The wheels are air-filled hence, provide a smooth and easy ride for you even on rough and uneven roads. Featuring a padded seat, a super wide deck, grip-controlled brake and acceleration speed, this scooter gives you more comfortable than you pay for.
The scooter features a 500 watts chain-driven motor. With this motor, you can cover a range of 12 miles with a speed of 18 miles per hour. Covering this range does not only give thanks to the motor, it can only be achieved with the help of a good battery. That battery of the Razor Metro scooter is 36 volts lead one.
When it is filly charges, your scooter can take you round the world within a few minutes The battery charging time is 12 hours. It is also designed to accommodate conveniently riders that are 16 years and above. Having a maximum weight capacity of 220lbs, which is equivalent to 100 in kilograms.
Another beautiful feature of the scooter is that, it has an adjustable handlebar which gives room for accommodating a range of people or cut off totally the need to buy another one when it seems you have grown taller than it. You might fear that putting heavy loads on the detachable rack might make riding strenuous and more difficult.
Well, the manufacturers have put that into consideration and to avoid such possibilities, the rear wheel drive of the scooter shifts both your weight and the weight of your load to the back. Thereby, making the front light and easing control of the steering.
Key features
Adjustable height
Weight capacity of 100kg
402mm tires
Increased speed
Pros
Durable and sturdy materials
Long lasting battery
Adjustable height
Detachable basket for loads
11. Razor E100 Electric Scooter for Kids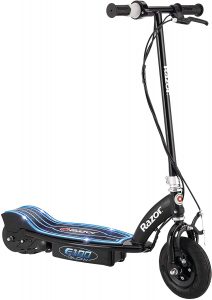 Have your kids and keens enjoy a pleasurable and attention drawing ride on this E100 electric scooter with it LED glow every time you twist the throttle. The E100 electric scooter is designed for kids 8 years and above. It is a cheap fast electric scooter powered by a 100-watt motor.
This scooter, being powered by that amount of energy, can provide a speed of up to 16 kilometers in an hour. The motor is chain driven nonetheless, it provides minimal noise, it also has high torque and single speed features which make a riding experience on it electrifying.
The scooter has two batteries, each having a capacity of 12 volts. Both of them are rechargeable and take about 8 hours to charge. However, before use, ensure to charge for about 24 hours. The battery capacity can give you a 30-40 minutes ride conveniently on high speeds, anything beyond that, you might just have the scooter struggling to move a mile. Razors are known for delivering quality and trusted products.
This scooter is no exception to that. From frame to grip, the scooter is made with top notch materials. Not just to ensure durability but at the same time to provide comfort of the riders. When purchasing this product, you can put your mind at rest because you can always contact Razor if there are damages to the product.
The frame is made with pure alloy steel, the deck, wide enough to aid comfort and decorated with Led lights that give you an exciting feel when riding and also promotes visibility at night. Asides these amazing features of the scooter, it is relatively cheap mand affordable so you don't have to break a bank before buying one for your kid.
Key features
LED on deck

Front braking system

Weight capacity of 54kg

Polyurethane wheels
Pros
Absorbing wheelss
Rugged and sturdy
Affordable
Quick access to brake and acceleration
12. Razor Power Core E90 Electric Scooter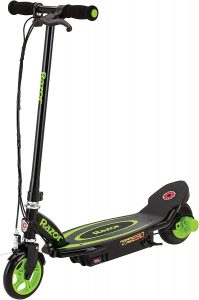 Enjoy an extended ride of about 80 minutes non stop with this Razor E90 electric scooter. The scooter features an improved Power Core technology that saves you money and energy.
It is powered by a 85 watt hub motor. The motor uses high torque, requires little or no maintenance and ensures an itch free ride at maximum speed of 16 kilometers in an hour. This model is designed to stress you less and serve you more which makes it one of the best cheap fast electric scooters.
Though its batteries similar to most other scooters, its innovative power core technology makes it last longer periods and cover a wider range compared to its similar counterparts.
It features a rear wheel drive that makes riding a less strenuous one and aids swift control of the steering. This rear wheel drive ensures better balance for kids which makes riding safer for them.
Though made with whole alloy steel material for durability and sturdiness, the scooter is light weight weighing just 22 pounds. In addition, the front wheel of the scooter is made with polyurethane material while the rear wheel is made with rubber.
The wheels measure 8 inches each. This size is perfect for any kid scooter; the wheel materials and size are great for its price and at the same time very safe for use. Asides this, the tire is flat free and the rear one free from air.
You can have total control of the scooter even when you are on high speed because the brake control is placed just by the hand grip, hence easy to access. To start the cruise on the scooter, just kick off and then push the accelerator button.
And there you are in the fancy of the world! Made for kids 8 years and above, the scooter has a maximum weight capacity of 54kg or 120lbs.
Key features
Innovative power core technology

Button acceleration

Varying wheel type

Weight capacity of 54kg
Pros
Better traction
Affordable
Quality materials
Easy to assemble
Cons
Some customers complain of bad customer service
13. Razor Power Core E100 Electric Scooter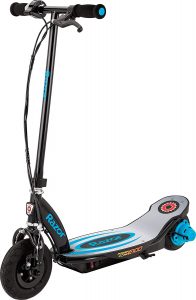 Here is another amazing model of the E100 Razor series. Mere sighting the scooter, you would feel like taking it home already. The modern style, unique design, cool finishing and legendary quality of the Razors in this scooter would definitely get heads turning. The power core E100 is a kick to start scooter powered by a 100-watt hub motor. This scooter is the best cheap scooter for you if you are a busy person. The motor of this scooter provides a maximum speed capacity of 15 miles per hour.
Asides its speed capacity of 18 kilometers per hour, which makes it your ride or die for long distances in a short period, it also features a chain free motor. Without the chain, belt or alignment, you're good to go anytime any day. It requires no maintenance, just kick your scooter and get on the road.
The scooter is designed to be rugged and still last a long time. The fork and frame is made of alloy steel material. In addition, it has 2 batteries of 12 volts each making 24 volts. These batteries can give you a riding time of about 60 minutes, 20 minutes more than the regular time of other E100 series.
Another interesting thing is that, the scooter has a 5 stage LED battery indicator. To show you how much battery power you have left The deck is made of aluminum material to provide support and balance for heavy riders. Not just that, though it is made with premium materials, it is light weight, weight barely 22lbs.
This feature makes it super convenient to carry it about plus it's simple one push folding mechanism, you're good to go. For better traction, balance and smoother ride, the rear wheel is made with an airless rubber, while the front wheel is made with pneumatic, polyurethane material.
The scooter is also cool for beginners, because of its support and balancing features. To control the acceleration, all you need do is twist the throttle and ride up to the maximum speed with perfect control and absence of fear or hassle.
Key features
Twist grip acceleration control
15MPH maximum speed
Varying wheel materials
Maximum weight capacity of 120lbs
Pros
Light weight
Increased riding time
Improved speed
Tools for assembly included
Guide to buying a cheap electric scooter
No doubt, you cannot compare the fine features you would get from the more expensive electric scooters to the other cheaper ones. However, it is not true that any cheap electric scooter cannot serve you well. Below are some things to look out for before buying a cheap fast electric scooter.
Speed
To get a cheap fast electric scooter, the speed is a must check. The speed of a scooter is determined by the motor power, weight on the scooter and other factors. The speed capacity of moist scooters is based on the average weight of 70kg.
A speed of 15 miles per hour is ideal for any scooter. Note that when climbing on hills, or when the weight is much, the speed of the scooter would be reduced.
Range
Most times, the range on the advert of scooters are based on the best conditions like good roads, 70kg weight, new batteries and so on. On the other hand, you may not have those conditions all the time. Cheap scooters have fewer quality batteries and overtime the battery wades out. On this note, you could choose a scooter that has a higher range advert.
Ride quality
Most times people cannot determine the quality of the ride of the scooter till they've bought them already. To avoid making such mistake, there are 2 important things to look out for to be able to correctly predict the ride quality of any scooter.
First the wheel size, I would strongly recommend any scooter that has wheels 8 inches and above. Smaller sized wheels would give a rough unpleasurable ride experience.
Secondly, Pneumatic or solid tires, this factor is mostly neglected by many but you must know that because the tires are the contact to the road you ride on, they go a long way in determining how well you ride is. The tires must be very solid because of the difficulty in repairing it when puncture occurs. At the same time an air-filled tire gives you a smooth ride even when you're riding on rough roads.
Light
The LED light in scooter reduce the limitation to when you can ride. With the lights, you can safely take your scooter on that cruise at night without being scared of being hit by other road users.
Indeed, not all cheap electric scooters are of bad quality and at the same time, the best quality electric scooters aren't that cheap. Nonetheless, if you have any reason to choose a cheap fast electric scooter, this article must have been of great help.
Not only have I hand-picked the best cheap fast electric scooters, I have also put out some guidelines that you should look out for before choosing any kind of electric scooter. I hope you found then helpful.