While longboards have many purposes, commuting using a longboard is another purpose besides pleasure riding. Without having to worry about traffic or starting a car you can conveniently use a longboard for transportation as it is extremely fast and easy. You are well l aware of the hectic traffic hours and you definitely do not want to get late for your meeting or an exam. You won't be new to the idea as there are already many riders who love riding a longboard for work, school, etc. in which long distances have to be covered. 
Longboards are not only great from an economic benefit point of view but also for your own health and the environment. You can save a lot of money compared to using a car as that requires fuel and maintenance as well which is costly. Not just that but you can benefit from it yourself as you already know that with so much workload it is impossible to take out time for some physical activity hence using longboards as a means of transportation will allow you to do some outdoor physical activity while going somewhere important as well.
Lastly, we cannot forget the environment. This means of transportation will help overcome pollution resulting in a more positive and healthy surrounding as no harm is being done to the atmosphere with pollutant gases. 
To be able to find the best longboard for city transportation can be a difficult job. All longboards can take you from one point to another but some are made selectively for the purpose of commuting. These products have specific features that help in commuting which a downhill longboard probably won't.
There are some factors that are crucial and need to be considered while buying a longboard for city traveling such as the shape, size, and length of the deck, maneuverability, smoothness, and ease to turn, the quality of the bearings, cost, and also big wheels. If the longboard is lightweight that's a plus point as it will be easier to carry and will be more beginner-friendly. Once you learn how to use a longboard for transportation purposes you will swiftly pass by all traffic like a flash itself. 
After doing some in-depth research we have compiled the 5 best longboards for city transportation:
Due to the ZED pintail being constructed of bamboo that is ethically sourced and Canadian maple which is 8ply makes it reek of nostalgia from California beaches. The shape of the longboard which is classic and sleek helps to provide precision, increase the speed, and also provide more stability you can easily turn and slice through corners making this effective and suitable for commuting. With the 70mm wheels and high-quality bearings, you can get a long-lasting board that has a superior grip. This also increases the smoothness of the wheels making it more fun to cruise. 

The durability and intensity of the longboard are very high and thus you can take it to the streets, ride it in your backyard, or anywhere you wish. The vibes of vintage note and the charm given by the classic shape make this longboard a very beautiful one.
Features:
The beautiful artisan longboard deck has dimensions of 44 inches with 9.5 widths. This length and width are quite large and enough to provide a comfortable space for the rider to stand on and distribute their weight equally. 

It is made up of bamboo which gives a vintage California look 

The 7-inch trucks made up of aluminum are lightweight and rugged

The aluminum reverse kingpin trucks measuring 70 mm x 51 mm are durable, smooth, and reactive are cast with a black brushing of PU 90A. The longboard masters both street riding and beachside riding. 

It has bamboo construction with extremely flexible 8ply maple which gives it the strength of a hybrid.

The ABEC – 7 bearings provide absolute control to the rider of the board and also are ideal for faster speed and high accuracy of running making this board able to handle all sorts of adventures. 

The longboard comes fully assembled thus you do not have to put in any sort of hard work or figure out with a manual how to put it all together

The longboard is able to carry a weight of 220 pounds due to the solid trucks and 85A durometer of the wheels. 

Ideal for covering long distances. 

The wheel s is polyurethane and has a shock-absorbent property with a hard rock finish which provides a stronger grip. 
Pros: 
The deck has proved to be super comfortable and is sturdy and stable. 

Smooth turning and ease of turning is provided to the rider

Wheel biting is prevented due to the technology which anti-biting. 

The grip of the grip tape is solid and grips well and also help to slide well

It is available in many shapes, with versatile graphics and a plethora of colors. 

It is great for heavy riders as they can benefit from the high load lifting feature of this longboard. 

The price is also affordable and reasonable.

Ideal for commuting
Cons:
The flexibility is not that great

You cannot perform various tricks and stunts

Heavy riders have to avoid sharp turns to prevent wheel bites. 
WjlyueKing 41 Inch Commuting Board
The wjlyue-king being one of the leading companies constructing longboards globally is manufacturing high-end products to meet the needs of customers. They gained the trust of clients by providing high-quality products and became famous through their honesty and dedication. Their entire motto was to make sure people are getting highly durable longboards providing a first-class experience at reasonable prices. This longboard in specific is very lightweight and can be carried anywhere you want without getting tired. Stability is also a key feature of this longboard. 
The resistance from the air is lowered and it allows you to cruise freely making you enjoy commuting with this longboard. It makes you feel as if you are flying.
Features:
The maple deck of this longboard has dimensions of 41 inches long by 9.5 inches wide. The rider can easily adjust foot placement as the length is extensive enough. 

The deck is slightly concave and is quite firm. 

The trucks are 8 inches aluminum trucks with a brushing that is high ultra-rebound and is smooth.  

The drop-through trucks are a form of mounting trucks that ensure stability and make it more secure by making the center of gravity lower for the user. 

The wheels are urethane wheels which are high rebound and measure 70 mm x 51 mm. the PU wheels with a high elasticity come with a hardness of 85A.  The wheels provide more strength which enables them to carry more load. 

The bearing is constructed with spacers that are built-in and are ABEC – 9 hellion high-speed chrome bearings.  This provides longevity which is higher and the performance is high quality and fast.

A clear grip tape is provided making the shoes of the rider grip the board tightly.

The longboard is made of bamboo and maple which is Canadian making it strong, stable, long-lasting, powerful, hard, and durable. This makes the longboard perfect for commuting.

The effective cushioning provided by the shock-absorbent PU ring makes the ride more comfortable for the longboarder. 

The longboard is beginner friendly and is ideal for commuting as you can ride it for long distances, downhill riding, freestyle, carving, dancing, and cruising are all possible. This also makes this an enjoyable and fun riding experience. 

It also serves to be the perfect gift for your loved ones such as family and friends who are sports enthusiasts. 

The surface of the longboard is an anti-slip one making it more secure and stable

The weight that this longboard can carry is 350 lbs which makes it a suitable longboard for heavy riders.

A tool kit is also sent along with the longboard to allow adjustment according to your own requirements. 
Pros:
The longboard is durable, stable, and safe to ride making it more beginner-friendly. 

The responsive the responsiveness of the longboard is very high.

A flawless and easy ride is provided to the longboarders. 

High security and stability is a key feature of this longboard.

Colorful and attractive
Cons:
The longboard quickly picks up speed and not gradually.
PINESKY 41 Inch Complete Commuter
PINESKY is a 41-inch longboard that has been built with a lot of confidence by the manufacturers. This longboard company promises to provide high quality for a fair and reasonable price.
Their commute is ideal for those who are looking for a way of transportation that is cost-effective and also quick. The longboard is very strong and stiff which is why it offers high stability and security.  All components used to construct this longboard are of high quality making it less prone to break or get damaged. 
Features:
The natural maple longboard has dimensions of 41 inches long x 9.5 inches wide. This provides a comfortable footing placement area as the length is quite large. 

The longboard is able to carry a weight of 220 lbs which makes it suitable for heavy longboarders and also shows its strength. 

The bearings used in this longboard are ABEC – 11 and they are high-speed bearings made of steel.  This makes it higher in precision and also tolerance. 

The deck is an 8 ply maple deck that offers good grip and bounce and it is their own invention that has shown improved durability. You can easily turn and slide without the board rattling or vibrating. 

The elastic wheels have a measurement of 70 mm x 51 mm and their diameter is such that the acceleration is higher and there is an increase in stability and responsiveness. This is the reason why it is on the suggestion list of all professionals. 

The 7-inch aluminum trucks are of high quality and add strength to the longboard.  Corrosion is avoided due to aluminum being used and the trucks (sidewinder) consist of a quality which is the double pivot. 

Many colors are available which give an eye-catching and beautiful look to the longboard. 

The black pro grip tape of the Pinsky longboard provides more stability and allows it to take sharp turns 

The shock-absorbent system is excellent as it adds effective cushioning, which increases comfort and ease while riding the longboard. 

The fact that this longboard is closer to the ground makes it great for beginners and ideal for city transportation, traveling for greater mileage, carving, freestyle riding, cruising, and dancing. 

Perfect gift for your loved ones who are interested in sports. 

The longboard is very lightweight itself and you can carry it around without any difficulties. 
Pros:
The construction of maple wood is very strong which provides all the strength the longboard needs. 

Rusting is prevented due to the use of aluminum. 

Easily carry a weight of 220 lbs which is a plus point of heavy longboarders. 

It comes with a toolbox in order to help adjust (tighten or loosen) the trucks as much as you want. 

Stable, secure, and very durable. These key features make it a favorite longboard for city transportation. 
Cons:
You cannot ride this longboard on all terrains suck as rocky areas as that will not be a very smooth ride. 
Sector 9 Lookout Drop through 42″
The deck that this board provides is a combination of two strong materials, maple, and bamboo. The 36.3-inch deck is the perfect size for you as a newbie who wants to learn longboarding. Sector 9 aims to provide high-quality products and technologies that are game-changing which is why it is highly proud as a company and has stayed dedicated and ambitious throughout. Their 20 years of experience in fact more, in producing longboards makes the customers trust their products and buy them without any doubt. Their company has always satisfied customers with their high levels of production at very cheap costs.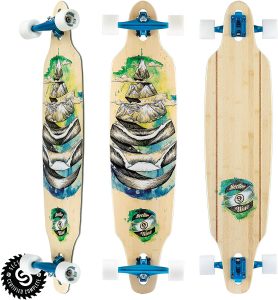 Wheel bites are also eliminated by the builders who have also installed wheel cuts at the bottom part of the deck in order to avoid sudden stopping due to wheels rubbing against the deck. Moreover, the deck has an exquisite pintail shape which provides a solid base, and the graphics which are engraved by the laser also give a very modern and stylish look to the longboard. You can easily carve and cruise with this longboard and the speed will make you feel as if you are flying. 
Features:
The dimensions of this longboard are measured as 36.3 inches long x 9.75 inches wide. This provides a smaller yet broad space for the rider to stand on. 

The weight of the longboard itself is 6.9 pounds which makes it quite lightweight and easy to carry around without any difficulties. 

The load this longboard commuter can carry is 250 pounds which makes it an excellent choice for those longboarders who fall into the category of heavy people. 

The trucks of this longboard are of Paris style and are high angled. The wheels are excellent for transportation from one place to another. 

Maple wood and bamboo provide more flex and make the longboard more strong and stable at a rapid speed. 

Higher maneuverability and easy turning make this longboard a suitable choice for everyday use. 

Easily cruise and carve using this commuting longboard.

The durability of this longboard is very high.

The coating on the trucks is very tough 
Pros:
The longboard is very strong and long-lasting which makes it worth the price.

It consists of very unique designs that are eye-catching and beautiful

Very easy and quick to learn

Provides maximum grip to the rider making them feel in control and providing stability. 

The riding surface is quite wide in this longboard.
Cons:
The longboard is a little smaller compared to the rest.
VOLADOR 40inch Maple Commuter
Since the modern era began, the only motive of volador has been to produce maximum amounts of high quality and user-friendly longboards.  They have set the bar high with their products being the best. They have made many innovative and unique creations successfully, fulfilling their goal. If you are looking for a longboard for city transportation that allows you to perform tricks then the volador 40-inch longboard is the best option.  The advanced quality used in this longboard allows for the longboarder to carve and bolt through streets swiftly.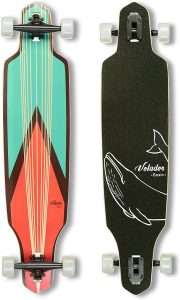 The longboard is found to be best for those who love to be close to nature and enjoy it. The wind will hit you as you cruise through the city and you can ride it while enjoying the view of the mountains while going for a downhill ride. The longboards are last but not least very environmentally friendly. This reduces negative impacts on the atmosphere. They use woods that are sustainable and methanol-free epoxy glue which makes the board a healthy one and with that, you can also enjoy it. 
Features:
The drop-through 40-inch cruiser was constructed in a way that it serves best for beginners and for transportation purposes.

The dimensions of the longboard are 40 inches long x 10.25 inches wide.

This provides a broad and long platform for the longboarder to stand on. 

The deck is made up of 100% 8 plies natural maple which is hard rock and the epoxy glue which is used makes the longboard good in strength.

The 7-inch genuine aluminum kingpin trucks which are reversible can be adjusted at 50 or 45 degree which allows an increase in maneuverability.

This also allows the longboarder to carve effortlessly and have a high turning response. 

The 80A PU wheels are durable with a measurement of 70mm which provides a smooth ride to the longboarder. 

The ABEC – 7 bearings are chrome steel bearings that provide more stability. 

The graphics on the board are unique and they make you stand out amongst everyone else. 

The deck is shaped in a way that wheel bites are prevented which allows you to enjoy maneuverability and take sharp turns from any angle. 

The concave shape provides a higher acceleration and paddling

The low center of gravity makes it easier to slide.

Also, the kick tails serve to be important for taking rapid turns, slides, and pivots, etc.

Flex ability is also high due to the use of fiberglass and bamboo

The lightweight of the longboard and the 80A brushings make sure that the board is great for commuting. 

The grip tape used is Grippy and provides more stability and control to the longboarder. It also helps to ease pushing while riding. 
Pros:
Durability is increased due to bamboo being used. 

Stability and turning response is also high

The flex ratings are three in total 

The longboard can lift a great amount of weight 

The maple deck provides more stiffness making the board a strong one. 
Cons:
The price is not affordable for everyone as it can come across to be expensive. 
Without having to worry about getting stuck in traffic or getting late, you can now use longboarding as a means for city transportation. This will help ensure a more productive, healthy, and safe means of transportation. In this guide, we have compiled all the affordable longboards yet high-quality longboards that are specifically used for commuting. You can choose one of the 5 which suit you best. We would love to get some feedback if you buy any of these longboards on our guide's recommendation.