The meaning of the word "trending" has taken a 360 degree turn from what it used to mean for the older generation to what it means for the youngsters of the modern era. The journey from extremely cool cars to motorbikes to bicycles and longboards has been a long one.
Longboards are now eye-catching and adventurous for many teenagers and even adults nowadays. One cannot take their eyes off the thrill that comes with riding sleek and elegant various models of cheap longboards.
While determining the best cheap longboard out of numerous options can seem like a piece of cake, but opting for the ideal one can be a tricky task. As for a beginner, the best longboard would be one that has high standard build quality, holds up essential riding style such as cruising, and above all costs very less. A plethora of cheap longboards under 100 dollars with the best features are available. Therefore, you must choose yours wisely.
For skaters, the best longboard would be one that allows you to ride in different styles. They could be dropdowns, drop-through, or classic longboards but whichever one you choose it must be useful. Here we have listed the best cheap longboards with all their features, pros, and cons to help you select yours.
Listed below are the top 8 cheapest longboards with amazing features at the same time:
1. Quest super cruiser longboard
The board is 44 inches long which increases stability and makes it even more comfortable for beginners to skate.

The finer components are the key to its popularity in terms of performance:

ABEC 7 wheel bearings which consist of a non-removable shield

7-ply hardwood maple deck with a layer of artisan bamboo making it stiff and strong

Flat board and non-flexibility make it stiff, preventing it from digging into carves.

The wide wheelbase makes the longboard turn effortlessly and comes into handy for new riders as the fast steering demands a stronger grip of control and better skills

Handles weight well (up to 230lbs)

Riding this model will be smooth and increases maneuverability but is also durable and can be used for a greater time period.

This model has Quest urethane wheels which have a diameter of 70mm and 80A hardness. 
Aluminum reverse-kingpin trucks
Pros:
Great quality of wood

The components used are of high quality and there is an excellent finish on the deck provided by the artisan bamboo.

High turn response

High stability and control eases the learning

Good trucks

Very minute camber
Cons:
The bearings are slow and thus they are in need of an upgrade

The wheels are susceptible to bite as they are hard

Very stiff

2. Volador 42 inch free ride longboard
The volador is an environmentally friendly and super flexible board perfect for its disciple. It is a long and low 42 inches board with generous concavity which will win your hearts at the first glance. The speed this board can go up to is 40 miles per hour. The board is a good option considering its features, looks, and riding experience in accordance with the price. 
Features:
The board is 42 inches long and functions in two directions kick to the nose and the tail. 

The board has the perfect deck quality

It is perfectly balanced as it is not too short or too long 

100% epoxy (non-toxic) glue is used on its 8 ply hard rock maple deck

The reverse kingpin trucks are adjustable according to your riding style and preference. 

The dropdown deck is well built with super flex ability.

It has ABEC 9 bearings and swift 78A PU wheels making the ride smooth

It can carry weight up to 250 lbs but doing tricks on a cruiser might not be possible with a heavy rider.

It is structured with a 70 mm high rebound

The flexibility is increased due to the concave chambered deck

Does not work well on inclined or sliding pavements at a high speed

Ideal for cruising on a straight sidewalk. 
Pros:
Turns really well

Provides a good smooth ride

Plenty of color options along with various graphic styles

Environment friendly

Excellent nose and tail

Steady at high speed
Cons:
The bearing might not be as good for heavy riders

The trucks even when tightened won't be solid

It is prone to rust if not taken care of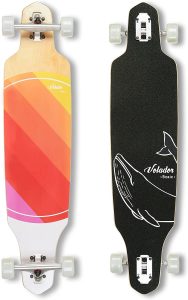 3. Atom Pin Tail Longboard
The atom pintail longboard is a great longboard that is cheap and excellent for beginners at the same time. With the attractive graphics, the longboard is fully capable of impressing a crowd. 
Features:
This longboard has a laminated maple deck with a colorful design underneath however it does not have as many color options as other longboards.

On the top, it has a full coverage grip tape. 

The deck length is 39 inches which is smaller than the rest of the longboards. 

The board is lightweight as it uses aluminum trucks urethane wheels and ABEC 5 bearings and can be easily carried around.

To prevent wheel bites and ensure effective cruising, the traditional pintail form is used. 

The trucks need to be loosened to a great extent with the average weight of an adult. 

The components are of high quality and are built well. 

The wheels of this board are extremely Grippy and do not make a lot of noise.

This longboard is great for cruising and carving but it is not recommended to glide using this longboard. 
Pros:
High-quality components

The ride with this longboard will be smooth

The designs are crafty and impressive

The board will work effectively even in the rain

Wheel bites are avoided

Beginner-friendly

Easy to turn when using this longboard

More coverage for the grip

Good choice for all skill levels 
Cons:
If the rider grinds then the design is likely to get damaged.

Careless packaging 

Cannot be used for complicated techniques

For some users, this longboard is too slow. 
4. Atom Drop Through Longboard
For a board that is 41 inches and has exceptional features being offered to its clients, it is definitely worth the price. For skaters that love to ride freestyle, the mounting system is a great feature being offered in a long board as cheap as this one. While drifting around curves and going down on slides rapidly the riders can easily push their longboards to their limits.
Features:
Heavy riders do not have to worry anymore as this longboard can lift up to 250 pounds.

The maple construction which is very solid increases the durability of this product.

The bearings put inside this board make it faster. (ABEC 9)

The white wheel with an ivory cast has dimensions of 70mm by 51mm PU and it provides the perfect experience while riding this longboard.

The cushions made of polyurethane make the longboarder feel more at ease while riding it.

The longboard also have interesting and eyecatching graphics on one end and the other side consists of a grip tape which is 80S

The ultra-low design of the longboard makes the platform more stable for the rider when he/she wants to try carving.
Pros:
It is more simple to push the longboard

Moving downhill with greater stability is possible with this longboard.

No wheel bites 

You do not have to worry about the structure becoming rough after using the board for a long time or a greater distance.

Excellent bearings 
Cons:
If you are looking for an excellent deck then this is not the best option out there.

The deck is breakable

The paintwork is not so great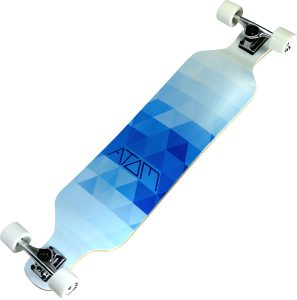 5. Yocaher Speed Drop Down Longboard
This cheap longboard is great for professional longboarders. It has an extremely high speed and the shapes make it very comfortable to ride on it throughout. This board gives the rider more stability by using a downward curve in the board to place the riding surface closer to the ground.
Features:
The deck on the yocaher is 9ply maple and is 41.25 inches by 9inches with a 33-inch wheelbase.

The demand for speed is fulfilled through the high concave, ABEC 7 chrome bearings with a 78A hardness and Q ball wheels. 

The longboard can carry 275lbs due to high-quality components and is well built. 

The board is a versatile choice for all age groups. 

You can easily cruise, go downhills, and slide without any complaint of a wheel bite.

The speed of the longboard is quite high

The longboard gives a smooth ride and can be driven even in the rain due to its black grip tape and wheels design. 
Pros:
Good grip tape

Can carry a heavy load

Rides fast and smooth

The deck is durable

The wheels are trucks are of great quality.

The ride is more safe due to the grips being better

Comfortable shape

It can withstand most obstacles on the way while riding it.
Cons:
The parts are extremely tight (more than required)

The axles can get rusty

The bearings are of low quality

Have a slight bend on the deck

Click on the link for an amazing price range
6. Rimable drop through longboard
41 inches provides a spacious platform for beginners as well as experts. The rimable drop through board has strong solid decks. For newbies the longboard is very simple and easy while allowing them to perform various stunts. For those looking for longboards under 100 dollars, this one is a great choice.
Features:
It is a 9ply rimable drop-through board. 

The longboard is 41 inches by 9.5 inches.

7" hanger trucks which are made of aluminum with reversed kingpins make the ride for stable for the long boarder. 

 Well-built bearings are available (ABEC-11)

Heavy long boarders do not need to stress out as this board is able to lift 250 pounds. 

To make sure the longboard does not bend or break the materials used are of good quality.

The longboard is quite fast due to the lubrication done on the bearings and PU wheels which spin perfectly.

To make the platform more stable tightening of the bearings can be done according to preference. 

Adjustment is not required in this longboard.
Pros:
Variety of colors available

Easy to turn

Wheel bites can be avoided

An excellent choice for beginners

Grippy grip tape

Smooth ride is provided

The board is strong

Fast 

The decks are of solid quality
Cons:
Hard wheels are incorporated. 

The bearings are not ABEC 11 Which is far better.
Click on the link for the price range
7. krown Rasta freestyle longboard
The first longboard introduced by krown Rasta was in 1996 and through their affordable and cheap yet good quality skateboards, they made their name in the market. This longboard targets riders with its shape which allows both carving and stability.
Features:
36 inch, 8ply laminated longboard

Tucking positions are easier to attain due to the short length of the longboard hence making it easy for downhill rides

Wheel bite is avoided due to the drop through truck and cutaways

The trucks have reverse kingpins and they have 7- inch hangers with urethane wheels which have a diameter of 71mm and a hardness of 78A. 

Efforts to push the board are reduced due to the board being set low

Cruising sideways and speed racing on hills can be done well with these boards
Pros:
style="font-weight: 400;" aria-level="1″

A very unique board

Extremely maneuverable

Shape and size best for quick turns

Beginner-friendly
Cons:
Bearings are of low quality and need an upgrade immediately

Lacks factory quality control
Click on the link for the price range
8. Ten toes board emporium zed
The zed is a cheap longboard which is a pintail and it is extremely good for beginners to use. This longboard is a 44-Inch artisan longboard that is made from exquisite bamboo. It was designed in Los Angeles for a classic vintage California look. It is exactly a longboard which a beginner would be looking for considering its features but it wouldn't be as appropriate for professionals.
Features:
This longboard is an 8ply, laminated with maple and bamboo.

Its tail has a tiny kick

For firm rooting it has an adequate concave which improves the grip of the rider

To help in carving the bamboo provides a longitudinal flex.

Aluminum kingpin trucks are constructed with black brushings which are of 90A and hangers which are 7 inches

The longboard has ABEC-7 bearings

70mm urethane wheels with an 85A durometer are provided in this longboard
The longboard is 44 inches long
The look of the longboard is attractive due to the graphics on the deck.
Pros:
Beginner-friendly

It gives a smooth ride

The price range is affordable given the feature

Firm grip

The board is light weighted 

The deck has functional concave and kick which are great

The bearings are smooth in operating
Cons:
The wheels are hard and are likely to bite

Artisan look

Not for experienced skaters

After the learning phase finishes an upgrade will be required
Click above for the exact price.
Conclusively, we can see that even under 100 dollars you can find one of the best longboards that suit your requirements in terms of features, perks, and drawbacks. Each longboard was judged based on its design, features, price factor, advantages, and disadvantages. This buying guide provides you with details about every longboard listed. With many options available in the market one could likely buy a longboard which they end up regretting. This is why we have selected 8 longboards which are absolute favorites and have gotten high ratings. 
Many people have started to love longboards and are trying to find the perfect one out there but are under a budget which is why we have listed some of the cheapest longboards with high-quality components. Buying a cheap longboard does not at all mean that you have to compromise on quality and standards which would curb your skills. The best longboards don't necessarily have to cost a fortune. We would love to know your feedback if you go on to try one of these fantastic longboards.