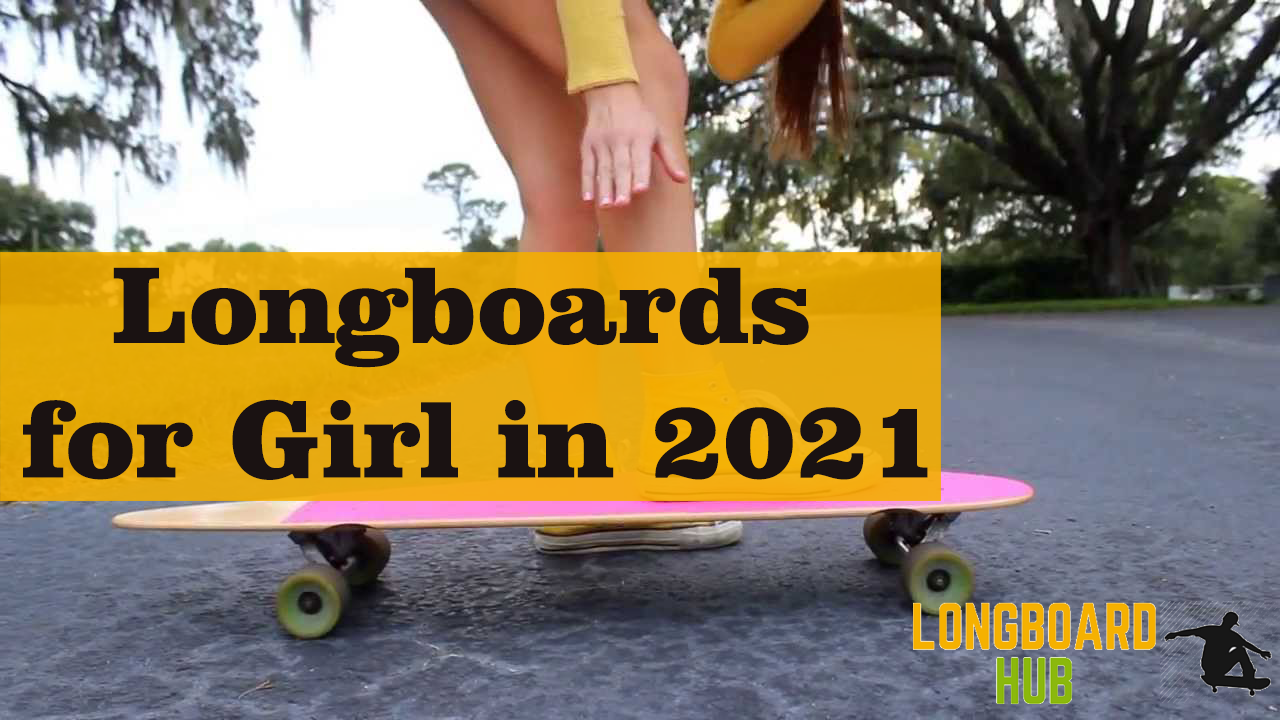 Are you a fan of longboarding but afraid of the new beginning? No worries, when we are here to guide you about the best longboards for girls. Being a beginner, it is tough to make choices about longboards because you don't know which works well. The right choice of a longboard is the only way to go ahead with your passion and transport method. If you are a serious longboard lover and want an affordable but well-performing skateboard as a girl, then what are you waiting for? Go through the things and picks we have mentioned below, and get the suitable one easily.
Things You Should Consider While Buying a Longboard for Girls
There are several factors you can't ignore when purchasing a skateboard for girls.
Size: The length and width matter for the girls. You should choose narrower and shorter boards for better experiences. Choosing the right size will help you have control over yourself, especially while turning left or right.
Wheels: Bigger wheels mean better wheels. If you are seeking a board to help you skate over the cracks, rocks, and hills, then go for the bigger wheels to help you out.
Quality: It's not that if you buy an expensive longboard, you will have the best one. Focus on the quality instead of the cost. Frequent damages and expenses are not favorable.
Best Longboards for Girls in 2021
1. Atom Pin Tail Girl Longboard
Girls want compact and
incredible longboards
to handle; atom pintail longboard is one of the girls' best choices. With an ideal design, this board knows how to satisfy the riders. For smoother, buttery rides, it is the right option. It gives you a hassle-free and speedy riding experience.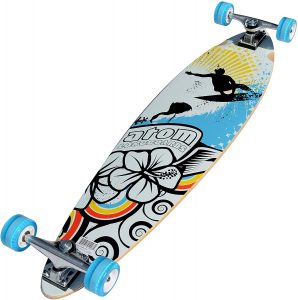 Atom Pin Tail Girl Longboard Features:
The incredible size of the atom pintail longboard is what makes it a great choice. The length of this longboard is about 39inches, whereas the width is good enough at 9.5 inches. The board is purely comfortable for both beginners and professionals.
There is a grip tape to provide the rider with the most relaxing experience.
When it's about challenging roads that are full of obstacles, a good quality maple wood deck is what you need. There are eight layers of maple wood to make it durable and stiff.
The aluminum trucks are 8,5 inches. The pintail design of this longboard and the anti-wheel bite technology makes it unique and compelling. Moreover, ABEC 5 bearings are the reasons why atom pintail longboards are popular.
65mm urethane wheels are to add perfect control and durability.
The massive range of multiple colors and sizes allows you to choose any of them according to your desires and requirements. Be it any drop or collision; the board will stay at its place without any damages because of its high-quality construction.
Your cruising will be much better if you choose atom pintail from the comprehensive collection of girls' longboards. It is an elegant and impressive skateboard to suit any rider easily. Its faster speed and good weight hold are enough to make it the top pick.
The only drawback with this longboard is that it's not the right choice for slopes.
2. Yocaher Professional Girl Longboard
Yocaher has a
great value in the market of longboards for girls
. The brand knows what to do for its buyers' satisfaction because it's a well-known longboard manufacturer company. One of the ultimate reasons why it is popular is the wheels that the company manufactures itself. The brand wants to serve you with the best hence they never give you a chance to regret it.
Yocaher Professional Girl Longboard Features:
Yocaher has tried its best to provide you with a fantastic experience by making the longboard shock resistant. The board can absorb quick ad intense shocks so that your riding remains hassle-free. It is prevented by the shocks but has a durable ad sturdy nature to convince the buyers.
The Yocaher girl's professional longboard's length is 41inches, having wheels of 70mm and 78A. The board gives you a smoother and faster riding experience.
The board has HD7 trucks that are heavy duty and top-mounted. These trucks make the board more flexible and stable too. Just a little adjustment is needed for exceptional performance.
The deck of the Yocaher drop down is made in a different way to provide better gravity. It is slightly down than the trucks having incredible center gravity. Maneuverability will be much easier and more fun with this useful feature, giving you comfort and excitement.
Want to ride downhill? Yocaher professional girl longboard with a 9-ply deck is ready to let your ride downhill without any hassle. With this longboard, wobbling here and there, falling, losing balance, flexing, all these problems are solved so that you can ride freely.
This is the one that is suitable for you as an advanced or newbie because of its durability and stability. Go for it now without any doubts.
3. Volador Freeride Longboard
This is the right pick for you if you are looking for an easier way to access your routes. You are always ready with Volador to
freeride longboard to go anywhere without any worries.
It will be your favorite from all the longboardsforgirls because of its design and performance. Volador is an excellent choice for all the beginner girls out there. Getting this fantastic longboard at an affordable price is kind of impossible, hence don't miss a chance and grab it now.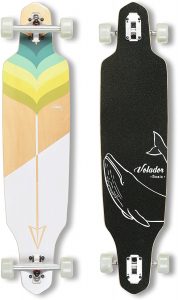 Volador Freeride Longboard Features:
It is a reasonable but high-quality longboard for all types of long boarders. When it comes to durability, its deck plays a significant role because of the eight layers of hard rock maple. Not only this, but the use of epoxy glue is for along-lasting riding fun.
Apart from its reliable deck construction, the designs are appealing enough to catch your sight. You will fall for its attractive designs at a glance only. Being the most substantial board in the market between longboards for girls has proved to be a top pick. The sturdiness and the design combo have made it different from others.
The board, your friend, has to hold your weight correctly; hence, the Volador can hold about 250 pounds. Being fatty and having a passion for riding is fun but sometimes challenging because of the low-quality boards. Therefore, Volador is perfectly suitable for you even if you are overweight and tall but don't want the board to be collapsed again.
The length of this exceptional board is 42inches with an anti-wheel bite feature and a symmetrical deck design. So, you don't have to think while buying a volador freeride longboard.
The reason behind the bump-free and smoother rides with this board is its robust steel wheels. These durable wheels allow you to move around the town freely, even if you are a newbie. The enormous bearings and quality wheels are the things you might have been looking for.
The board's aluminum construction makes the ride safe, speedy, and well-performing. Be it any riding style or a bumpy, curved path. Volador freeride longboard will never disappoint you.
There is no significant drawback but a requirement of perfect maintenance if you want to last for years.
4. WiiSHAM Drop Through Longboard
A decent but cost-effective longboard is tough to find, especially when you are a beginner girl.
WiiSHAM drop
through is one of
the best longboards for girls
. The reasonable charging policy of this brand is the right way to increase the number of their buyers. They don't charge too much but serve you with the best longboard you want. It is a professional longboard for all riders because of its flexible nature.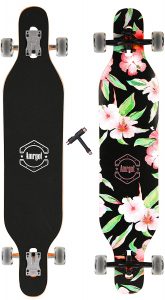 WiiSHAM Drop Through Longboard Features:
The durability and strength of its deck are what makes it a top pick. The board will last for years as it is of high-quality construction. The deck comprises 9layers of Canadian maple wood so that you don't face any damage frequently.
The looks of the deck are not only impressive but adorable enough to attract all the eyes. The fantastic design is the love of many riders. It has a variety of refreshing and exciting color schemes and designs to make sure every rider gets the best.
The deck graphics are something worth appreciating. You can't ignore them, especially if you are a fan of WiiSHAM longboards for girls. Not only it amazes you with incredible design and colors, but the reliable and robust deck is what you find. You will not get anything like this at such a reasonable cost.
The harder wheels of this drop through longboard enables your rides to be smoother than before. You can enjoy faster but relaxing rides.
Bearings of the wheels are not of the low-quality and use a top-notch lubricant to stay the same.
Their aluminum trucks are what riders fall for. The board has a well-cut and ground surface for better control. You are free to ride without any worries because you can balance and control the board very well.
The black mat finish of the board is what we call elegance. The comfortable and roomy deck with quality assurance makes the board a huge success.
The board can hold up to 250lbs while giving a smoother and faster experience.
The only drawback is the lowering down when the board reaches high speed because of more friction.
5. Minority Downhill Longboard
As a big name in the industry of longboard manufacturers, the minority has never failed because of its unique longboards for girls. The outstanding range of speedy and reliable longboards have convinced many riders. To make your downhill rides safe and fun, a minority has tried its best to provide you with
the best longboards
.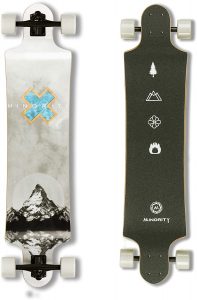 Minority Downhill Longboard Features:
It is an ideal longboard for all kinds of rides. Make it your choice to enhance your fun adventure. You can have an outstanding balance over your body while riding on this.
The construction of this fantastic longboard is of strong 8-ply maple hardwood. The purpose is to make the board much more potent.
The size of the deck is standard so that your long skating journeys are effortless and comfortable. The most amazing part is that this board will never make you feel tired because of its compact size.
It has a drop deck design, enabling you to ride smoothly and comfortably because of the low gravity.
Minority downhill longboard with a symmetrical shape lets you ride without any worries of wheel bite. There is a carbon steel axle and kingpin in the cast aluminum trucks so that your riding can be versatile. The precision bearings with 78A wheels are to improve the quality of your skating experience.
A person weighing 250lbs can easily ride on it. The capacity of weight it can hold makes it more efficient. The methanol free epoxy glue is the reason behind its long-term sturdiness. It's a favorite fact about minority longboard because it is recyclable.
If you intend on moving your friends and family, then this one is for you because its elegance and beauty were enough to win everyone's hearts. Adjusting the rucks and adding a bit of lubricant can lead to a speedy ride if you are more into such rides.
The only problem is its wider deck, which is not suitable for healthy riders.
6. Ghost Riptide Longboard
Girls are more into trendy and pretty things than guys, so
Ghost riptide longboard
is getting popular. The glass board makes this longboard one of the best longboards for girls. It is so unique and fantastic that every buyer wants to grab it as soon as he can. The mesmerizing look of this board is the actual reason behind its increasing value.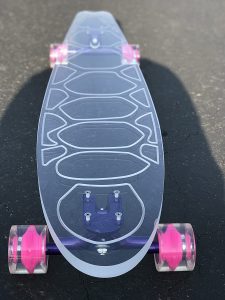 Ghost Riptide Longboard Features:
if you are a beginner girl or looking for the best longboards for the girl, then Ghost riptide with a town pintail is the best option for you. As it is of glass, many people think of it as a non-reliable and non-durable longboard whereas, it is one of the strongest longboards for girls. For safer rides for girls, this board is made up of plexiglass, which is of the best quality.
Not only the attractive glass deck but a tape over it is what you people will fall for. The black elegant grip tape is the perfect safety measure to save the girl from slipping again and again. Hence, she can experience the best ride on it without any hassles.
The set of incredible trucks of 5inches is aluminum that the board you will buy brings fun to you. You are comfortable with this board at even higher speeds. They are useful to provide enough reliability to hold 220lbs by the board.
The board has 70mm wheels so that you don't face any wobble or bump while riding. You are ready to indulge in the most thrilling and exciting ride of your life. The wheel graphics are so cool to be attracted. They are to provide super smooth-skating fun to you. Moreover, the color of these wheels is white to show some purity and decency.
The longboard is going to give a flexible cruising because of the high-quality ABEC bearings. It is an ideal choice as it is portable and lightweight with only 7 pounds, isn't it's incredible?
The sole stuff that might hinder you from buying it can be its price, which is slightly higher, but getting something beyond expectations is so cool at this price.
7. Playshion Drop Through Longboard
A freestyle longboard is a thing you want as a passionate long boarder. Choosing the right one from the massive list of longboards for girls is quite challenging, but you don't have to worry when we are here. Playshion drop through skateboard is what suits you the best as a beginner girl. Your longboard cruising will be engaging with this fantastic board.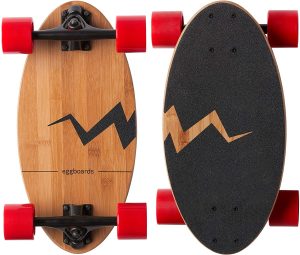 Playshion Drop Through Longboard Features:
Its top-rated features are the reasons behind its popularity. If you are more into downhill longboard cruising, then you are reading about the right longboard for you. This thrilling board is suitable for your downhill experiences because of its exceptional features. You are going to read about it.
The 39inches longboard is made up of high-quality materials to provide you with a safe and exciting journey. It is a standard length to suit any rider.
This board's deck has eight layers of fantastic and durable maple wood, making it more demanding and reliable. Because of its robust construction, the board is ruling the hearts of many riders. Above these durable maple wood layers, it has two dyeing layers to add excellent beauty features.
Not only its strength but the weight capacity is also attracting several riders. It can let the rider of even 250lbs enjoy on this board without worries, which is super cool.
The top of the longboard has a black sheet for heat transfer, which gives a perfect look and benefit to the board and the user.
The 70mm wheels with a super soft material make the rider feel like a smoother ride in the air.
The board also has 7inches trucks with ABEC 9 chrome bearings for a better experience. The nylon cages are to provide longer life to the parts.
What else is so satisfying and convincing about the ghost riptide longboard? It's a lighter weight, which lets you take it anywhere with you.
8. Loaded Board Tesseract Premium
When it comes to loaded board for girls, tesseract never takes itself down. It is an ideal loaded longboard for the girls. It is above many
other brands for loaded longboards
because of its robust construction and incredible benefits. Your perfect downhill cruising experience can be fulfilled with fun and adventure with this fantastic longboard.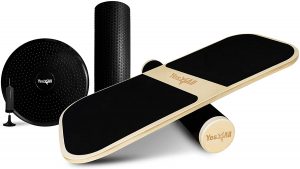 Loaded Board Tesseract Premium Features:
For easier and comfortable experiences, the tesseract board deck is designed to have a concave part. The more expansive and concave deck will increase your cruising fun even when it's about downhill speeding.
Your favorite loaded tesseract longboard is 36inches long, and the width of the board is of 9.5inches. It has enough room for your legs to feel comfortable while riding on the streets.
The grip tape on the top of the board ensures that you don't slip while riding.
The board has 180mm trucks, which are white to make it elegant with ABEC 7 bearings. They make your experience of riding much smoother and attractive.
This excellent board features even weight distribution so that the user feels safe while cruising. The standard deck width is what increases stability.
You can have the right balance and turning response when you use the tesseract premium longboard. This is why many riders opt for it and enjoy their longer journeys with ease.
The wheels of this fantastic longboard are 70mm that is yellow to add some spark. Their good quality lets you have fun with your favorite longboard. Not only this, but these wheels are of 86A hardness, allowing you to ride on even tough and challenging surfaces.
The perfect balance with a slight flex is what you may need for a beginner level of longboarding.
There are no drawbacks, but the only complaint is its no choice fob colors and sizes, well it's not a big deal when we can enjoy a lot of its benefits.
9. Retrospec Zed Bamboo Longboard
Are you a fan of something classy and elegant? A good longboard is not only with a well-performing feature, but a decent and attractive look also matters.
Retrospec zed bamboo board
is one of the
best longboards for girls
. The modern and impressive feel of this fantastic longboard makes it different from others.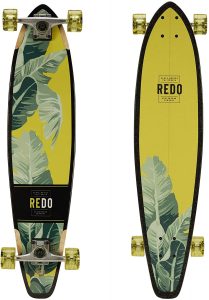 Retrospec Zed Bamboo Longboard Features:
Its elegant look, which gives us a perfect feel of a beach wave, makes it popular among all other longboards. This artisan skateboard is to satisfy the riders with a cool look and excellent cruising. The use of natural components in its construction is to provide durability and stability to the riders.
It features a retro look, but this excellent bamboo board is the right pick for you for many reasons. With a deck of bamboo, it is constructed of maple wood with eight layers to last for years because of its sturdy nature.
If you notice any change in the same products but of the different board, take it as standard because natural materials such as bamboo may be different.
The board has a flexible and more expansive deck with standard length to provide enough room for riders' ease and comfort. The pretty pintail style makes it more charming and stable. If the grip is firm, you will never lose balance and control over your board. Hence it is made for your air cuts.
The design of this best longboard is to improve velocity and reliability. There are fantastic curves and edges on this board so that you never feel disappointed while riding on this skateboard.
It features 7inch trucks of aluminum, making your durable board good for all terrains. Moreover, the 70mm wheels are shock absorbent to avoid wobbles and bumps while cruising. ABEC 7 bearings are the reasons behind its faster and smoother riding experience. For your accurate and safe skating, this efficient and robust board is suitable for any female rider.
The only drawback is the wheels' hardness, as it may be difficult to turn smoothly with these wheels.
10. White Wave Bamboo Longboard
The next on our
list of longboards for girls
is the
white wave bamboo longboard
, which is worth buying, especially for girls. Being
the best longboard
for all kinds of skaters, it has proved that price is not the only thing that affects the quality and performance. The mesmerizing and attractive look captures many sights within a glance.
White Wave Bamboo Longboard Features:
A vast range of colors offers us to buy any of them of our choice without any hassles. The stunning beauty of this board makes it more valuable. Getting a top-notch board at a reasonable price is not lesser than a blessing.
The fantastic flat tail design of the deck makes you feel safe and relaxed while riding on it. You can enjoy the best of your life on the 36inches longboard. Its compact size never lets you go alone. You don't need to leave it at home because it is portable with its shorter length. The board weight is only 7.3 pounds, which is an impressive feature.
Unlike other longboards, it has the right blend of multiple layers of maple and Canadian wood to increases durability. For smoother and powerful rides, the wheels are 70mm.
With a well-polished finish, its 7inches aluminum trucks do wonders. You can have a wonderful experience of riding even as a beginner girl on this longboard.
The wheels of this board are paired with ABEC 9 Hellion bearings for better cruising. It is ideal for any female rider without any doubt because of its excellent features and reliable construction. Its weight capacity lets you ride over it without worrying about your weight. It is suitable for all kids and adults.
11. Movendless Longboard
Starting your skating journey is fun but only with
a quality longboard,
hence making your choices wisely. A good skateboard can help you achieve your dreams easily. Your longboarding passion can be more enjoyable with a drop-through board. It doesn't value whether you are a beginner a professional; this board is suitable for you in every way.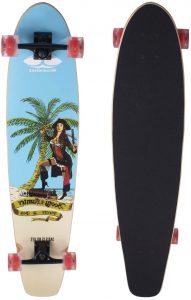 Movendless Longboard Features:
Feeling exhausted because of a hot day? Don't let your board feel the same, and go for the heat synced patterns of moveless longboards. Karnage drop-through longboard suits you the best, especially if you have a stylish and trendy choice. This board and its prints will never disappoint you in any way. Its cool designs are to make you feel relaxed.
The diverse range of colorful graphics of your favorite karnage longboard will leave you surprised. From blue to white and yellow, there is so much for all of you. You will fall for every color you see but get the one that captures your heart.
The wheel bite technology of this incredible board will let you ride without any worries. Moreover, it doesn't matter whether you are high seeding or climbing; it will be your best friend everywhere.
The deck of karnage drop through longboard is of 39inches with good enough layers of Canadian maple wood to make it strong and stable for the riders.
It features LED wheels of 70mm with ABEC 9 bearings so that you can experience soft traveling.
Because of its well-forged construction, it can hold up to 220lbs, enough to satisfy the buyers.
Weighing wround8 pounds, this lightweight and stable longboard will make your riding start the fun and more manageable. Using it as a girl is the best way to learn longboarding with ease.
For some, it's a bit pricey, but that can be easily ignored when you have so many features to fall for.
12. MBS All-Terrain Longboard
If you want something decent and high quality with a good performance rate, the MBS all-terrain longboard suits you the best. Longboards are designed to serve you as a specific board for some areas, whereas the
MBS all-terrain longboard
is suitable for any place. It is a fantastic and versatile longboard for you so that you don't have to change longboards just because of the surfaces.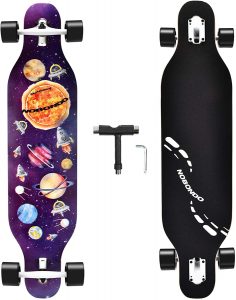 MBS ALL-Terrain Longboard Features:
If you are a newbie and seeking something that is a long-term investment, then this one is for you. You can use it to ride anywhere, which is the best part of this board, especially for the new learners.
Unlike other longboards, the MBS all-terrain longboard is made up of 10 layers of maple wood for extra strength. A perfect flex is only achieved when the board is durable, and this board is more than ordinary boards because of multiple wood layers.
The drop-down design of the deck saves you from bumps and pits with better speed and thrilling cruise. Whenever you plan to take off-road trips, the low center of gravity will result in safer and better rides. Moreover, it never makes you feel tired because it requires less pushing power.
The sturdy and tough board can hold about 220lbs of the rider's weight so that any adult can also ride on it. You will not face any trouble even if your weight is more than the limit.
The wider, navigator drone trucks make sure that the turning is smoother and more comfortable. For better maneuverability and turning response, these trucks are a bit loose. With two different truck settings, carving, and downhill, you can ride in any desired way. Some riders love to tighten the trucks, whereas some are troubled with the tightening because it decreases the speed and turning response. The flexibility offered by the ABEC 9bearings is what every rider craves.
What about those wet road trips? You don't have to worry now because this fantastic board's wheels are of urethane, making them grippy for comfortable skating. Hence, with these particular wheels, you will have a chance to ride freely around the town.
MBS all-terrain has a pitch-black deck to attract all your friends. This carbon fiber-like coating has a perfect finish to add beauty to this fantastic board.
As it is capable of moving on any surface, the wheels are powerful and robust. You can spend hours on this fun board without any worries. Moreover, you won't even feel tired, which is the best part of this longboard.
The drawback of this MBS all-terrain board is the absence of brakes. Otherwise, it is a favorable option to go for as a beginner girl.
13. Sector 9 Nicaragua Complete Skateboard Cruiser
We do not always want to go for the most specific product—instead, a bit more fun. If you have a suitable and bestcheaplong boarder, you will feel relaxed and excited. Cruising on sector 9 Nicaragua is such a blessing in many ways. It is one of the most happening longboards for girls. Hence, we can't leave it behind when we talk about some high-quality and fancy skateboards.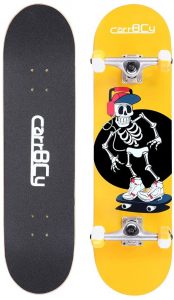 Sector 9 Nicargua Complete Skateboard Cruiser Features:
Unlike other longboards, this board has so much to amaze the riders, be it a girl or boy. But it's a cool choice for girls because of its high potential and impressive graphics. It is something beyond your expectations. Using this board means you are more into fast and heavy-duty cruising, thrilling for some riders.
What are the reasons behind its uniqueness and thrill? The components or materials used to make them different are of the best quality and premium features. Therefore, the product they make together goes the best of all. Its deck is of 5-ply maple wood with a lamination of bamboo, making it more powerful and long-lasting.
Its standard size is what we easily fall for. The length of the sector nine board is about 40 inches with a width of 8 inches, which means it is suitable for bulky and tall riders. Not only it helps to maintain the balance, but it provides you with enough room for your legs so that your riding remains safe and comfortable.
Its 9inches gullwing charger trucks are wide enough to distribute the weight for your stable and faster riding. The grip tape is not so fancy. Instead, it is decent and plain but gives enough hold to prevent slipping. The plain grip tape lets you satisfy your eyes with the cool graphics it has. The trucks are paired with ABEC 7 bearings to make your journey smoother and exciting.
Its wheels are 69mm, which gives a different feel while riding. They are a perfect part of this board because your skating is speedy, balanced, and tricky with them. You don't have to worry about the surface you will ride on because the Nicaragua longboard lets you have fun with anybody, be it a rough one or a smoother one.
Some riders feel disappointed by its no choice of colors and patterns. But it can be ignored when you are enjoying so many things with this longboard. However, you can select from two different wheel shades to fulfill your desires. Its high weight limit and good flex are the reasons behind its increasing demand.
The board is constructed to give you a chance to feel free and ride all around the town. If you are a girl and beginning your longboarding, then this incredible board is suitable for you in every way. You will not lose your balance, nor will you face frequent damages, which is the best thing for a newbie.
Conclusion
With the list we have made for you, you can get the most suitable and required longboard for yourself also at a reasonable price. You can have any of them as every longboard is durable and robust for your different riding styles. You have to keep in mind some things while buying a longboard for your skating passions, including board length, materials, quality, additional features, truck materials, wheel size and hardness, and much more. All the above things play a role in making any board best. Hence, wisely choose your skateboard from the massive range of girls' longboards to enhance skills and enjoy your journey.