If longboarding is something you enjoy but are on a budget that you cannot break then you have come to the right place. Longboarding not just a joyful or energetic physical activity but is a passion that can definitely get you hooked on it from the very second you ride that longboard. You might be ready to even give it a try but are not ready to spill some cash for a new thrilling venture.
Longboarding has started to become a famous hobby that all groups are interested in. you might even be feeling that desperation to get on with your passion but your budget may not allow you to buy an expensive longboard. You might have this thought in your mind that a cheap longboard will not be as good as an expensive one but that is really just a myth. This is because if you can get the same quality and features in an affordable longboard then why is it necessary to buy one that will you a fortune. In fact, buying an affordable longboard might be a very wise decision taken by you as a beginner. No one is talking about those plastic or disposable longboards when you have high-quality longboards available that are worth the money.
If you want to get serious with longboarding then you need to also understand what you are vouching for. Longboarding requires control, stability, and balance while it is a very interesting sport at the same time. If you are looking for an exciting experience then this is it. You do not have to fear that your performance with this longboard can drop or will be restricted. In this guide, we will be going in-depth about longboards which are of extremely good quality but at the same time are super budget-friendly.
We will help you find a longboard which suits your requirements and is a cheap longboard at the same time. Here's a list of 7 longboards below which are cheap and budget-friendly but at the same time give you a complete chance to explore longboarding thoroughly with their high-quality components:
PUENTE 41″ Longboard Skateboard
This 41-inch longboard is a mixture of high quality and is a pocket-friendly cruiser. This longboard is best suited for those people who are on a budget but at the same time do not want to compromise on quality. This best cheap longboard offers an excellent speed and is specifically built to cater to those customers who are interested in downhill and freestyle riding.

The longboard has a unique design that is captivating and elegant altogether. This Puente longboard with a wide turning radius can easily be installed and is not too difficult to carry. 
FEATURES Of PUENTE 41″ LONGBOARD SKATEBOARD:
The budget longboard is 41 inches tall and 10 inches wide with a deck of a drop-through style.

The longboard has a 9 – ply maple lamination on its deck which also has a pattern that transfers heat.

The grip tape of this cheap longboard is black 80A with full coverage.

The kingpin trucks of this longboard are heavy-duty and measure 7 inches

The trucks are the reason behind this longboard being able to lift heavy riders to 220 pounds which is a plus point for people who are bulky and have a greater weight.

The longboard rides smoothly due to the chrome bearing which is high-speed lubricated and consists of ABEC – 9 bearings that also allow you to do tricks and stunts.

70x51mm is the measurement of the Wheels that also have a Hardness of 85A PU with 70% rebound. This is done to increase durability and reduce any excessive.

The longboard as mentioned above offers an excellent speed and is more suitable for going downhill which would be loved by sports enthusiasts.

It also has a low center of gravity and also turning radius which is quite wide and hence this is suitable for riding downhill.
Pros:
The price is a major factor because if you are on a budget, then don't worry because  this longboard is super budget-friendly.

For those interested in downhill riding this is made just for them

The chrome steel bearing allows more smoothness and stability

For cruising this longboard is a good choice.

For people who weigh a lot but also want to experience something adventurous and are sporty, this sturdy longboard is for them.

The lubrication provides the wheels a smooth rolling.

Trucks can be loosened according to your own requirements regarding turning.

Many eye-catching and funky colors are available which make the artwork look even more pleasing.

The overall weight of the board is 3.79kg which makes it quite easy to carry so now you will not have to get tired while carrying such a heavy longboard for yourself.
Cons:
According to a few complaints by customers, the bearings need an upgrade.

Wobbles a bit if the trucks are not adjusted.

The speed of the wheels decreases very fast.
Slendor longboard 42-inch cruiser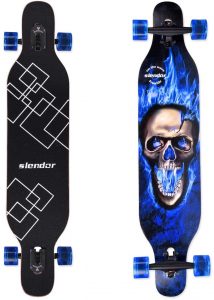 This 42-inch Slendor longboard is a drop-through board that offers maximum stability and can easily be pushed making it suitable for both downhill rides and also great for riding it while covering long distances or even just going around campus or town with this. This longboard is definitely an ideal choice for all those people who love drop through boards and their benefits and also a tighter turning radius. 
The longboard is constructed with the most top-notch components which allow the rider to fully explore the potential of the longboard. Materials such as chrome steel bearings, aluminum alloy trucks, wheels which are high rebound PU wheels, and carbon steel bolts are all high-quality materials definitely worth the cheap cost of this longboard. If you are weaving among people or corners this amazing carver will allow you to perform all the tricks you have wanted to try. 
FEATURES Of SLENDOR LONGBOARD 42-INCH CRUISER:
The slendor longboard cruiser has dimensions that measure 42 inches long and 9 inches wide. This provides a comfortable standing platform for the rider.

 The cambered deck of the drop through slendor longboard provides a super flex and has a shock-absorbent property. 

The deck is made up of cold press 9 ply maple which is hard rock and has epoxy glue making it super environmentally friendly and healthy. 

The chrome steed bearings of this longboard are ABEC-11 and offer a high speed. 

The 7-inch aluminum trucks increase maneuverability as the trucks are adjustable at 50 or 45 degrees. They also allow smooth rolling 

The wheels are more durable and measure 70-millimeter x 51 millimeters with a rock finish and are 85A PU wheels.

The PU shock absorbent ring also provides cushioning which is quite effective and makes the rider feel more comfortable while longboarding.

This longboard has a turning radius that is super wide and it is suitable for all sports enthusiasts be it of any age or skill level.

The longboard is great for a downhill experience or if you love freestyle riding and impressing people with your tricks or if you are someone who enjoys the thrill of riding a longboard swift.
Pros:
The longboard is quite cheap and in that amount of money, it provides the best quality components making it perfect for you if you are on a budget.

The deck laminated with maple makes it stiff and sturdy which also allows heavy riders to ride this longboard. 

The slendor longboard can perform quite well on various terrains be it a smooth road or a rocky one. 

For beginners, this longboard is an amazing choice because all the features in this board are super beginner-friendly. 

The chrome steel bearing offers much-improved performance because the stability is increased and a smooth rolling is provided. 

The deck is quite wide which allows maximum space on the platform for the rider.
Cons:
The customers have complained that the wheels make a lot of noise.

Experts might prefer another longboard as this is more beginner-friendly.
SANVIEW 42inch Complete Bamboo Longboard Cruiser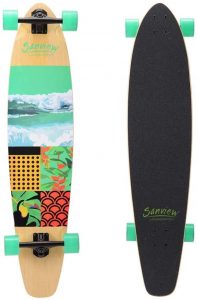 The 42-inch sanview bamboo cruiser longboard is a product manufactured by sanview which one of the leading manufacturers of longboards. The deck length provides a comfortable and spacious standing space for the longboarder and the smooth wheels provide easier riding and turning. There are many exquisite and unique cool designs for graphics that are suitable for both beginners and expert riders. 
The best part is that there is compatibility between the quality of the board and the wallets of the customer. This means that you will be provided with all high-quality components and you do not have to spend a fortune on this as it is quite budget-friendly. Along with providing a smooth and stable ride, this longboard can also be used for other purposes and not just street cruising. All the components constructed inside this longboard are durable and will go a long way without being damaged. The graphical illustration is eye-catching and instantly makes people fall in love with it. 
FEATURES  OF SANVIEW:
The deck of this longboard has dimensions that measure 42 inches long and 9.5 inches wide. This width provides enough comfortable space for the longboarder to stand on and easily ride the longboard without falling off. 

The deck of this sanview longboard is made up of Canadian maple mixed with bamboo and has 7 plies and 1ply of each respectively. 

The wheels of this longboard are 70 millimeter X 42 millimeter and the material is SHR78A PU which is a high rebound. 

The trucks of this longboard have an aluminum casting which is 7 inches and the brushings are high rebound brushings which are 83A PU. 

The bearings of this sanview longboard are made of steel which is precisely ABEC – 9 with nylon ball cages and is lubricated. 

Note: Come Out of The Box and Ready To Go, Weight Limit 260 LBS, Recommend Age 9 +

The longboard is suitable for all age types and is recommended for children who are above 9.

The longboard comes fully assembled out of the box so now you don't have to worry about assembling it. 

For people who have greater weight, this longboard is perfectly suited for them as it can carry 260 lbs. 

The cruiser design is such that the shape and size aid in better performance

The rider can have greater control and this will improve stability for the longboarder. 
Pros:
Smooth performance can be achieved due to the ABEC – 9 bearings 

The deck length and width provide more comfort and ease to the longboarder

It is extremely budget-friendly

For increased stability the grip tape is good

The truck has a black coating
Cons:
Customers have complained that bubble tread can appear on it

Even though they claim to lift so much weight the deck can still crack easily 
MINORITY Downhill Maple Longboard 40"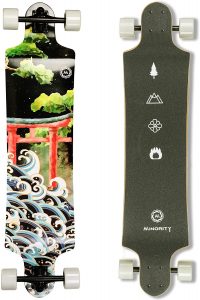 The 40-inch maple minority longboard is known to be the ultimate aesthetic work of longboard engineering. With the help of some advanced technology which is quite revolutionary, we are provided with a very smooth and enjoyable ride. To achieve brilliant physical performances and strength like no other, the 8ply maple which is a hard rock is cold compressed. This allows heavy riders to enjoy longboarding as it can carry a weight of 220 lbs.
 The shape of the longboard is such that wheel bites can be avoided from any angle which allows you to enjoy the increased maneuverability of the longboard. If you ever take part in a freestyle ride show off be ready to showcase the speedy longboard as it takes you swiftly through all corners. Carving and downhill riding can beautifully be done with this longboard as it is perfectly built for such activities. The physical appearance of the board is Just as mind-blowing as the physical performance.
Features Of MINORITY Downhill:
The deck is made up of 100% hard rock maple wood which is cold-pressed has dimensions that measure as 40 inches long and 9 inches wide. 

To ensure the speed of the longboard is good enough construction has been done to make the longboard low gravity. It is a very classic standard sort of drop model perfect for downhill riding. 

The 8 plies hard rock maple deck is cold compressed and is extremely strong.

The wheelbase which is 37 inches and a wide deck provides a stable platform that is quite sturdy. This makes it ideal for downhill riding.

The sturdiness and increased stability allow this longboard to be suitable for heavy riders.

The kingpin reversible trucks that are used for this longboard are pure aluminum and are 7 inches. They provide increased maneuverability as they are adjustable to 50 or 45 degrees.

The 78 PU wheels which have high durability, measure 70 millimeters x 51 millimeters and have a precisely ABEC – 9 Bearing. This provides a very smooth rolling to the longboard. 

The ones who designed this board were from across the Atlantic and they have made a very unique vintage style longboard which is loved by people.
Pros:
The longboard is very easy to ride and is maneuverable.

The platform is quite stable and very sturdy.

It can carry 220 lbs which is a plus point for heavy riders. 

It is super affordable and those with a budget do not have to worry.

The construction makes it low gravity thus allowing it to be speedy and perfect for downhill riding 

It durable and long-lasting 

The design is very attractive 

It allows the rider to stand comfortably on the platform as there is a wide space available 
Cons:
The longboard is not meant to be for professional riders as it is more beginner-friendly 

The longboards trucks can rust 
AODI 46″ Canadian Maple Wood Complete Longboard:
This 46-inch longboard is another cheap longboard but from a top brand and is one of their most popular styles. The AODI longboard can be used on all hard surfaces even if the terrain poor for example, bitumen, short grass, uneven surface, tarmac, dirt, and concrete. The longboard is perfect for adults including both genders. 
The deck of the longboard is spacious providing a comfortable space for all riders who love to spread out their feet to attain more fun while riding and also the distribution of weight is easier. The length makes it the perfect longboard for carving and flexing with ease of turning and cruising easily too without losing control of speed. The fact that the longboard is quite sturdy, allows maximum obstacles and challenges to be faced without any difficulty. The maneuverability and stability of this longboard are also high. You can comfortably push it around and ride it with ease. 
Features Of AODI 46″ Canadian Maple:
The longboard deck of this longboard has dimensions that measure 46 inches long and 10 inches wide. The length and width provide ample space for the rider to comfortably stand on and balance their weight.

The weight of this longboard itself is 7.94 pounds which makes it lightweight and the weight that this longboard can hold is up to 250 pounds which makes this great for heavy riders.

The deck of this longboard is made up of 100% maple which is 7 plies. This makes the longboard stuff, sturdy and very strong.

The bearings of the wheels are high speed and are ABEC – 7. You feel more comfortable and at ease due to the cushion which is extremely effective and is provided by the PU ring that is shock absorbent.

The longboard also has the brand logo of AODI

To provide more control while doing stunts, tricks, turning, and, riding the deck is built in a way that it is mildly concave.

The turning radius of this longboard is very wide which makes it suitable for sports enthusiasts of all groups. The durability of the longboard is also increased.

As you do not need to assemble this longboard the maple deck serves to be the ideal gift for someone you love who is interested in sports. It can be a perfect Christmas or birthday gift.

To ensure that the AODI longboards are safe, each product is rigorously tested and passed through a process of certification before it comes into the market and then reaches your home. Thus you can safely buy this for your children or anyone who loves longboarding. 

Extremely budget-friendly.
Pros:
The wheels are super awesome when it comes to cruising around town, carving, doing freestyle tricks, and also dancing.

The longboard has trucks with sidewinder which allow it to turn with ease.

If you love the thrill and want to carve at a high speed this longboard is ideal for that.

There will be less tension while riding in your ankles. 

It is a suitable longboard for both expert riders and beginners. 
Cons:
If more pressure is going to be applied then to sustain it you will need larger wheels.
PlayStation Drop Through Freestyle Longboard Cruiser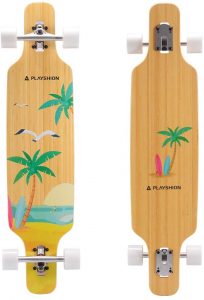 The PlayStation drop-through 39 inches freestyle longboard is a flexible cruiser and at the same time is robust. The secret behind a ride full of thrill and fun is the ability of this board to multi-function as it can easily cruise, go downhill, and carve, allow you to do freestyle tricks and so much more.
The longboard is a versatile one as it allows you to do many things at the same time but wearing a helmet is recommended to you at all times so that there is no fear of an injury. The board is a beginner-friendly one and it allows you to be more in control of the brakes and gives you the ease to push the longboard. Safety is key which is why the PlayStation longboard has all features which are great for beginners and thus gives them the confidence that they require to ride the longboard for the first time.
Features Of PlayStation Drop Through Freestyle Longboard:
The dimensions of this longboard are as follows, 39 inches long and 9.1 inches wide making it comfortable and large.

On top of the longboard, you have a clear grip spraying.

 The deck of the longboard is made of two materials one being 2 ply bamboo and the other one is 5 plies flexible maple.

Heavy riders can easily ride this longboard as it is sturdy and can hold a load up to 250 lbs. it is flexible as well.

The dimensions of the wheels are the PU wheels with dimensions of 70x51mm are quite big and soft.

For greater stability and higher control ABEC – 9 bearings are used in compliance with large wheels.

7-inch aluminum trucks for comfortable longboarding are used along with soft brushing which is well built.

To make this longboard accessible for beginners as well as experts the components used are of high quality.

Many longboarders are familiar with freestyle tricks hence this longboard is ideal for them.

A plus point is that a skate tool is sent with this longboard to make necessary adjustments.
Pros:
The grip tape of this longboard is excellent.

You can choose whether an adjustment needs to be made or not and with a help of the skate tool you can easily do that.

Heavy riders are now at ease as this longboard can carry a lot of loads.

Smoothness and a comfortable, safe ride are offered.

Many funky colors are being sold.

The wheel and trucks are great.

You have more control over the longboard.

Apply brakes without any difficulties.
Cons:
Restricted from many tricks.
SkatroMini Cruiser Longboard: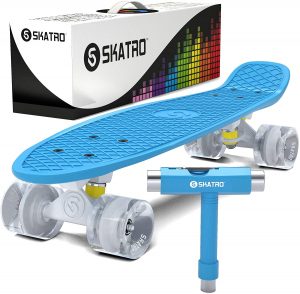 The manufacturing process of the flexy skatro technology is a valuable one as it ensures that on every board there is maximum flex. To ensure that consistency is maintained in terms of stiffness in all of its longboards, a machined is used specifically to determine the quantity of plastic that is molded together, and thus a predetermined quantity of plastic injection is used in every board. The plastic amount needs to be perfect as too much makes it stiff and lesser of it makes the board malleable. At the time of completing construction, a test is done to check pressure so that manufacturers can see what level of board flexes they should expect when weight is applied at the very center of the board. 
The entire process is only done for skatro boards which makes it exclusive and different from other boards. This longboard also serves to be one of the smoothest longboards ever seen. The high-quality sturdy construction makes sure that the elegant evergreen design of art can be used for a long period of time without looking old. The board is suitable for all genders.  
Features Of SkatroMini Cruiser Longboard:
The dimensions of this longboard are 22 inches long and 6 inches wide. This is smaller than most normal boards but still provides a comfortable standing space.

The bearings of this longboard are ABEC – 7 which are hard carbon steel and help to reduce friction when turning. 

The urethane wheels measure 59MM have trucks made of aluminum which is 3 inches and are lightweight. 

The flexy technology makes sure that the boards are given the maximum amount of flex.

The skatro longboard is much better than many expensive longboards but this one is high quality nut budget-friendly at the same time. 

Traveling using this longboard is as you can take it anywhere with you at a train station. Campus, town, or anywhere you want. 

The longboard comes with a toolbox allowing trucks to be adjusted according to your own requirements.

It can carry a load of 220 lbs which makes it great for heavy riders.
Pros:
The board offers a smooth ride 

It is stiff and sturdy which increases durability and will not break easily

The board is extremely lightweight

The durability and stability of this longboard are very high

The construction done is high quality with all high quality boards. 

It is easy to turn this board around and carve it easily

It is suitable for riders who are heavy as this can carry a load of 250 pounds

The longboard is not expensive at all but at the same time does not compromise on quality and standard as well. 

As this is a mini-cruiser you can feel free to showcase your tricks and stunts.

The rider can be in better control of the longboard as it is easy to turn and apply brakes.
Cons:
Your balance can be disturbed sometimes

There is not much variety of colors available on the wheels of this longboard. 
As you can see, we have broken the myth of expensive longboards being the best by listing down 8 perfect budget longboards which will not cost you a fortune. With the help of our guide, you can explore each longboard in-depth and then decide for yourself which one better suits all your requirements. Also, do not forget to drop in your feedback if you buy any of these longboards on our recommendation. Follow your passion without overstepping your budget now!