Longboard riding is like a freedom ride – you can use it to commute to your office or your way to college. And this is not all; you can do many tricks on your skateboard enjoy the thrill and fun. There are many styles for riding, and among those so many styles, youngsters love longboard dancing. It comes under freestyle riding, and by choosing one of the best longboards for dancing, you can enjoy the thrill and have fun down the streets. Longboard dancing is a flowy, skillful, and visual discipline of riding; it also includes cross-stepping and tricky balance while carving and cruising on your longboard. These tricks are known by many names, and you may often hear them called "flatland" tricks. These dancing tricks are different from jumpy freestyle tricks such as kickflips, ollies, slides, and shuvits.
These tricks, techniques are known as dancing because you have to move your weight around your longboard in a like dance moves pattern. Meanwhile, you keep your board rolling under your feet with the help of carving and pumping motion blended into the dance.
It seems tricky, right? Well, it is but not something hard or impossible to learn. With little practice, you will be able to dance on any longboard, but longboards that are entirely dedicated to the dancing style provides you the freedom to perform. The right longboard will give you an excellent platform to perform tricks and keep it balance; also, the correct setup will keep you carving fluidly. 
Tips to consider before buying longboard for dancing:
There are so many styles for riding longboards, and you do not need to know about all of them, but it is better to see the difference between freestyle longboarding and loaded dancer longboards as they are quite close but not the same.

Consider the size of a longboard. Usually, the extended length is right for dance performances. It provides you with more space for stepping.

When you are dancing, go for the first grip on the nose and tails and leave the centre strip un-gripped for better dance performances.

Check for the flex ratings before buying there are typically three flex ratings you can choose the one that suits you best.

Choose wheels, not between 70 to 80 mm likewise trucks and bearings, should be of standard quality with average size.
Here are few best longboards for dancing available on Amazon:
Loaded Bhangra Longboards For Dancing
Looking for something spacious to do your dance tricks, these loaded longboards for dancing are the best longboarders' choice. Even if you are new and learning to perform some tricks, the Bhangra board will help you do everything with comfort and ease. The Bhangra skateboard is a classy choice for loaded dancer longboard. It is designed for the chicest of footwork – the longboard offers a spacious place with extra room for your dance stunts as a beginner; moreover, it also goes along with advanced freestyle dancing & slides. If you are looking for some master tricks of dancing and surf style, the Bhangra loaded board will give you a smooth and graceful riding experience.
Pros:
The structure of the longboard is strong and durable. The generous rockered cradles provide you a stable platform for dancing, general riding, commuting, alternative transportation, and freestyle tricks. The concave is mild that provides extra edge control without any footwork interference.

It has a large tail and nose for more balance. To provide you safety and security, there is a 50-grit grip-tape. Safety encourages the rider to do more creative tricks and shuvit stunts. The longboard has mild grip tape of eighty grits to give you enough encouragement and confidence for sliding and hard carving. You will also be able to do smooth stunts and other dancing performances.

The longboard wheels are made of high-quality material CNC milled that reduces the risk of wheel bites and increases clearances. The longboard deck is made of laminated bamboo, and for more stability and durability, it has layers of basalt fabric to create a strong structure, which is also incredibly lightweight. The bottom is also bamboo basalt with composite layers. In short, the longboard is all a durable and stable choice for beginners.

The manufacturers believe in being eco-friendly and reducing carbon prints on earth bio-based materials for its manufacturing. For instance, waste stream material like tree sap is used instead of petroleum content. The Bhangra longboard series among the first

loaded longboard

series provides a fun ride with a better planet. Epoxy bio-resin glue binds the wood layers together in place of traditional glue to make it a more environmentally-friendly choice.

Bamboo and basalt construction provides comfortable flexibility that is an excellent choice for dancing, freestyle riding, and tricks. The difference between flex is an incredible option that provides higher comfort than usual ratios and provides extra flexibility and stiffness. Mexican artists inspire the graphic design of longboards. It also shows the flow and movement of longboard dancers.
Cons:
No cons of this product were found. 
Landyachtz longboard for dancing and freestyle: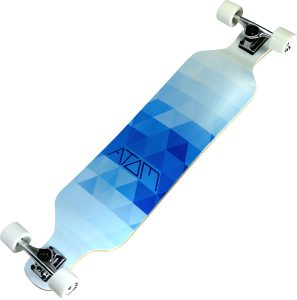 The longboard dance is fun, and when you are riding on the Landyachtz Stratus longboard, you will enjoy the thrill with more excellence. It is a little smaller in size than other loaded longboards, but the quality, speed, and space for tricks are not compromised. The longboard is lightweight, and it is easy to carry it around with you. The lightweight of the longboard is due to some reason: it is made of Hallow tech construction. Hollow tech construction involves hybrid fiberglass material along with high-quality wood for the deck. The deck's core will appear to be hallow, and you can see through it in the daytime.
The structure is smart and sleek; its Stratus has a flat and big platform to stand and perform dancing tricks. The longboard is entirely balanced, and the design is quite suitable for new dancers with modern techniques. It has a slight concave that is loved by contemporary dancers. The tails are significant compared to other dancing longboards, and with wood construction, it provides stability and encourages unique pop stunts.
The longboard has no grips between trucks as they can hinder board walking, and you may find it challenging to perform few dance tricks because your feet stick on the board. On the other hand, tails provide a firm grip on your feet.
Loaded longboards are available in two flex options, V1 and V2; likewise, Landyachtz Stratus provides you a choice between Super Flexi and Standard flexibility. So if you are selecting the dance longboard for someone with lightweight, the Super Flex will provide the best assistance in dancing and performances.
Pros:
The longboard is made of high-quality hybrid glass and wood with a hollow core that helps you to see through it in the sun.

The longboard is light in weight, and it is easy to carry it around anywhere.

The option to select between flexibility makes it the right choice for all new and expert longboard dancers.

The longboard has no grip tape between trucks to avoid any hindrance while performing dance tricks. On the other hand, the longboard tail is long compared to other dancing skateboards and provides a firm grip to your feet.

It is one of the best longboards for modern

longboard dancers

– you can smoothly perform hip hop dance tricks on it.
Cons:
The deck is not resistant as it seems to be, and sometimes it can break. It happens because it is a pure dance longboard, and performing freestyle tricks can damage its stability.
Tarab longboard for dancing: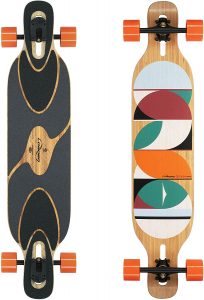 It is one of the best longboards for dancing with so many excellent features. It is a high-quality loaded skateboard with high-tech features of Bhangra. Moreover, it is one of the incredible choices due to its characteristics it is also one of the best options for its style, gorgeous dancing board. For its excellent all-in-all features, it is also famous as Rolls Royce for loaded dancing longboards.
The structure of Tarab longboard is smart and sleek; it is built by using leading technology. The deck's core is made of bamboo that is beautifully compressed between layers of fiberglass and makes it lighter than many Bhangra longboards. It has the same width and length as other Bhangra longboards, yet it is fair to carry and easy to use for tricks.
The loaded longboard has a long tail and nose. All of its manufacturing materials are good in quality urethane and strong material that makes the longboard immune to any impact and scratches during your performances. Remember that when you are doing tricks and performing a dance, your longboard deck gets affected.
The longboard comes with a cork layer consisting of grip tape – it encourages you to perform footwork dancing with confidence and provides a firm grip. The cork layer also helps to resist any vibration when you hit the ground from time to time while performing tricks.
The longboard comes with the same flex options as any other Bhangra longboard; it also has the same wheels and truck installment process.
Pros:
It has a stylish deck with a spacious platform for nonstop foot stunts. The size of the tail and nose provides leverage for advanced dancing tricks. Rockered ad comfortable concave deck offers a spacious place for dancing and freestyle tricks. The new high-tech construction with vertical laminated bamboo and basalt ensures a lightweight and lively and durable ride. The Urethane is used in Kicktail and rails to provide damage-free cruising and freestyle riding. Cork layers help to resist vibration damping.

The

longboards dance

was never easy before the incredible damp and comfortable flex options. Flex 1 provides extra bamboo veneers for stiffness, and Flex 2 is a lighter and livelier choice for dancers.

The

loaded dancer longboard

is an excellent longboard choice for dancing, carving, cruising, freestyle, and commuting easy transportation.

Trucks are of the best quality Paris 180mm fifty degrees in jet black color that ensure a smooth ride and more command over swift turns necessary for dancing and freestyle riding styles.

Orangatang Stimulus wheels offer excellent grip for dancing and different freestyle in an asymmetrical and lightweight design.
Cons:
It has high-tech features that come with a hefty price tag.
Magneto Bamboo Dancer longboards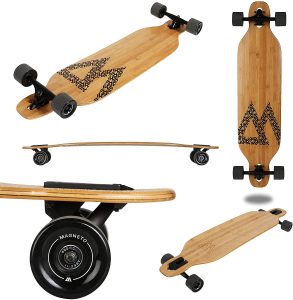 Magneto longboards are one of the affordable longboards for dancing. You can buy it for under 150 USD and still enjoy features that allow you to dance or cruise on your super cool longboard. It has a massive deck of 46 inches by 9.5 inches that provide spacious platforms for longboard dance. It has three plies of bamboo combined with fiberglass layers for anti-slip grip on the longboard for healthy and robust construction. The robust construction ensures stability and stiffness when you are performing tricks and dancing also it ensures smooth bump-free ride. 
The Magneto dancer longboard has balanced kicks that allow you to do manual unique tricks, flips and turns and shove-its. The concave is incredibly shallow, so you will not have any hindrance while performing any steps and continuous tricky curves and cruising. When you are using it for commuting and broad walking the top mount will offer sufficient comfortable placement for the foot. The cambered arch of longboard gives the rider a fun, lively and thrilling feel whenever they are carving and doing steps.
The longboard comes with good quality seven inches aluminum trucks and standard size large soft Magneto brand wheels. When you buy this complete longboard for dancing, you will fell in love with its flexibility. There is no doubt that it is one of the best choices for beginners to start their longboard dancing or free styling on this fantastic longboard.
Pros:
Magneto longboards are made with three plies of bamboo and fiberglass layer to ensure your foot grip on the longboard. It also provides anti-slip features to let the user perform with confidence.

The Magneto longboard is one of the most affordable loaded longboards for dancers. It has many incredible features like a spacious platform to keep your feet and size, making it the perfect choice for the dancers.

The Magneto longboard has a smartly balanced kick that allows you to do freestyle stunts, have smooth bump free riding and do numerous dance footwork. You can also do flip cruising and tricky curves.

Magneto longboard has standard large soft wheels that allow smooth ride with aluminum trucks to ensure safety and fewer wheel bites. 

It has shallow concave that allows you hindrance free freestyle and dancing around the street.
Cons:
You may need to upgrade bearings, trucks and wheels sooner than expected. There are chances your freestyle riding get issues as dancing requires high-tech components for enhanced durability.
NJYT Skateboard longboard for dancing:
Who says you can have a fun dancing ride with long nose and tail longboards only? When you have a classy longboard for skating curving and dancing with enhanced durability, it is difficult to resist the fun. The NYT longboard is comparatively small in size, and experts love to do tricks on it for its lightweight and fun simple design. The longboard construction involves maple wood for deck and plastic overall. All these materials provide durability and sturdy features. It has seven layers of maple on the deck which makes it bump and vibration resistible easily. It gives you a smooth ride for day to day commuting and easy for tricks and dance performances.
The longboard is available in a small size of 21 inches six-inch wide that is quite a spacious place for your feet on the top of the deck. Its lightweight rider can carry it in hand with ease and place it in their backpack with comfort. The damping wheels allow convenient cruising and encourage dancing foot show for more fun. The lightweight longboard for dancing can bear weight up to 150 KGs that makes it perfect for adults. 
Fast speed and a smooth ride are ensured by many factors, for instance, wheel quality, truck size and material, and bearings size and material play an important role. NJYT street skateboard is overall one of the right choices for dancing as it provides bump-free and vibration resistant feature to the riders.
Pros:
The NJYT longboard is robust, durable, yet it is easy to carry around. The longboard is simple and straightforward. The six of the longboard is short, yet it provides excellent style rides. It is 21 inches long with six inches width also in total it weighs around 2kgs so you can carry it around with ease or place it in your backpack after a fun ride.

The durability and stability of longboard are also ensured by seven layers of maple on the longboard deck. The longboard supports weight around 150kgs, making it the right choice for all from eight years to 80.

A dancing longboard is equipped with damping wheels so you can enjoy the relaxed cruising and dance tricks to increase the fun and thrill.

The longboard comes with thick aluminum trucks that provide you with maximum control over your longboard. So, eventually, you get more confidence for tricks and ride at the speed you want. Kicktail also adds control override and boosts your confidence for many stunts and tricks. The longboard has a non-slip board that ensures grip on the deck.

The NJYT longboard comes with high-speed bearings and shock absorption system, which means your longboard, can resist small shocks and bumps while performing tricks. It runs smoothly on the road, and if you are having fun at even surface, the seed will be unmatchable and allows you to perform dance stunts with ease.
Cons:
There are chances of wheel bites.
HAOWUTX Longboard for dancing and freestyle: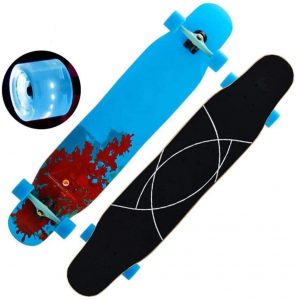 HAOWUTX longboard is an incredible choice for many different styles of longboarding, including dancing and freestyle. It is a professional style longboard for dancing, but its feature makes it favorite of all from 8 to 80 years. If you are the one who loves active, thrilling fun sport then this longboard is your choice for dancing. You can easily use this sport to develop your strength balance and reflexes while having lots of fun.
Longboard dancing requires a stern deck, and HAOWUTX longboard comes with eight layers of Canadian Maple wood. Maple wood is light in weight, yet one of the most durable types of wood. SO you will have a stable and durable concave deck with clean and straightforward laminate design at the bottom of the deck. The longboard is quite spacious with its 46 inches length and 9.8 inches width. You will have enough room to dance foot shows.
The longboard has a high-quality alloy bracket which is made with strong and robust material. The bracket supports the board firmly and provides anti-slip features which means you have maximum control over your longboard and perform a dance with confidence. It has ABEC bearings of high-quality chrome steel that ensure its high speed. The bearings are fast, but they do not make any noises to have noise-free thrill ride. The longboard can withstand a weight of around 450 lbs.
Pros:
The longboard has high-density waterproof anti-skid emery paper on the deck. It helps to increase the friction of the foot when you are sliding. The excellent quality material provides it with extra durability and wears resistance for a long time.

The HAOWUTX longboard comes with high-quality material PU wheels which are water-resistant and provides you smooth gliding ride. It gives you a safer ride.

The high-quality alloy bracelet is durable, and it provides firm support. Not only its wheels but bearings are also excellent in quality. It has ABEC-9 full chrome steel bearings to provide you dust-free, high-strength and water-resistant ride. You will get more confidence to perform intense rotation stunts, embark on the fast journey throughout the streets, and allow traveling quickly.

The longboard structure consists of eight layers of maple wood with lamination to keep your feet firm on the longboard. Maple longboard is light in weight, so the spacious longboard size never becomes a hurdle in performing any dance step.

It is one of the best choices for riders who love to get involved in fun, thrilling and active sport.
GF Longboard Professional Road Skateboard
GF longboard for dancing is one of the excellent choices for beginners and professional all along. It is one of the rough and tough longboards for freestyle tricks and dance performances. The size of the longboard is quite decent. The deck is 43 inches long which provides the right length for stunts and longboard dancing. It has high strength compressive resistance which makes it hard to break and scratch-free. On the longboard deck, the non-slip paper is used to ensure the safety of the rider.
Pros:
The longboard is fit for dancing when it is strong, and the GF longboard structure involves eight layers of Canadian maple wood. It provides it stability, durability and safety all along. Moreover, it is also lightweight and supports both feet.

The incredible skateboard for dancing gives you freedom for many styles like downhill, street skating, carving dancing and much more.

The materials of wheels, trucks and bearings are of good quality. It consists of thick magnesium-aluminum alloy materials and hot rolled steel shafts to ensure the balance and stability of the longboard for dancers. The dancer longboard also includes a highly flexible damping system to get more safety and comfort for the riders.

Wheels play an essential role for smooth hindrance free ride. The wheel's construction involves high resilience PU wheels that provide a firm grip and easy adaption on all roads. It has ABEC 9 steel bearings for smooth and fast sliding during your performances.

The longboard is completely assembled, and you can start using them as soon as you get them out of the box. It is suitable for parks, roads and all types of smooth surfaces. You can also ride them in rough places. The longboard can withstand a weight of around 400 pounds that make it an excellent choice for all age riders. It is an incredible gift for teenage kids.
Cons:
The trucks are loose so before using the skateboard for the ride, make sure you tight them according to your requirements.
FX skateboard longboard for dancing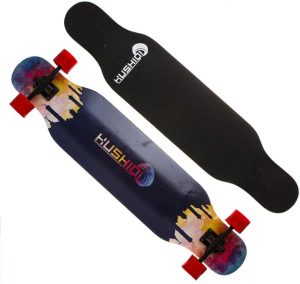 Looking for something under 100 USD then YFX skateboard for dancing can be your first choice. It s strong, durable and elegant in design like any high tech longboard and you can enjoy your fun dancing and tricks around the street. It can be used for freestyle riding, cruising, carving, and daily alternative commuting. The size and shape are quite helpful for beginners' as well as professional longboard dancers.
Pros:
FX skateboard structure consists of eight layers of maple wood. Maple wood is a lightweight wood, yet it is firm and stable. It has premium layers of maple that can withstand weight around 200Kgs / 440 pounds.

It has a spacious deck of 42 inches in length and 9 inches in width. That means you have enough space to lay your feet firmly on board while performing tricks and foot show. The layer of the deck comes with anti-slip features to provide extra safety.

It has sizeable soft PU wheels of 80A for riding on rough and hard surfaces. The size is also suitable for fast riding.

The medium-sized longboard is versatile and suitable for different styles like cruising, freestyle, sliding, commuting and dancing.

It has good quality aluminum alloy nails with medium carbon steel shaft inside. The emery paper provides a better grip and a safer more stable ride when riding.

It has high precision bearing ABEC-5 for smooth and standard speed ride for daily commuting.
Cons:
It is not a good option for professional longboard dancers, and you might need to upgrade its wheel, bearing and trucks soon.
WRISCG longboard for dancing and cruising: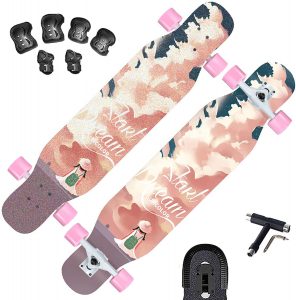 Who says you can't find loaded dancer longboards at a sale price on Amazon? WRISCG longboard comes with complete protection kit so you can enjoy your ride with security and enhanced confidence.
Pros:
WRISCG is a high-performance longboard that comes with ABEC-9 bearings that do not make any noise while you ride. It is a complete professional skateboard that can withstand weight up to 200kgs.

The

dancer longboard

needs to be strong and sturdy – this amazing longboard comes with high quality seven layers of maple for its deck. The magnesium alloy bracket comes with extensive compressive strength, crack resistance. To avoid any slip and trip accidents, it has waterproof anti-slip emery paper on top.

The wheels are high-quality elastic PU material in standard 70mm size. The wheels provide you with good grip performance and enhanced wear resistance. It also offers better balance while riding downhill at fast speed with better stability.

The graphics are simple yet elegant, and you can choose from four different colors according to your style.

The longboard does not require assembling as it comes assembles. The color, graphics and features make it a perfect choice for kids, teens and adults. The protective gear includes knee and elbow pads, and palms guard. It is quite necessary and useful for maximum security, particularly for beginners, when learning to do some dancing and freestyle tricks.
Cons:
It is the right choice for beginners, and once you are adept at tricks, you may need to upgrade it.
Conclusion:
The loaded dancer longboards are active sports that develop your strength balance and reflexes while having lots of fun. You can choose the one according to your needs to practice and have fun around the street.