| | |
| --- | --- |
| Product Name: | Quest Super Cruiser Artisan Bamboo Longboard |
| Brand: | Quest |
| Length: | 44 inches |
| Bearings Rating: | ABEC 5 |
| Wheel Diameter: | 70mm |
| Wheel Width: | 51mm |
| Durometer Rating: | 80A |
| Trucks: | 7-inch Aluminum Reverse Kingpin |
| Kicktail: | Yes |
| Shipping Weight: | 8.2 pounds |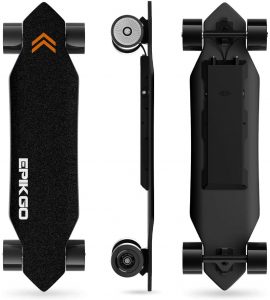 >CLICK Here to Get the Quest Super Cruiser Artisan Bamboo Longboard at Amazon<<
The Quest Super Cruiser Artisan Bamboo longboard is one of the bestselling longboards in the market today. This longboard can definitely be considered a "steal" for its price range and is of the highest quality longboard you can get for what you're paying. This 44-inch longboard features a multi-ply hardwood maple and elegant looking Artisan bamboo deck. Aside from being one of the most popular boards among beginners, some of the main key features that makes the Quest Super Cruiser such a bargain include the following.
Key Features of the Quest Super Cruiser Artisan Bamboo Longboard
Kicktail. The presence of a kicktail in the Quest Super Cruiser Artisan Bamboo longboard is a plus even if you think you won't be needing one now. The inclusion of the kick tail in this longboard makes it extremely easy to maneuver around town; especially if you live in crowded areas. Besides, who isn't interested in learning flips and tricks?
Hardwood Maple. The multi-ply hardwood maple for this board makes it much more durable and sturdy when compared to laminated boards. One person states that despite the board being "hit by 2 cars consecutively", the longboard still functions well!
Versatile Length. The length of this board (44 inches) makes it suitable for most riding styles. If you're new to longboarding and don't exactly know what you'll be doing, this board is perfect for you.
Rugged Aluminum Trucks. The Quest Super Cruiser Artisan Bamboo longboard features 7-inch aluminum trucks which complements the longboard's deck. The width of this truck ensures that there will not be any wheel bites.
70mm PU Wheels. The 70mm diameter polyurethane wheels that come with this longboard are not only durable, but also provides a good "grip" to the ground. Wheel diameter affects speed and acceleration with most longboard wheels having diameters of between 65mm and 75mm. Hence, 70mm diameter wheels are a perfect compromise between speed and acceleration, which you'll be able to experience with this longboard.
Now that we've gone over the key features of what makes the Quest Super Cruiser Artisan Bamboo longboard great, it's now time to dive deeper into the pros and cons of the board.
Pros
Beautifully designed longboard – Who doesn't like an Artisan Bamboo deck?
Long lasting and durable longboard.
Doesn't require any modifications for a smooth ride.
"Slight" kicktail on the front of the board.
Suitable board for many different riding styles including cruising and carving.
Great bargain for a 44-inch longboard. A nice looking 44-inch longboard at this price is uncommon.
Cons
Somewhat heavy which can be hassle if you often need to carry it around.
Not the most flexy longboard decks around.
Some individuals report that swapping out the bearings for the longboard makes the board even better.
Insider Tips for the Quest Super Cruiser Artisan Bamboo Longboard
If you want to make the ride on this board smoother than it already is, getting some longboard bearings will do the trick. Another tip or advice if you're getting this longboard is to buy a skate tool. Using the skate tool to loosen the trucks on the Quest Super Cruiser can help if it feels impossible to turn on this longboard.
Conclusion
Should you buy the Quest Super Cruiser Artisan Bamboo longboard? We recommend you to buy it if you're a beginner and looking for a great starter board that you can use for many years to come. The price point for this longboard is extremely attractive given the tons of features it showcases.