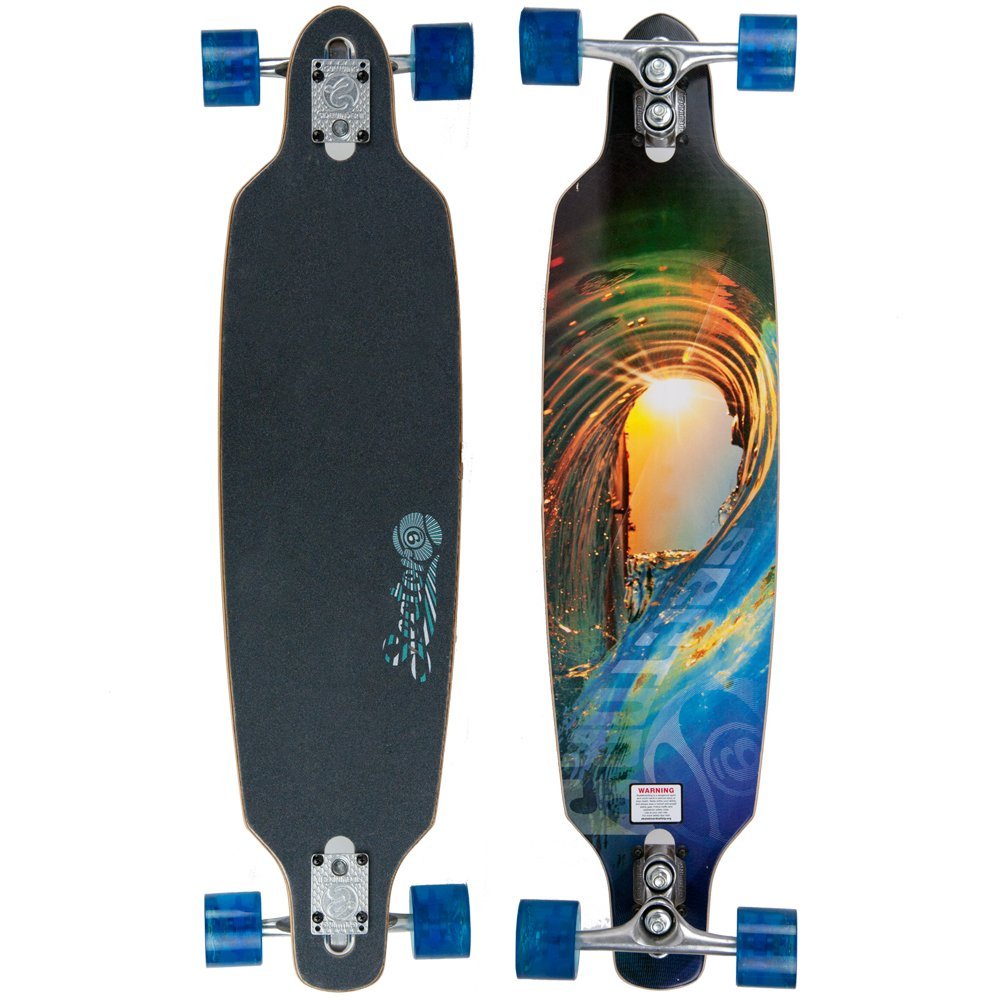 | | |
| --- | --- |
| Product Name: | Sector 9 Fractal Complete Longboard |
| Brand: | Sector 9 |
| Length: | 36 inches |
| Bearings Rating: | ABEC 5 |
| Wheel Diameter: | 69mm |
| Wheel Width: | N/A |
| Durometer Rating: | 78A |
| Trucks: | 9-inch Gullwing Sidewinder II (Double Kingpin Configuration) |
| Kicktail: | No |
| Shipping Weight: | 9.0 pounds; Item Weight: 7.0 pounds |
>>CLICK Here to Get the Sector 9 Fractal Complete Longboard at Amazon<<
The Sector 9 Fractal longboard is yet another 
top-notch longboard
 designed and manufactured by 
Sector 9
. Sector 9, a renowned brand in the skateboarding world includes high quality, premium longboard parts in this longboard. This Sector 9 longboard is 36 inches in length, rides on 9-inch 
Gullwing Sidewinder II
 trucks as well as Sector 9 top shelf wheels and ABEC 5 rated bearings. As for the deck of this longboard, Sector 9 uses an 8 ply maple wood with CNC 
drop through mounting
 for improved stability. The Sector 9 Fractal longboard is easy to balance on, and because of its deck length, easy to carve on.
Key Features of the Sector 9 Fractal Complete Longboard
8 Ply Maple Deck Construction. The Sector 9 Fractal longboard's deck is made up of an 8 ply maple construction which is strong and durable. This 8 ply maple deck is mounted in a drop through configuration to lower the center of gravity for the rider which subsequently improves stability. The deck is also somewhat flexible.
Gullwing Sidewinder II Trucks. The Gullwing Sidewinder II trucks that are used in the construction of this longboard is of premium quality. These premium trucks are Sector 9's line of trucks. These trucks are the reason why this longboard can cruise and carve so smoothly.
Double Kingpin Configuration. The trucks on this longboard are setup in a double kingpin configuration which allows you to make really quick and sharp turns.
ABEC 5 Rated Bearings. This longboard comes with ABEC 5 rated bearings which are manufactured by Sector 9.
69mm Diameter Wheels. The Sector 9 top shelf wheels that come with this longboard have a diameter of 69mm and a durometer rating of 78A. Both of these wheel specs are ideal for both cruising and carving riding styles.
This Sector 9 long is designed for cruising and carving riding styles. However, if you're looking to get into freeriding or downhilling in the future, all you really need to do is change out the wheels to something with a higher durometer (hardness) rating.
Pros
Great overall look and design to the board.
Drop through deck mount configuration improves the rider's stability on the longboard as well as makes the board feel somewhat flexible.
78A wheels provide good gripping and is ideal for cruising and carving.
Fantastic, responsive control with an excellent turning radius.
All parts are made Sector 9 parts, which are high quality.
The longboard is suitable for beginners, intermediates and experts alike.
Cons
Grip tape seems to be peeling off after a few months of heavy use.
Conclusion
The Sector 9 Fractal longboard looks a lot like the previously reviewed Sector 9 Aperture Sidewinder Drop Through longboard which we've listed as one of the best longboards we have reviewed. The only differences between these two boards are that the Aperture Sidewinder's wheels have a durometer rating of 80A (more suitable for freerides and downhill rides) and the trucks used in the Aperture Sidewinder were 9-inch Gullwing Sidewinder (the Fractal board uses version 2.0). Both perform and look extremely well. This Fractal longboard, like many other Sector 9 longboards, rides super smooth and it really gives you a surf-like feeling. The inclusion of all Sector 9 parts in the construction of this longboard really shows when you start riding on this board.
The verdict? This longboard, like the Sector 9 Aperture Sidewinder, is an excellent longboard to purchase, regardless of how much experience you or your loved ones have in longboarding. We highly recommend this longboard if the price isn't too steep as you'll never regret the purchase.