Having a Grip tape for your longboard is a must. You could have the best, most costly longboard on the planet – and it would be inane without the grip tape that is worth $15. If the tape on your longboard is not present or is old, then you clearly are not going to be able to grip the longboard. This is because you can only successfully grip the board by friction and gravity; hence a grip tape is necessary. Even if you are an experienced skater you will still need a new grip tape because it is easier to perform tricks and gravity is the only thing holding you more than you are holding the board. Grip tapes are quite helpful while performing tricks, doing stunts, and going for fast cruising.
If you get a new longboard and your previous grip tape is too old then you will probably think about buying a new one. It sounds simple but with the variety and difficult application, it can get complicated. How to figure out which grip tape is best for you and how it should be applied? If you want to be one of those longboarders who like to be informed and want to have knowledge then this guide is the right one for you. We will provide you with the basic information which you are required to know as a longboarder and will also provide you with a list of the best grip tapes which are cheap and of good quality. There are many brands and styles in the market but we chose the ones which are worth your money and also your time. Grip tapes are super important so if you were keen on skipping buying them then read this guide now.
You need to pay attention to the length and width of your longboard because the grip tape also has a width that needs to match with the width of your longboard and not be smaller or bigger. It would be a good choice to measure the size of your board in order to know the correct size to buy for your grip tape. Also, if you are someone who wants to cut your grip tape in different shapes and sizes then you need to make sure that you are well aware of your foot placement. If you place the grip tape where your feet will not be placed then you are more likely to slip from the longboard and get hurt.
What precisely is a grip tape?
The grip tape is a compound that is made from a coarse material. That material is mixed into a paste which is evenly spread in a thin layer over a paper backing which is thick and then is allowed to dry. A strong adhesive is applied to the opposite side of the "sandpaper" to make it semi-permanently attached to the top part of a longboard. The friction produced becomes the controlling factor of the longboard.
To be able to easily decipher between the tail and nose of the longboard freestyle riders cut patterns in their grip tapes before they apply it. This also looks aesthetically pleasing and a customized grip tape can help identify aboard when there are many people riding longboards together.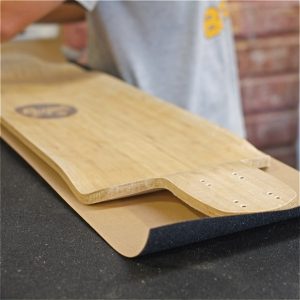 Why is the grip tape required?
A grip tape serves the same purpose that a seat belt has in a car. It's not compulsory but it keeps you safe and lets you be in control of your own longboard. Longboards require more push and speed to turn and that comes from a good connection of the feet to the longboard deck as you bend your knees and y
ou definitely don't want to lose control while doing that. To be able to carve properly you will need a stronger and stable grip.
How to apply the grip tape?
Grip tape application is simple and easy. All you have to do is first is carefully put the sticky side of the grip tape on your deck after peeling the bottom part slowly. Then when you are done with your application you need to use something sharp like scissors, a razor blade, or a box cutter so that you can easily adjust the grip tape to parts where you need It most. You can also tape the edges of your grip tape to the side of your longboard.
Here are the 4 best longboard grip tape reviews
Black Diamond Longboard Grip tape Sheet Black 10 x 48
This longboard grip tape an exclusive styled classic tape that is perfect for longboards. If you are someone who would want to apply the grip tape on the entire deck of your longboard or if you just like to place it on the sides, then this grip tape is excellent for both. This grip tape is quite long-lasting as many people have reported that it is useable for approximately two years.
The colour of the tape is black and it comes folded which makes it very easy for the longboarder to shape it whichever way they want and cut it the way they prefer. Having a high-quality grip tape for your longboard is very important and thus this one will provide you with all the stability and control you need over your longboard
If you are someone who is new to longboarding then this grip tape is the most suitable one for you as it offers the comfort, safety, and grip that you need on your first riding experience. The size of the grip tape is 48 inches long × 10 inches wide but you can easily adjust it to the size of your longboard. the size of your longboard will not enhance the performance of this grip tape as if works perfectly for both long and short longboards. you would be expecting the price of this longboard to fall in an expensive category due to its high quality but there is nothing to worry about as it is super reasonable and affordable. The shipping is also fast and by far all customers have been satisfied with the grip that this grip tape provides.
Features:
The surface of 80 grit gives a more increased grip which makes this longboard an ideal one for using this as a means of transportation, doing freestyle tricks, or going for downhill carving.

The application of this grip tape is very easy with the incredibly simple peel backing. All you have to do is trim the grip tape, peel it and stick it after prepping the deck of your longboard.

The dimensions of the grip tape are 48 inches long x 10 inches wide which is quite a lot making this suitable for all longboards such as dancing ones, racing, carving, freestyle, and many more.

This grip tape has cut sheet offerings which are single and one of the largest that are available and at the same time is cheap as well. You can easily turn your old longboard into a new one with the help of this grip tape as it has many benefits and advantages.
Pros:
The application is very easy making it user friendly

It is long-lasting

The grip tape is adjustable

Provides a lot of stability and at the same time more grip

It is budget-friendly.
Cons:
None was seen as far as now.
Conclusively, black diamond is a longboard company which is located in Midwest US and focuses a lot on providing premium grip tapes and also tools that help apply grip tapes properly. With a vast variety of colour and pretty designs, they offer the cheapest and budget-friendly grip tapes as solutions to make your longboard better. The sizes of the sheets are reviewed to be quite generous in quantity. It is enough to reapply on your longboard and still some of it might be left which you can use later. Jessup Single Sheet Grip tape
Jessup Skateboard Grip tape Roll
Jessup is a company that has been producing grip tapes long before an industry for grip tapes came into existence. This makes it one of the most knowledgeable and trustworthy companies when it comes to grip tapes. This sheet from Jessup grip tape is a balanced grip tape and if you are in search of a "goldilocks" one then this is the right one for you. Their grip tape is also a type of sandpaper one which is the most highly used by people.
The sheet of the grip tape is single and measures 33 inches long and 9 inches wide and comes with a promise it will stick to any surface adding more grip to it. The black grip tape is quite sticky and you can easily cut it in whichever shape and size you prefer. 
If the longboard of your deck is wide then you don't have to worry as you can easily cover up the whole space with the generous amount that this grip tape offers. The quality of this grip tape is very high and it also will not destroy your shoes when you try tricks meant for pros or go for cruising. The grip tape is quite aggressive which will easily give a good response while carving or riding at a high speed without destroying your shoes by tearing them in a bad way.
Features:
The first one to introduce abrasives to the industry which are of silicon carbide was the Jessup Company.

The Jessup Company has an experience of 32 years which makes them skilled and equipped with high experience in making grip tapes. This makes their quality very high and trustable as they have been in the grip tape manufacturing industry since 1975.

Their grip tape is so famous and popular that even if you combine the sales of all other grip tape brands this one alone outnumbers them. Their grip tape is on more than 25 million decks.

The adhesive layers are laminated and solvent-based which makes them more pressure-sensitive thus they can easily create bonding that is semi-permanent with any board in all environments.

Without tearing it you can easily trim the grip tape and apply it to all decks which are concave shaped and the silicon carbide formula makes it very sticky and easy to attach.
Pros:
The grip tape is long-lasting

The formula of the grip tape is very sticky and can easily be applied to the longboard

It is easily adjustable and can be trimmed and shaped easily.
Cons:
The packaging is problematic
The 9-inch x 33-inch grip tape provides enough space to cover up any length of longboards. You will be able to cover up as much as you need to. There are no quality defects that have come across through reviews but the packing has been seen as a huge issue for customers. We would recommend you to request while ordering that the grip tape should be rolled and not folded. You can tell them that you will check on delivery that if the product is folded or rolled and if it is folded then you can return it and ask for one that is rolled. If your instructions are not clearly followed then you can simply return the product if it does not work for you.
Lucid Grip Spray-On Grip Tape
If you are someone who is more concerned about the grip of your feet on the longboard then the lucid grip spray grip tape is the best option there is in the market for you. The fact that this grip tape does not leave any bubbles or creases on the surface of your deck makes it a unique one. all you have to do is spray the transparent material onto your longboard. if you are someone who does not like to cover your deck with a grip tape to keep the design of your longboard then this grip tape is for you.
If you are not quite sure about how to attach the traditional stick-on grip tape which is like sandpaper then you should definitely give a try to this spraying grip tape. There are many possibilities offered to you with the ability to customize your board's grip according to your own will. Stencils can be used along with masking tape to create patterns that are textured or if you want to go with something simple then you can just simple coat the deck for a good grip. You do not have to compromise on stability control and grip in order to keep the exquisite design on your longboard as you can simply spray this transparent grip tape.
The grip tape of the lucid company is a spray that is water-based and has an emulsion polymer which is hard acrylic and has properties that make it water-resistant and less prone to stains. The non-yellowing water-based coat on top is clear and is suitable for all surfaces. It has defoaming agents that are also self-levelling. The longboard can be recoated within 60 minutes which makes it great for an optimal grip.
Features:
The first and the most amazing feature is that you can customize the grip of your longboard. you can have a light texture which is perfect for when you want to go for freestyle riding which is casual and can also ride barefoot. A medium texture is ideal for basically all styles of riding and deck shapes and designs. I t is equivalent to the standard grip that is available in the market. Lastly, the heavy texture is used for downhill riding, racing, and carving. This is great for professionals.

The formula can easily be cleaned with water and is a formula with dries fast and is easy sanding.

You don't have to worry about tearing your grip tape or peeling it off which could also damage your board as this just has to be sprayed and nothing else.

The quantity in the bottle can be used for complete application 2 to 3 times which is going to be very cost-effective

It also glows in the dark which makes it more attractive and complimentary for your longboard.
Pros:
Saves time and money as it can be applied up to 3 times.

It is quite more budget-friendly than regular sandpaper grip tapes

You can stay safe and in control without having to hide your board's design with a thick sandpaper grip tape

There will be no creases or bubbles on the deck

It is long-lasting

It helps you stay stable and be more in control.
Cons:
The grip is not as Grippy as compare to other grip tapes
Professionals might not be using this grip tape for their longboards as it cannot be used for aggressive carving, racing, and doing tricks and stunts. If you are someone who needs a longboard just for travelling purposes or simple riding without any complicated tricks then this grip tape will do the work for you. Otherwise, you can simply look at other grip tapes in the market which are sandpaper type and provide more grip and control. Though, for a beginner, this will be a more convenient and better option.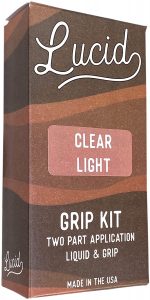 Mob Grip Perforated Black Grip tape
The mob grip belongs to an industry that poses as an icon for grip tapes that not only offer good grip but also versatility in their designs, colours, and graphics on their products. This makes them very popular amongst teenagers and kids who love longboarding and are looking for aesthetically pleasing grip tapes. The value of these designs and graphics is also incredible as it falls under the affordable category. The quality of their grip tapes is very high making them suitable for both beginners are also expert level longboarders. People who cannot find the mob grip tape in the market tend to also look for one that matches this one as it is so good making it a central brand in the grip tape market.
The grip tape that we will be reviewing is one of their cheapest yet best quality grip tape. It is a grip tape that is more Grippy than your average grip tape. The mob grip produces so many designs and graphical grip tapes that this blank sheet one is their cheapest being sold in the market. The quality of this grip tape is premium and uses high-end products to make this grip tape. If you are on a budget then this is the perfect option to choose as you will not have to compromise on quality either.
Features:
The size of the grip tape is the standard 9 inches wide x 33 inches long. This can be used for almost all longboards as the size fits well with most of them.

The texture is aggressive which gives you more control over the longboard and also offers more stability when you go for carving or downhill racing and cruising.

The designs and graphics have a huge variety

The quality of the grip tape is high and therefore it performs well too.
Pros:
The grip tape is affordable and cheap yet has the best quality in the market

Sets a high competition for other brands in the industry

The size will suit almost all longboards

Provides a good grip and control with high stability

It is also highly durable
Cons:
None was seen as far as now by customers.
You can buy this grip tape if you are an expert or a beginner as it works for both. Your money will not be wasted as the quality of this grip tape is high and it is long-lasting.
As you can see, this guide lists before you the 4 best grip tapes that have been thoroughly reviewed. You have provided you with all the information you need to keep in mind while selecting the grip tape which suits you best. This way you will not have to put in the extra effort while searching. Do give us feedback if this guide helped you.